Recalls on 161 Triumph Speed Triple S and R models and O'Neal helmets are the third and fourth motorcycle-related safety recalls over the past five days.
It could be coincidence or it could be the Australian Competition and Consumer Commission getting recalls out of the way before a Christmas sojourn.
Anyway, with just two weeks to go in 2019, there have now been 26 motorcycle recalls plus three other motorcycle products: Harley saddlebags, a Honda Monkey bike rack and the helmet.
That compares with last year's 37 motorcycle recalls, the second highest number of recalls in the previous 10 years: 28 in 2017, 39 in 2016, 30 in 2015, 28 in 2014, 20 in 2013, 24 in 2012, 16 in 2011, 14 in 2010 and 23 in 2009.
The most recalls this year was six for Yamaha; followed by 4 for BMW, Ducati and Triumph; Harley, Honda, Suzuki and Triumph on three (if you count the aftermarket accessories for Harley and Honda); and one each for Kawasaki, Indian, Piaggio, KTM and O'Neal helmets.
That compares with the previous year where Ducati had 6;  Indian, Kawasaki, Suzuki, Yamaha, KTM and Triumph 3; BMW, Harley, Husqvarna and Moto Guzzi 2, Aprilia and MV Augusta one each. There were no other product recalls.
Triumph Street Triple S and RS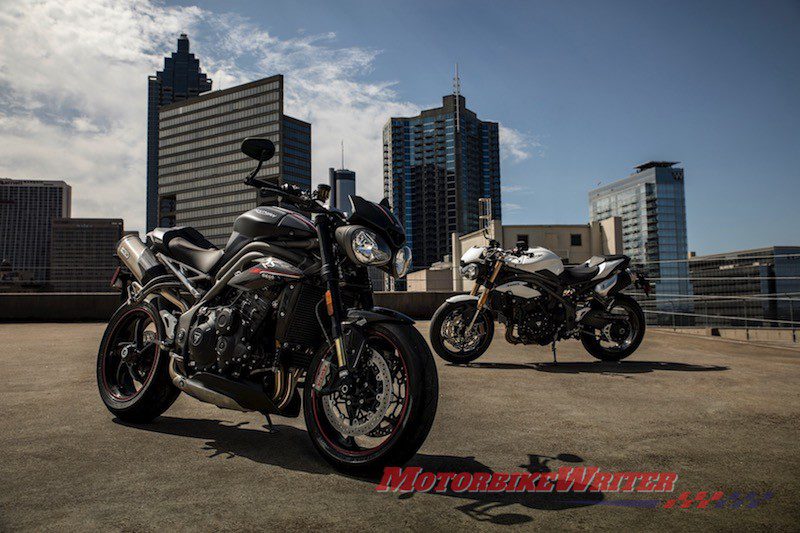 The official ACCC notice on the 2018-2020 Street Triple RS and S says it could get "false neutrals", which can be common on many bikes.
"The Quickshifter assembly, TSA body may come into contact with the gear change Clamp Linkage aAssembly, potentially impeding a smooth 'assisted' gear change, resulting in a missed gear or false neutral," the notice says.
"If a loss of acceleration without warning occurs, this may lead to an increased risk of an accident and injury to vehicle occupants and other road users."
Triumph Motorcycles Company dealers in Australia will replace the Clamp Linkage Assembly, free of charge (parts and labour) to vehicle owners. The new Clamp Linkage Assembly will provide a wider clearance from the Quickshifter Assembly, TSA.
Owners of affected vehicle will be contacted asking them to arrange recall repair by their authorised Triumph dealer.
A list of Vehicle Identification Numbers (VINs) for affected bikes is included at the end of this article.
O'Neal 3 Series Hybrid Fidlock helmet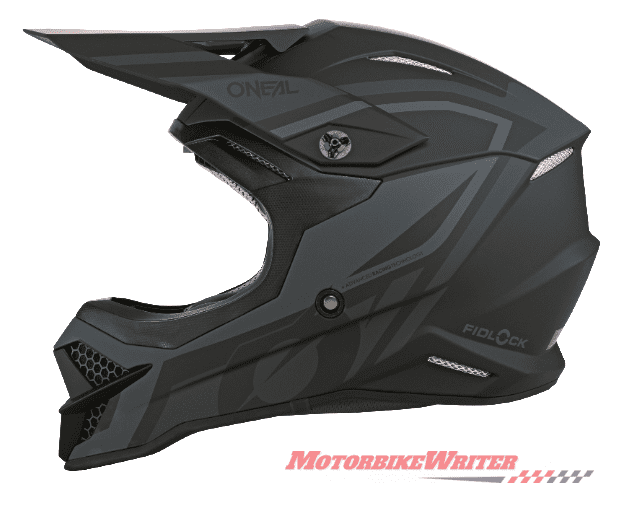 "If the chin strap retention system fails, the helmet may not provide adequate protection to the wearer in the event of an accident and may increase the risk of death or serious injury to the wearer."
Owners have been advised to "immediately stop using the helmet" and return it to the place of purchase for a refund or replacement.
For more information, consumers can contact Cassons Pty Ltd on 02 8882 1900 or info@cassons.com.au
Even though manufacturers and importers usually contact owners when a recall is issued, the bike may have been sold privately to a rider unknown to the company.
Therefore, Motorbike Writer publishes all motorcycle and scooter recalls as a service to all riders.
If you believe there is an endemic problem with your bike that should be recalled, contact the ACCC on 1300 302 502.
To check whether your motorcycle has been recalled, click on these sites:
• USA
• Canada
VINs of affected Speed Triples
SMTTPN275CJ888472
SMTTPN275CJ888477
SMTTPN275CJ888478
SMTTPN275CJ888479
SMTTPN275CJ888480
SMTTPN275CJ888482
SMTTPN275CJ888483
SMTTPN275CJ888484
SMTTPN275CJ888485
SMTTPN275CJ888486
SMTTPN275CJ888487
SMTTPN275CJ889552
SMTTPN275CJ889553
SMTTPN275CJ889554
SMTTPN275CJ889556
SMTTPN275CJ889557
SMTTPN275CJ889558
SMTTPN275CJ889559
SMTTPN275CJ889560
SMTTPN275CJ889562
SMTTPN275CJ889563
SMTTPN275CJ890897
SMTTPN275CJ890904
SMTTPN275CJ890923
SMTTPN275CJ890928
SMTTPN275CJ890929
SMTTPN275CJ890930
SMTTPN275CJ890931
SMTTPN275CJ890933
SMTTPN275CJ890938
SMTTPN275CJ891038
SMTTPN275CJ891039
SMTTPN275CJ892327
SMTTPN275CJ892334
SMTTPN275CJ892340
SMTTPN275CJ892788
SMTTPN275CJ892790
SMTTPN275CJ892791
SMTTPN275CJ892792
SMTTPN275CJ893178
SMTTPN275CJ893373
SMTTPN275CJ893426
SMTTPN275CJ896517
SMTTPN275CJ896520
SMTTPN275CJ896528
SMTTPN275CJ896543
SMTTPN275CJ896545
SMTTPN275CJ896563
SMTTPN275CJ896569
SMTTPN275CJ897215
SMTN52P44KJ898130
SMTN52P4XKJ899993
SMTN52P47KJ900002
SMTN52P47KJ900033
SMTN52P42KJ900036
SMTN52P46KJ900878
SMTTPN275CK903410
SMTTPN275CK903422
SMTTPN275CK903425
SMTTPN275CK904260
SMTTPN275CK904703
SMTTPN275CK904792
SMTTPN275CK904892
SMTTPN275CK904901
SMTTPN275CK908142
SMTTPN275CK908144
SMTN52P40KJ914551
SMTN52P44KJ914570
SMTN52P48KJ914572
SMTN52P40KJ914811
SMTTPN275CK917801
SMTTPN275CK917807
SMTTPN275CK917811
SMTTPN275CK920248
SMTTPN275CK920260
SMTTPN275CK922944
SMTTPN275CK922945
SMTTPN275CK922947
SMTTPN275CK924207
SMTTPN275CK924214
SMTTPN275CK924396
SMTTPN275CK924401
SMTTPN275CK924404
SMTTPN275CK924406
SMTTPN275CK924430
SMTTPN275CK925363
SMTTPN275CK925370
SMTTPN275CK925391
SMTTPN275CK925396
SMTTPN275CK925410
SMTTPN275CK925643
SMTTPN275CK926166
SMTTPN275CK926171
SMTTPN275CK926185
SMTTPN275CK926212
SMTTPN275CK926221
SMTTPN275CK926223
SMTTPN275CK926236
SMTTPN275CK926249
SMTTPN275CK926261
SMTTPN275CK926274
SMTTPN275CK926498
SMTTPN275CK926509
SMTTPN275CK926521
SMTTPN275CK926559
SMTTPN275CK930398
SMTTPN275CK930400
SMTTPN275CK931029
SMTTPN275CK931056
SMTTPN275CK931060
SMTTPN275CK931947
SMTTPN275CK931952
SMTTPN275CK931953
SMTTPN275CK933404
SMTTPN275CK934156
SMTTPN275CK934173
SMTTPN275CK934193
SMTTPN275CK935764
SMTTPN275CK935781
SMTTPN275CK935799
SMTTPN275CK937812
SMTTPN275CK937829
SMTTPN275CK938089
SMTTPN275CK938110
SMTTPN275CK939675
SMTTPN275CK939728
SMTTPN275CK940915
SMTTPN275CK943937
SMTTPN275CK946196
SMTTPN275CK950203
SMTTPN275CL958666
SMTTPN275CL958681
SMTTPN275CL959650
SMTTPN275CL960960
SMTTPN275CL961894
SMTTPN275CL963374
SMTTPN275CL964885
SMTTPN275CL964900
SMTTPN275CL964903
SMTTPN275CL969185
SMTTPN275CL969190
SMTTPN275CL969194
SMTTPN275CL969202
SMTTPN275CL969203
SMTTPN275CL969250
SMTTPN275CL969253
SMTTPN275CL970020
SMTTPN275CL970026
SMTTPN275CL970034
SMTTPN275CL970040
SMTTPN275CL970048
SMTTPN275CL970051
SMTTPN275CL970091
SMTTPN275CL971343
SMTTPN275CL971347
SMTTPN275CL971351
SMTTPN275CL971354
SMTTPN275CL971355
SMTTPN275CL971368
SMTTPN275CL971371
SMTTPN275CL971378