Special anti-fog coating prevents visor fogging better than any competing product that we've tried to date.
Places a thin coating on visor. Lasts up to several days. Used in many other sports.
I'll admit it: I'm a fair-weather rider.
My preferred riding time is early in the morning. I often like to head out just after sunrise to bomb around the back country roads near my home to see what's new and smell the crisp fresh morning air.
But cool mornings plus hot caffeinated breath equals the dreaded visor fog.
Cracking open the visor can help clear things up, but sometimes you just aren't up to getting a mouthful of cold and misty air, especially at 6 a.m.
I've tried various "over the counter" remedies on occasion.
That includes stuff like RainX, "Never Fog" and others, with mixed success. None of them have really worked the way I thought they should, and I wasn't sure why.
Fogtech
Then Gene Menzies, the brains behind Fogtech, sent me a bottle to try.
Fogtech is a product that really does eliminate fogging, no ifs, ands or buts.
Search the web to learn more about visor fogging, and you'll find Fogtech mentioned in most of the news groups as the only recommended solution for anyone who needs 100% fog protection for visors, goggles, face shields and more.
Gene is confident enough in the product that he suggested several different methods for testing its capabilities.
The one I liked best was the "boiling tea pot" test. We divided a spare visor into 2 sections separated by a "control" area down the middle.
We treated one side (the side that faces internal to the helmet) with Fogtech, the other side was treated with Never Fog, and a small strip in the middle of the visor was left untreated as a control.
We followed the application directions for each product.
We boiled up a pot of water on the stove and held the visor over the steam (ouch!).
The control section immediately fogged up and became opaque, which is to be expected.
The steam rapidly condensed on the portion of the visor treated with Never Fog and it formed a heavy film of water droplets and streaks that obstructed vision.
I guess you can say that technically the Never Fog section didn't fog up, but it sure made a mess that we couldn't see through.
But the section treated with Fogtech remained crystal clear.
We put the Fogtech-treated section directly over the boiling water and held it there, and the steam just didn't do anything. No fog, no drips, no runs. Pretty amazing, actually.
It was very hard to take a photograph through the visor to show the difference that is so apparent after running this live experiment.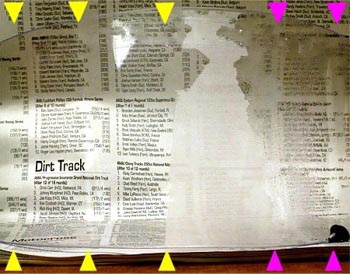 Fogtech Comparison
The photo on the left attempts to show the difference between the Fogtech treated section (yellow arrows above); the control section (middle); and the section treated with Never Fog on the right.
This illustrates the results after holding the visor over the pot of boiling water for 30 seconds.
The Fogtech side is clear, while the Never Fog side is blurred from condensed steam.
There was no clear delineation between the control section and the Never Fog section because the condensation ran across both areas.
Fogtech is applied by carefully wiping a thin transparent layer on the inside of the visor. If the product isn't applied correctly, it can leave a few streaks that may remain visible.
Fogtech also leaves a slight film after it dries; the film is responsible for the product's effectiveness.
You really don't want to rub your fingers on it or it will streak.
But the product should always be applied to a clean visor, and once it's applied you shouldn't be messing with the inside of the visor anyway.
Fogtech Details
Fogtech is currently available in a small 30 ml (1 oz.) bottle (supplied with a small cloth applicator) or (new) single-use packets, which are handy for carrying on the road.
Gene is working on an improved delivery system, probably involving a sprayer.
That should help distribute the Fogtech more evenly on the visor, as it only takes a very thin coating to do the job and it's just a bit tricky to get it right using the cloth applicator.
It only takes about a minute or so for Fogtech to "set" on the visor, and it can be washed off with water.
I asked Gene how Fogtech works, and he replied:
"Actually the carrier completely evaporates and leaves a thin coat of the combination surfactant and hydrophilic chemicals.
That chemical mix is somewhat 'oily' which is important to how it works, as you discovered.
The hydrophilic portion soaks up loads of water and the surfactant spreads it evenly and so thin that it's transparent. Some small touches 'heal' themselves, but it is better not to touch the inside of your shield. Which is good advice even if you don't have Fogtech on it."
Many users claim that a single application of Fogtech will last several days.
Conclusion
I wouldn't necessarily use it every day, but if you know it's going to rain, or you're going to ride in the cold, at night, in a race or in a long-distance competition, this is the stuff you want.
Based on our experiments, we estimate that a 30 ml bottle of Fogtech will fully coat the inside of a visor approximately 30-40 times if applied correctly — it only takes a very thin layer.
The product is more expensive than other "anti-fog" coatings, but if you want the best, this is it.
Gene has put a lot of work and research into the product and has applied for a patent.
He's tested it against dozens of different anti-fog coatings and on many different makes and models of visors to come up with a product that he says works on all of them, coated or uncoated.
Fogtech is claimed to be safe, non-flammable, and it cleans up with water.
More wBW: Anti-Fog Treatment Reviews  |  Heated Clothing Reviews
w

BW

 Review: Fogtech Anti-fog Coating
Manufacturer: MotoSolutions

List Price (2006): 30 ml bottle is $16.00; 5 pack of Packets is $5.00; Shipping is $4.00 U.S.A., $6.00 Int'l.
Colors: N/A
Made In: U.S.A.
Review Date: 2006
Note:
 For informational use only. All material and photographs are Copyright © webWorld International, LLC since 2000. All rights reserved. See the webBikeWorld® 
Site Info page
. Product specifications, features and details may change or differ from our descriptions. Always check before purchasing. Read the
Terms and Conditions
!
Owner Comments and Feedback
---
From "P." (October 2012): "Yesterday morning , temp about 44 F, I went out for a ride.
I coated the lens with Fog Tech but wasn't happy with its performance. It may not have worked because I didn't wash off the visor first with water. I will give it another try this winter.
I will use their cloth and apply a thin coating on the inside surface of the visor.
I haven't really found any of these to work great, but I had heard good things about Fog Tech.
I am also looking into the anti-fog inserts for replacement visors for my helmet but didn't want to spend the $20.00 to $40.00 for them. I wasn't sure how they work and what (owners') responses to them are.
Thank you for your info, based on the positive reviews on Fog Tech, i will try it again and assume I applied incorrectly to an unclean visor, I will try again."
---
From "P.S." (11/09):  "I used this product while touring New Zealand in Autumn April 2009, while using an Arai XD. I found that it was good if the there's no rain but cold atmosphere riding.
However, when it rains and you need to stop or lift up your shield to talk to your buddy or scratch your nose etc., once rain hit the inside of shield coated with the product it will get smeared.
It will ruin the visibility worse than before treated so it gets dangerous.
At one time I  I had to stop and remove the total coating from the shield in order to  continue.
Now if I ever want to use it again I make sure I tape the shield crack at the top to the helmet shell and open lift the whole chin bar or face shield, if I'm using modular helmet."
---
From "W.C.":  "The product does work; it just took me a while to figure it out.
I applied it to the inside of the visor, on the way home my breath was fogging the visor.
What was weird the fog stayed and would not clear very quick with the visor open; warmer (70F) humid day so maybe that was the problem.
So I washed it off with water and applied it again worked better but still fogs.
I have ridden in the rain twice with it applied; it really does pull the water down on the inside of the visor, creating a blurry situation, and washes away the coating.
So I ride with my Panoptx sunglasses when rain is forecast, so I can raise the visor out of the way.
I did keep it at least a half inch from the top, like the web site said to do. The product does work well in the colder temps.
Now since the temps are in the low 30's, I just apply it daily and it works fine."
---
From "M.S.":  "I read the reviews on this product and thought I would give it a try.
I have an Arai helmet and previously used the Fog City shields with good results. However my last application went south on me.
I called my local bike shops to see if they carried Fog Tech and they had not heard of it. Consequently didn't have it.
I ordered the liquid in the bottle direct and it arrived within a few days.
Anxious to try it I didn't even clean the inside of my shield nor did I take it off to apply it. I just swiped the inside as far up as I could.
The next morning when I went to work, about 35 degrees and I ride year round in D.C., the portion that didn't get swiped fogged up immediately but the swiped portion was crystal clear.
The application has lasted about a week and a half. It seems to slowly deteriorate. Not an immediate failure. I plan on applying it once a week.
I did a final test this morning. The night before I cleaned the shield and reapplied the solution. The ambient temp outside was 8 degrees F when I left. The wind chill was somewhere below 0.
The only problem I had was where my exhale went directly on the shield.
My nose is very close to it. Yeah, big nose. It produced kind of a ringlet of ice there. Difficult to describe. But the rest of the shield was clear.
Be sure to follow the directions exactly.
Wet but don't soak the pad all over and apply it to the shield. It really does take only one swipe. Not a back and forth motion. Make sure the swipes overlap slightly for full coverage."
M.S. also sent this update:
"This morning when I left for work the ambient temperature was 5 degrees F. The solution had been on my shield for two days. I was able to get the left side of my Arai shield to fog up when I latched it.
Unlatching the shield did clear it. So if the temps are very cold one may need to apply the solution every other day or daily.
The Fog City shield may perform better but I found that it added weight to my shield, made it more difficult to close and I had to be careful how I cleaned it.
Plus, having a clear and dark shield I needed to purchase two of them. I will continue using the Fogtech and see how it goes. I still think it is a good product. I'm using it in rather severe conditions."
---
From "T.D.":  "I had previously coated my full face Arai visor with Rain-X both sides.
I washed it with dish soap to eliminate the Rain-X. Don't know for sure if any residual Rain-X effect. I tried the product yesterday and today on my commute to work.
Yesterday approximately 28 degrees F no visor fog but some sweat spots.
So I reapplied the product last night for this morning's ride to work.
This morning approximately 22 degrees again no fog and fewer sweat spots. I will repeat the process until the problem is solved or there are no more gains.
So far I would say it's the best product I've used but I can't say it's perfect for sure. I'm not sure how, or if, it is effected by any residual Rain-X."
---
From "B.":  "It does prevent fogging, but is hard to apply to the visor without creating a smeared view to look through.
And if you are able to apply it smoothly, after breathing in it for a short time, the view thru it is like out of focus I guess due to the collection on water."
---
From "M.L.":  "I just placed a second order with Fog Tech to give as Christmas gifts since there product works so well for me.
I have to say, I have tried all kinds of "anti fogging" products in my riding career.
And most have worked so marginally or not at all (which is the majority).
You have helped me find the most outstanding "anti fogging" product that I have used in 40 years of riding, skiing, snowshoeing, et al.
My riding at this time of the year is in less than 40 degrees F the majority of the time.
Today during the ride, ambient at 31 degrees F, I am thrilled that I do not have to ride with my visor cracked to help prevent fogging of my shield and eye glasses.
Thank you for finding Fog Tech for me – I can't recommend their product high enough to all riders!"
Other WebBikeWorld Visor Posts