UPDATED: No sooner has the exotic Erik Buell Racing EBR 1190RX super bike landed in Australia than Erik Buell has taken the covers off a naked street fighter version.
Both bikes are light and nimble and powered by a fuel-efficient V-twin engine. Typical of Erik Buell Racing's signature "outside the box" thinking, they have ultra-light hubless wheels, monocoque chassis and perimeter disc brakes.
Now, the EBR 1190SX has debuted at the Indianapolis Motor Speedway, where EBR was conducting a press ride for its 1190RX superbike.
The 1190SX will be available in Australia in early spring in Frost Bite White, Racing Red and Galactic Black. It will go on sale with the expected recommended retail price of $23,490 with 24 months unlimited kilometre warranty and 24 months premium roadside assistance as standard. New Zealand will also receive the 1190SX in spring with the price to be announced.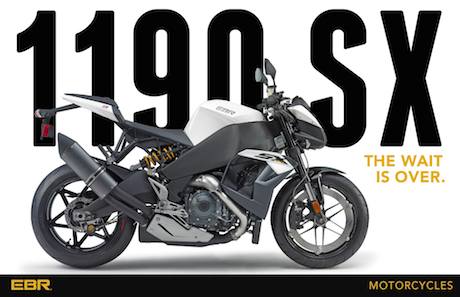 There are few product details available for the 1190SX, but it has the same basics as the RX, except for the fairing, and will be powered by the same
V-Twin engine rated at 137Kw of power at the crank and more than 135Nm of torque. It also features high and wide street fighter bars rather than the RX's clip-ons.
Meanwhile, 35 Aussie customers who bought the EBR 1190 RX also received a free trip to see the bike race in round six of the World Superbikes at Sepang in Malaysia on June 8.
They had exclusive access to Team HERO EBR pit garage, paddock and pit lounge where they overlooked the circuit while enjoying complimentary meals and drinks. They were also given priceless insight into the development of their own bikes by rider Geoff May #99 and the EBR technicians.
Importers Urban Moto Imports have also clenched a deal with Clean Motorcycles in Wellington to carry EBR (Erik Buell racing), Benelli, Bimota, Confederate and Viper. It is the first time all five brands will be sold through a New Zealand dealership.
Clean Motorcycles Pradeep Attapattu founder has been in the motorcycle industry for 25 years and acknowledges there is a strong growing market for such exotic brands.
Urban Moto Imports plans to increase the number of service agents in New Zealand over the next few months.
It has now added North Star Motorcycles in Brisbane as an EBR and Benelli dealer. Owner Michael Edwards is a former Australian Superbike Championship competitor.