Electric motorcycles could soon recharge to 75% capacity in as little as five minutes, according to Californian battery company, Enevate.
Company spokesman Bill Blanning tells us they are "talking to motorcycle and scooter makers worldwide" about their Li-ion batteries that use silicon-dominant anodes. 
"We are not ready to disclose that just yet. Stay tuned," he says … and we will!
"Electric motorcycles can do very fast charging at EV DC fast-charging stations.
"We believe that cooling systems would need to be beefed up and feasible for extreme fast charging of motorcycles while parked."
Enevate claims
The Californian company has more than 200 patents worldwide and licences its products to many automotive manufacturers.
Here are their claims about their battery:
30% more range, higher energy density;

>100% better low temperature performance;

Safer battery with no lithium plating.

Enables lower cost and affordable EVs

10-times faster charging; and

5-minute Extreme Fast Charge.
The best way to show their charging and range claims in action is in this video using two slot cars.
Given the claimed 30% increased range, in Harley-Davidson' electric LiveWire it would equate to range of more than 300km in the city and almost 200km on the highway.
Low temperature performance means you would be less likely to get stranded if riding up in the alps.
While Enevate doesn't give any secrets away about how it is made, the fact that it uses less lithium is another safety, economic, environmental and humanitarian benefit.
Bill explains: "Li-ion cell safety issues are typically caused by contamination or lithium-plating.  For today's conventional graphite Li-ion cells available, lithium plating typically happens at very high charge rates and/or charging at low temperatures.  Enevate's technology does not have any lithium plating and can be safer than conventional graphite cells."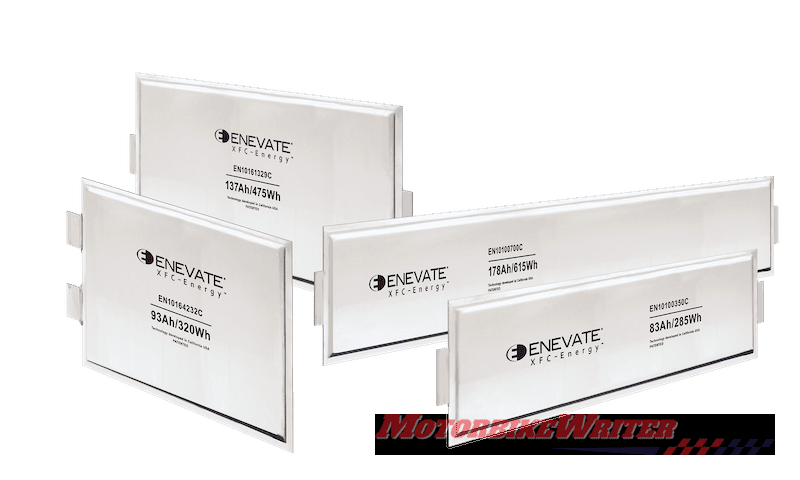 The company says the size and expense of batteries is a hurdle to widespread adoption of electric vehicles.
It's also a particular hindrance to motorcycles which weigh less and usually cost a lot less than cars.
However, we have seen electric motorcycles at ridiculous prices. For example, the LiveWire costs almost $US30,000 in the US and could cost more than $A40,000 when it is launched here late this year.
Enevate say their batteries have much higher energy density which means they can be smaller and therefore a lower cost component of the whole vehicle cost.
Their claim that recharging will be 10 times faster means that electric motorcycles such as the LiveWire that take all night to recharge from a standard AC output could recharge in less than an hour.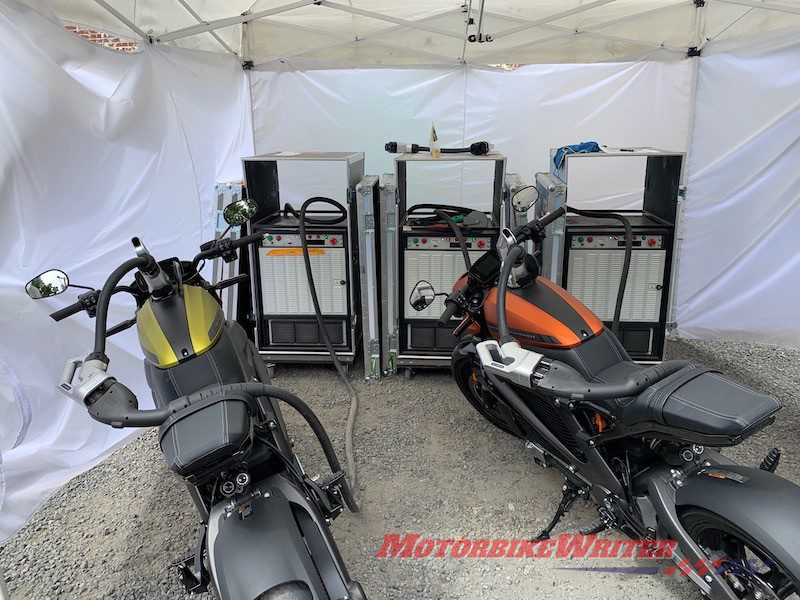 If the rider has access to a DC fast charger, that time can drop to about five minutes with the Enevate battery which compares with Harley's claim of 30 minutes for the LIveWire.
The big hurdle in Australia is our lack of such infrastructure, but it is gradually being installed across the nation's highways.
https://webbikeworld.com/solutions-electric-vehicle-charging/
Enevate isn't the only company claiming faster recharge times.
Canadian company GBatteries are making the same claim with their batteries that use a special micro-pulse technology.
https://webbikeworld.com/recharge-electric-motorbike-5-minutes/