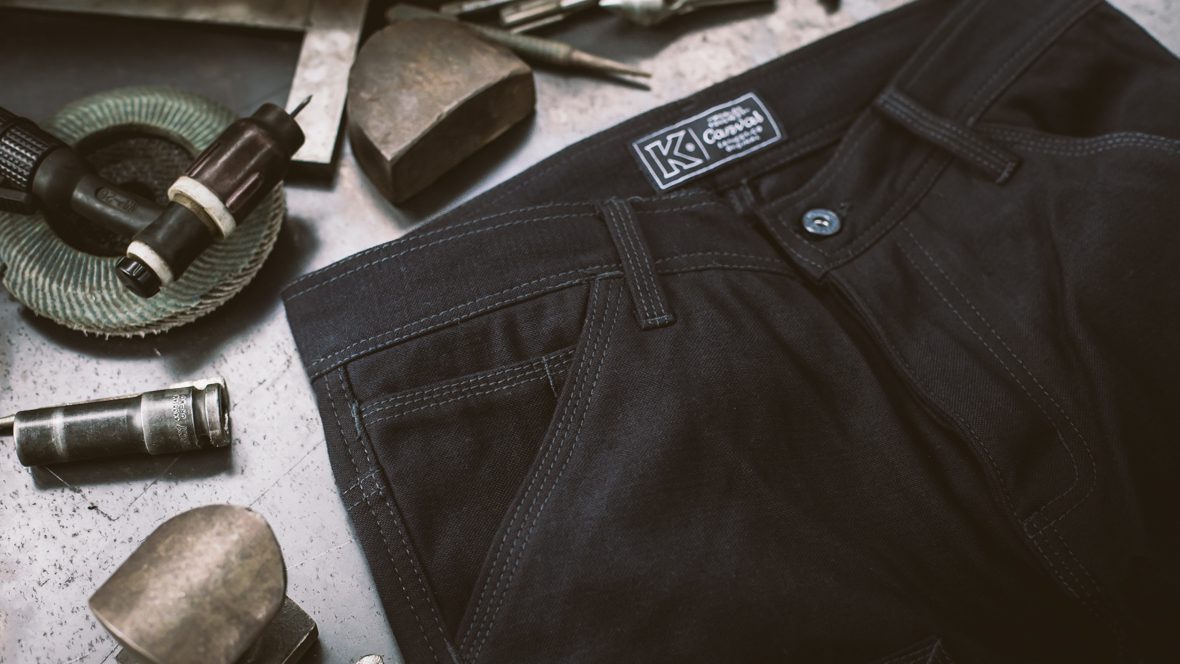 Earnest Co.'s 'Tasker' K-Canvas Pants
Designed by riders, they do what they set out to without exception or pretence. If you want a reliable workhorse that's genuinely good value and that will still be holding up their end of the deal in 5 year's time, they are a great place to start.
Pros
Built like a tank
Beautifully functional
Nicely understated
Genuinely multi-purpose
Cons
No armour as standard
No winter lining
Slim cut may feel awkward at first
Pants. They are the comedy sidekick of the moto gear world. Even the word itself sounds funny. 'PANTS!' It's like the punchline to a joke. It's even funnier when the gear makers talk about them in the singular using the word 'pant'. And most times, this is exactly how the riding public treats them, too. They are the last thing you think about after you've spent a small fortune on getting a kick-ass helmet, jacket and boots. Forever the afterthought. 
But why is this? Well, up until a few years ago, there was a real lack of decent pants available to riders. Unless you wanted to go for some top shelf leathers, most other options looked like Dad jeans or – worse still – like you'd just jumped off your Harley at the Sturgis show circa 1988. 'Cool' options just didn't exist. Fast forward ten years and now we're swamped with selvedge this and waxed cotton that. These 'Tasker' pants from the Aussie slash New Zealand Earnest Co. definitely fit into that second group, but are they any good?
What are they, exactly?
The pants are a 'Kevlar infused' design (as opposed to 'Kevlar lined', which means that the tough stuff is sewn into the pants behind the denim) that's just about as close as you'll get to a regular pair of black Levis without risking skin loss. And as per their 'workwear' affiliations, they are designed to be comfy and functional enough to allow you to wear them on and off the bike with a minimum of hassle.
'My current bike pants already do that!' I hear some of you murmur. Sure, it's no biggie. At least it's not as big a deal as – say – a jacket that does the same thing. But should your day job involve any sort of tools, pens, rulers or general long pointy things, the pants have been rather subtly designed to allow you to accommodate these without a) looking like a Valentino Rossi moonlighting as a handyman or b) looking like a boilermaker trying to set a lap record.
Who's Earnest, then?
A grass-roots moto and workwear clothing business, Earnest Co. was started in New Zealand in 2012 by a bunch of bike and car customisers who needed some gear to do a rather particular set of things and just weren't finding anything suitable from the gear makers of the time.
Being at the tip of the now popular 'work look' moto style, Earnest have made quite the splash down under, and they are now pushing hard to do the same in the US and Europe. With a concise but highly refined range including overall, aprons, pants jackets and gloves, a quick perusal of their gear reminds any bikers with some remaining short term memory just how far we've come with our gear choices over the last 10 or 15 years.
What do they look like?
Thankfully the Tasker pants understand that sometimes, you want your pants to take a back seat in the 'overall ensemble' party. Sure, camo patterns and the ever-popular cargo 47 pocket look still hold their own but personally, I mostly want my pants to protect my southern junk from angry tarmac rather than to fight for attention.
So if you're a black jeans kind person off the bike, then these little fellas will tick most of your boxes once your butt is bike-bound. Yes, they do have a few extra seams to distinguish themselves from your garden variety pair of 511s, but most casual observers would be hard-pressed to tell the difference unless they get a real close, and by that time you're probably more concerned about getting lucky or firing up your taser than you are with abrasion resistance.
What are they made like?
Earnest goes to great lengths describing how their 'K-Canvas' materials will protect your skin in the hopefully unlikely case of some unwanted freeway breakdancing lessons, but to my untrained eye, the stuff is as close to regular denim, which in my books is a very good thing. Sure, some of the stitching looks a little more 'industrial' than your average pants and the things are definitely 'substantial' in their build and heft, but that's nothing that can't be said for a quality pair of denim jeans either.
Unlike some of their competitors, you'll have no real issue accepting that things are up to the task at hand. Without naming any names, I've tried on pairs of similar Kevlar weaves in the past and I just didn't buy the claims the manufacturers were making. They just seemed too thin and light to be able to take a real licking. Rest assured the Taskers aren't a bit like that.
One word to the wise. They are quite a slim cut, so in my humble opinion, you'll be more likely to run into sizing issues regarding your inner seam and your ability to bend your knees than not being able to do up the top button. But as with all jeans, they will no doubt give a little over time.
What features do they have?
Here's where I have my word work cut out for me. Why? Because the Tasker's clean, minimal utilitarianism means that they are mercifully fuss and do-dad free. No 12 zippers and 27 pockets here. That's good for a clean look and a fad-free timelessness, bad for the guy who has to come up with all the words to do them justice.
But thanks to Earnest themselves, I can just geek out over a handy specs sheet and let you all know that the material is 20 times stronger than regular denim and it can also stand up against all kinds of sparks and stray blades in a typical workshop environment. It's also triple-stitched where it counts to make sure an off-bike excursion doesn't also force you into an unplanned strip-tease routine.
The traditionally-located (i.e. throttle side) coin pouch has a handy design that means it's divided into two sections – one for your metal moola and one for tools. Think of it as a convenient place to stow a pencil or even a pocket knife without having it standing proud. But be wary of the fact that coins stowed in the wrong compartment will be too deeply buried to be retrieved with standard-length fingers. And just in case you need to be told, never ride with tools on your person. Never ever.
Similar tool-focused pockets are located above the right knee and there's a 'Pad protected gadget pocket' inside the standard LHS hip pocket that fits phones up to an iPhone 11 Pro Max size. Last items on the features list include double canvas layers on the knees and booty bumps, and triple-reinforced pocket entries to ensure that repeated use won't see them turn into dangling flaps.
Why should I buy a pair?
Look, far be it from me to stop you from riding around town looking like Krusty the Clown, if you follow my on-bike fashion ethos of 'party up top, business down below' then the Earnest Co. Tasker pants are a very solid choice. Designed by riders like you and I and not by fashion types that wouldn't know the difference between a low-side and a side stand, they do what they set out to without exception or pretence.
Think of them like the Jay Leno of moto pants. They are eternally consistent, down-to-earth and not funny or weird in the slightest. If you're looking to rock up to your local bike stop and explode people's eyeballs with your ludicrous selection of 'pant', then these won't be the choice for you. But if you want a reliable workhorse that's genuinely good value (thanks weak New Zealand Dollar!) and that will still be holding up their end of the deal in 5 year's time, they are a great place to start.
Pros:
Built like a tank
Beautifully functional
Nicely understated
Genuinely multi-purpose
Cons:
No armour as standard
No winter lining
Slim cut may feel awkward at first
Right now, the Tasker pants will set you back $270.00 NZD (that's USD$194, £140, €160 and AUD$251 at time of writing). They come in sizes from 28/33 to 42/36; but Earnest notes that sizing runs a little slim, so maybe consider going for one size up than usual. Click below to find out more.