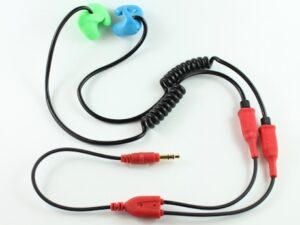 Earmold in-ear phones just got a whole lot better – now you can answer your mobile phone on the move, pause and play, skip tracks and adjust the volume.
If you don't already know, Earmold are personally moulded earplugs ($70 for bike riders) connected via a flexible air tube to speakers, so you can reduce background noise, save your ears and listen to music on your phone quietly while you ride. However, you haven't been able to control your smart phone, until now.
For just $35, you can buy a microphone extension cable which riders have been requesting for some time. It features a large button which is easy to find, even with gloves, and performs several functions. If you press the button once it will start the music on your phone. Press and hold it, and it will activate the voice-recognition mode of your phone, allowing you to make hands-free calls, send texts or anything else you can do with that function, depending on your phone. If you receive a call, just press the button to answer and press again to end the call. Simple.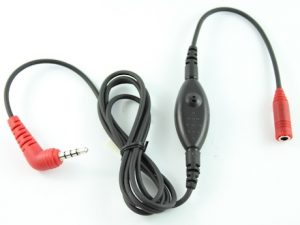 It works with most smart phones such as iPhone, Samsung and HTC. 
The only problem is that the microphone on the 90cm lead could be a bit of a nuisance. You may have to Blu Tack it to the inside of the chin bar. It's a bit messy, but it should work just fine. Otherwise, you can press the button to answer and just call out "HOLD ON WHILE I PULL OVER", then conduct your conversation when you stop.
When music is playing, click the button once for pause, twice for next track, three times to go back, and press and hold for voice recognition (Siri) to activate on your phone and then you can do things such as listen to text messages and even send a reply, although you would have to pull over to use the mic.
The microphone connection is one of several improvements to the whole range of fourth-generation Earmold products, all identified by red connections and gold plugs for better connections.
The standard cables ($220) are now shorter (60cm) because a lot of riders are connecting them to their helmet Bluetooth system and don't need the extra length or a volume controller. However, you can also get a 90cm extension for $12.50 or a volume control extension cable for $25.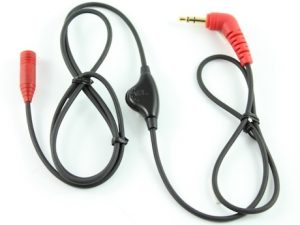 To reduce the amount of tapping and wind noise transferred from the speakers up the air tubes, the speakers are now housed inside thicker red rubber "boots" which are also silicone-dipped so they are waterproof. If you had a waterproof music player, you could go swimming with them, so a summer storm shouldn't be any concern at all! 
The speaker drivers are also updated with single Knowles balanced musicians drivers for better sound and they are directly soldered with a brass retaining ring at the base so they won't break.
If musical hi-fidelity is really important to you, try the new professional music monitors which dispense with the air tube and have the Knowles speakers embedded directly in the Earmold earplug.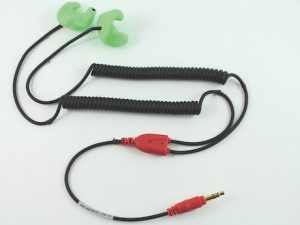 While the standard plugs tend to sound a little dull and bassy, these professional music monitors retain the full fidelity of sound. A single driver unit costs $329, while the true music fan might like to go all the way with dual drivers for $499.
The connection comes directly out of the Earmold plug and is a bit stiff, so it may cause a bit of pressure on your ears, depending on your helmet. However, I've worn these types of earphone before and these are by far the most comfortable because the speakers are so small.
You will have to be careful not to break the connection when you put your helmet on and take it off. I'd keep these for special occasions such as long rides, rather than everyday phones. 
Apart from the exceptionally audiophile sound, the cables don't need to be tucked inside your jacket to prevent wind noise and tapping that you get with the air tubes.
Earmold has been around since 1999 and constantly upgrading their product with owners Aaron and Julie Dalle-Molle using customer feedback to improve the product since they took over in 2011.