If you are interested in dressing up and riding an inappropriate bike sideways around a dirt track, then you should get in quick and grab your tickets for the seventh Ellaspede Dust Hustle at the Mick Doohan Mick Doohan Raceway, Brisbane, on 1 September 2018.
Tickets for the fun event go on sale online tomorrow (July 18) from 6pm for riders.
Cost is $95 and only 140 tickets are available.
Ellaspede spokesman Hughan Seary says rider tickets last year sold out in under 30 minutes.
"So we're hoping to go faster this time around," he says.
Amateur fun
As the video shows, it's a fun amateur event.
Hughan calls it "Australia's biggest inappropriate dirt day".
"This year we're building on the successful format from last year as we think it worked really well."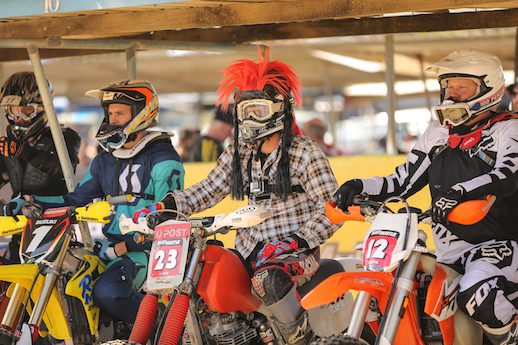 Features include:
The Food Truck Roundup with 10+ gourmet trucks;

Trade stall alley;

Open pits;

Trackside bar;

Spectator raffle; and

Pro riders including Geoff Ballard plus more to be announced in the next few weeks.
The event is held at the Mick Doohan Mick Doohan Raceway in north Brisbane on 1 September 2018.
Spectators pay only $5 at the gate with children under 16 admitted free.
For the past couple of years Ellaspede has also run a Dust Hustle event at Queensland Moto Park near Boonah.
Dust Hustle 8 will be held there on 11 May 2018. Ticket details will be announced closer to the date.