The Ducati Scrambler is destined to be one of the most customised bike on the market, if the Italian factory has its way.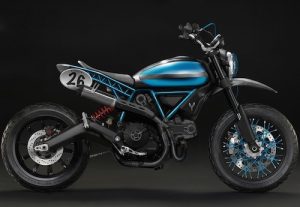 Already Swiss design house Gannet has turned the Scrambler into two very handsome custom versions.
Ducati has also made the job of customising and personalising the Scrambler very easy with a massive array of accessories that it calls "ingredients".
Now Ducati has unveiled three Scrambler customs at the Verona Motor Bike Expo at the weekend with a promise of more to come.
The factory asked custom designers Deus Ex Machina, Officine Mermaid and Mr. Martini to give their Scrambler a "complete makeover" – and they sure did.
None looks very much like the original. And quite frankly, none is as nice as the Gannet customs, especially the very confronting Deus model.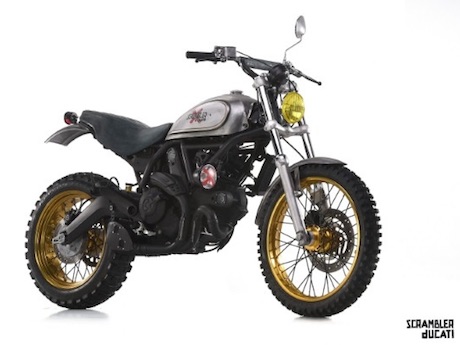 The Scratch by Officine Mermaid is probably the best with its "rough-and-ready" spartan look. "We named it using the English word Scratch, to convey the idea of it being scraped or damaged," says designer Dario Mastroianni.
The fuel tank has been stripped and treated by hand, the metal mudguards left rough and the bike stripped of anything that wasn't necessary. It gets a traditional stanchion fork with a wide 21" wheel and an 18" wheel at the back, while the saddle and handlebars are made of vintage green leather.
The Deus Ex Machina 'Hondo Grattan' – pictured at the top – is named after an Australian race horse. Managing director Filippo Bassoli says the rather confronting headlight is inspired by speedway bikes.
All we can say is it's as ugly as the back end of a horse!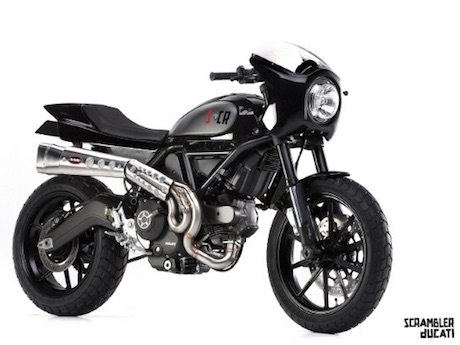 Mr Martini's Caffe Racer is more American than British, says customiser Nicola Martini.
"Although the style is that of a Café Racer, this bike has a combination of elements that make it unique. In fact, details such as the high exhaust and knobby tyres retain a decidedly Ducati Scrambler flavour," he says.
Which do you think is the best?
Ducati Scrambler prices:
Icon (Ducati Red) $12,990

Icon ('62 Yellow) $13,140

Urban Enduro $14,990

Classic $14,990

Full Throttle $14,990
(Begins arriving in Australia in March 2015)