Ducati Australia has scored another world first with a special gloss red Ducati Diavel sports cruiser just for Down Under.
Meanwhile, only ordered versions of the ultra-exclusive Ducati Diavel Titanium will arrive here, costing $39,990 plus on-road costs.
The Titanium version has a handcrafted artisanal finish combining titanium, carbonfibre, machined aluminium wheels and Alcantara leather. Only 500 numbered Titanium bikes are being made.
However, if you want a more affordable and even more exclusive model, the Diavel Gloss Red is available only in Australia at $24,990, plus on-road costs, and only 50 models will be made.
Ducati Australia says the decision to offer the Ducati Gloss Red option has been made directly in response to Australian customer feedback and demand.
The Ducati Gloss Red colour is a return to the original 2011/12 colour scheme with gloss red fuel tank, front mudguard and passenger seat cover.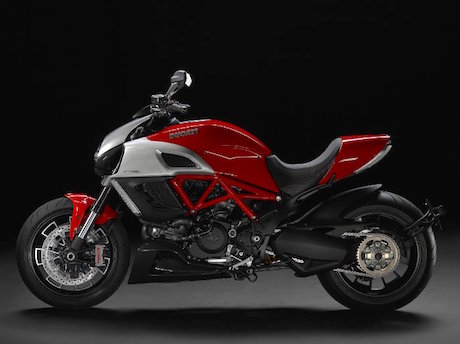 The Australia-only Diavel follows the Australia-only Monster 659 made just for us to qualify for our learner-approved motorcycle scheme (LAMS).
Obviously Ducati Australia has a lot of influence in Bologna!
The red gloss model will be joined by the $23,990 Diavel Dark Stealth, $29,990 Diavel Carbon (red and matt carbon or star white and matt carbon) and Diavel Titanium .
Those prices are pretty good as they are basically the same as in Europe.