Ducati has rolled out an ugly new MotoGP fairing that sparks concerns it could be included on the new V4 sportsbike to be unveiled on September 7 before the Missano MotoGP.
Even though Ducati makes some beautiful bikes, they have been guilty of some unsightly bikes in the past – the 906 Paso, 999 and original "Uglystrada" spring to mind.
So there could be real concern that the V4 may have something as ridiculous as this bold new fairing.
The new aerodynamic MotoGP rolled out at practice for the Czech Grand Prix.
It has been referred to as a hammer head fairing, but it looks more like the headpiece for the habit worn by Sally Field in The Flying Nun. It not only looks ugly, but it's almost laughable.
It's a replacement for the equally ugly and ridiculous winglets that they tried last year. They were thankfully banned!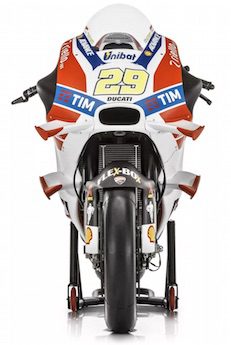 At least Ducati is trying new things, but please, don't put this fairing on the V4.
Winning races helps to win over the minds of prospective buyers. However, they also have to win their hearts and they won't do that with an ugly bike, no matter how successful it is on the track.
The new V4 superbike will be powered by a version of the MotoGP Desmosedici 1000cc V4, developing about 205-210bhp in road trim and more than 230bhp in a track-only version.
It is expected to come in an R version with an 1198cc engine, the base and S models with a 1285cc engine and possibly a 1000cc version so it can go racing.
Ducati World Superbike racing boss Paolo Ciabatti says they will race with the Panigale into 2018, but Ducati CEO Claudio Domenicali confirms the V4 "would absolutely race in WSB" … eventually.
Ducati also says the Panigale name will live and that they will "continue to design, develop and produce twin-cylinder superbikes, but not with a displacement of 1299" like the current L-twin Panigale.