Ducati announces the Ducati 3D Extreme and Ducati 2Extreme mobile phone video games!
New releases of the best-selling 3D mobile motorcycle racing game capture the action and thrills of the famous Ducati motorcycles.
The games are now available for mobile phones.  Producted by Vir2L Studios LLC and Superscape Group PLC, global publishers and developers of worldwide mobile entertainment, the Ducati 3D Extreme game features advanced mobile 3D graphics, while Ducati 2Extreme is the successor to the original Ducati Extreme game.
The new game has all-new graphics and improved game play.  Based on the world-renowned Ducati motorcycles — a brand associated with industry-leading design, performance, power, and excitement.
Ducati 3DExtreme and Ducati 2Extreme are now available to mobile users in North America and Europe and will be available globally.
"Ducati 3D Extreme and Ducati 2Extreme put you in the seat of the high performance Ducati, the most beautiful and powerful of motorcycle racing machines." said Douglas Frederick, President of Vir2L Studios.
"In Ducati 3D Extreme and Ducati 2Extreme you choose from several Monster and Superbike models, and each model features unique handling and performance characteristics that are based on the actual Ducati production models."
"The new Ducati Extreme is the most exciting 3D motorcycle racing game on mobile phones thanks to a series of new technological and graphic advances," said David Gross, creative director of Ducati Motor Holding S.p.A.  "Ducati Extreme takes gamers even closer to the exhilarating experience of actually racing a Ducati sport bike."
Experience the thrills of motorcycle racing through Sicily, the Italian Alps, Tuscan hillsides and the Amalfi coast on classic Italian Ducati motorcycles such as the 999 Superbike, 749 Superbike, and Monster!
Extreme contenders must win at least 3 challenges at each of the 4 tours to become a champion. Whether you have a couple of minutes or a couple of hours, Ducati Extreme's addictive racing action will keep you coming back for more!
Kevin Roberts, CEO of Superscape Group plc, said: "The continuing Vir2L and Superscape partnership to bring Ducati Extreme racing to mobile phones has allowed us to effectively leverage our technologies and design to evolve an outstanding racing product for one of the world's best known premium brands. The innovative features we have introduced will have huge appeal to motorcycle and mobile game fans across the globe."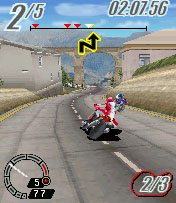 Take your racing "On-The-Go" and immerse yourself in wireless Ducati Extreme – packed with vivid graphics and addictive game play!
For more information about the handset availability of Ducati 3DExtreme, please visit Vir2L or the Ducati Extreme website.
Vir2L® Studios, headquartered in Rockville, Maryland, is an award-winning developer of interactive content for wireless devices and online.  Vir2L develops compelling, cross-platform interactive entertainment for mass-market connected devices worldwide.
Winner of two Clio Awards and the Gold Cannes Cyber Lion, Vir2L is the publisher and developer of the acclaimed Ducati Extreme, IHRA Drag Racing Mobile, AMF 3DExtreme Bowling, and The Elder Scrolls Travels® IV: Oblivion, and Shadowkey for the Nokia N-gage.  Vir2L Studios is a wholly owned subsidiary of ZeniMax Media Inc.
wBW visitor note: Doug Frederick is the President of Vir2L Studios and also an active member of the Mid-Atlantic Ducati Owners club!
Ducati 3DExtreme ©2006 Vir2L Studios LLC, a ZeniMax Media company. Vir2L and ZeniMax are registered trademarks of ZeniMax Media Inc. Official product under license of Ducati® Motor Holding S.p.A. Copyright © 2006 Ducati®. All Rights Reserved.
Note:  For informational use only.  All material and photographs are Copyright © webWorld International, LLC – 2000-2011.  All rights reserved.  See the webBikeWorld® Site Info page.  NOTE:  Product specifications, features and details may change or differ from our descriptions.  Always check before purchasing.  Read the Terms and Conditions!
Other WebBikeWorld Technical Articles Posts
wBW Technical Articles Info