If you've ever been drenched in the pouring rain while riding, you may be interested in this Chinese-made Sterydry unit that claims to not only dry your wet helmet, gloves, socks and boots but also sanitise them.
We contacted the Chinese manufacturer, Meson Global Company, for more details.
Sales manager CiCi Tao replied that the dryer costs $30, but it would cost $70 for delivery.
At $100, all up, you could probably do the same job with a hair dryer for much less.
However, CiCi says the helmet dryer is also a steriliser that can "produce sufficient, stable, controllable and adjustable ozone" to sterilise your gear.
Ozone, commonly known as O3, is simply activated oxygen that oxidises all kinds of unpleasant odours.
Ozone is natural yet kills 3000 times faster than Chlorine (a corrosive chemical) and is 300 times more powerful. Ozone safely eradicates mould, mildew, e-coli, bacteria and even anthrax!
CiCi says it also kills fungi including those causing dermatophytosis, or athlete's foot.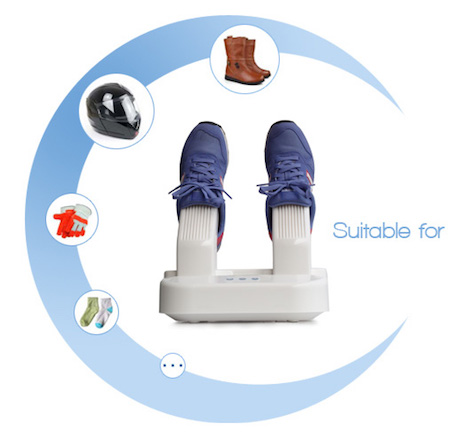 "It is also a powerful dryer who can produce a heat of 80℃ rise," CiCi says. "It becomes easy to dry a wet helmet even in very cold climate."
CiCi says they produce the Sterydry in various electric outputs for international use.
"At present, we have 110V, 220V-240V available in stock," CiCi says.
"We can produce the plug adapters for different countries, for Australia, we are full of experience to produce right dryer."
Would you trust your helmet on one of these Chinese-made dryers?
Sterydry tech specs
Size:

28*18*32cm

Material:

ABS

Weight:

1.3kg/pc

Packing:

1pc/color box, 5pcs/export ctn, 360ctns/20′, 720ctns/40′

Power:

(1)Deodorizing and sterilizing: 7W
(2)Drying: 20-300W

Frequency:

50Hz-60Hz

Ozone output:

50mg/h