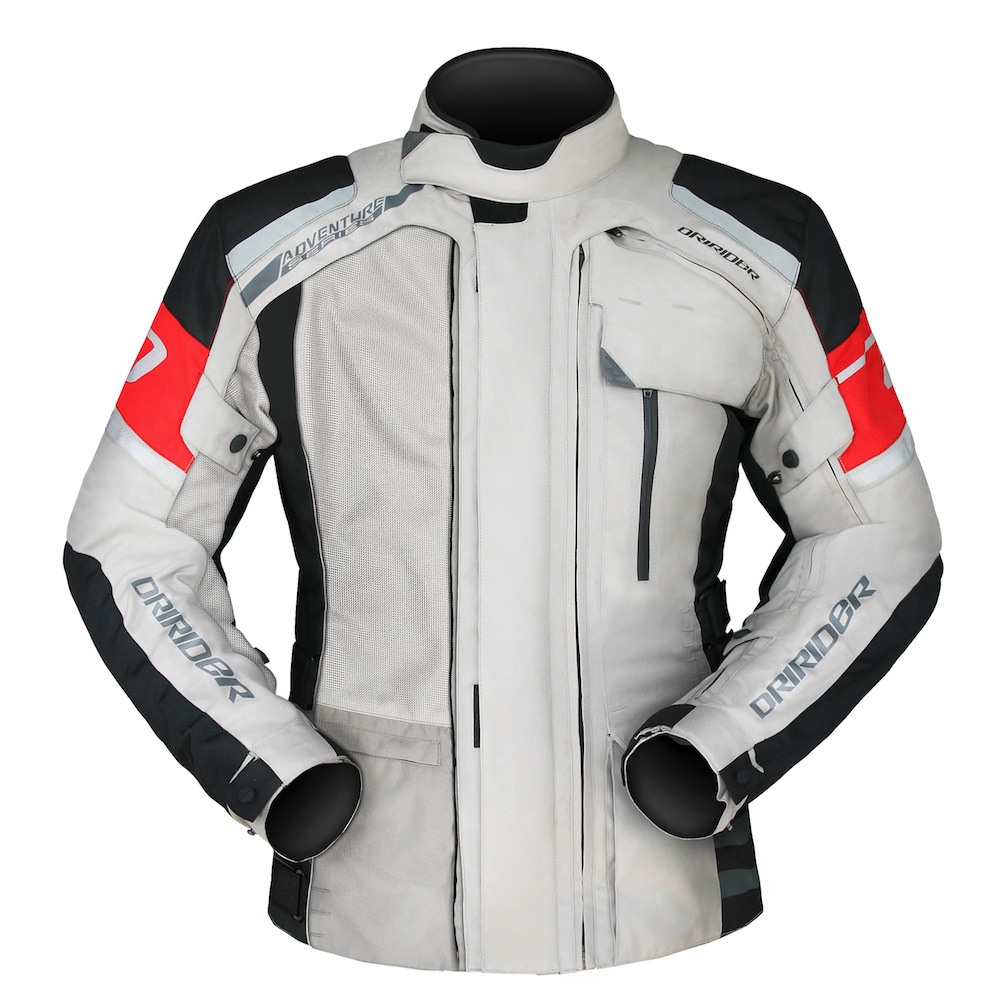 DriRider Multi-Tek all-season convertible adventure jacket
Price: $339.95
Sizes: S-5XL
Adventure touring places enormous demands on rider gear.
On a recent ride, we started out in single-digit temperatures, climbed the range where the mercury dropped a further five degrees, dropped down into a valley around lunchtime where temperatures were more than double and then headed off into the bush for some technical riding in the dirt that had us sweating and gasping for breath.
Throughout the day there were also intermittent showers.
Having the one jacket that can handle all those changes in temperature, conditions and physical demands, plus be comfortable and protective is quite a task.
DriRider designer Andrew Wright thinks he has come up with the perfect all-weather product, the Multi-Tek Adventure jacket.
It features a quilted liner, a rain liner and an outside shell that peels away to a fully ventilated mesh jacket.
Inside, are CE armour pads in the elbows and shoulders and an Eva rubber back pad.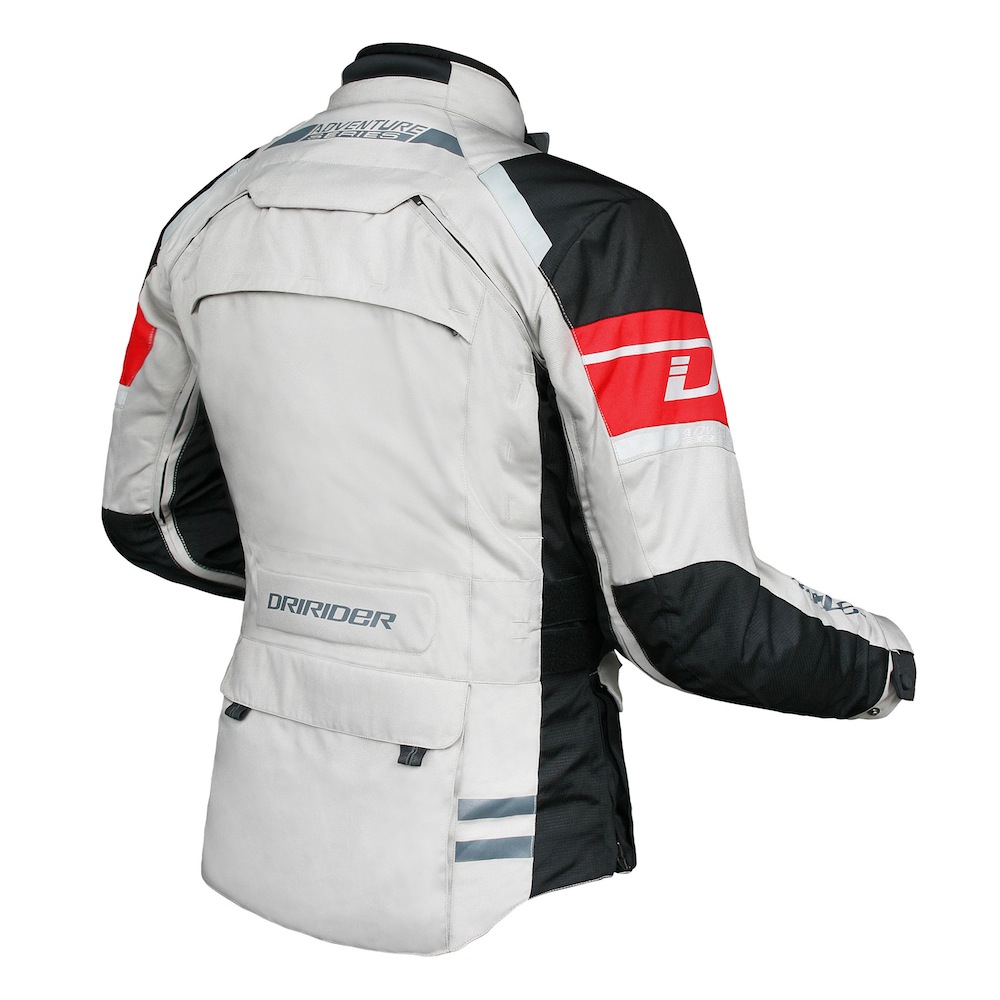 Despite the many layers and protective padding, it's not as heavy as some other adventure jackets. I weighed it on my wife's kitchen scales at 2.5kg.
The waterproof liner is just that, doubling over at the front with its own velcro collar seal. The four front pockets are also waterproof with a storm flap on the bottom pockets and waterproof zipper on the top two.
If you take off either liner, you can stash it in the rear pocket, however it won't hold both. An expandable pocket might accommodate both.
The soft collar fastens with velcro and sits up high. In summer it would be nice if there was some way to pin this back to ventilate your neck.
When it starts to get warm, you can just unzip the two main zips down the front and the vent in the back for controllable cooling.
If the heat becomes too much, most of outside shell of the jacket, including the arms, zips right off for a completely ventilated mesh jacket.
However, they won't fit in the rear pocket, so you are going to need a tank bag or backpack to stow them.
Putting them back on later is also a fiddly process.
The jacket comes in mainly light grey or sand colours which means it doesn't attract the heat like a totally black jacket.
The inside pockets are a strange mix. There is a mobile phone pocket and a velcro wallet pocket in the quilted liner, only a zipped wallet pocket in the main jacket and none in the waterproof liner. I'd like the same pockets in the jacket, and the two liners so I could keep the same items inside no matter what way I wore the jacket.
There are two waist expander velcro belts, three adjustable belts on the arms and a side zip so you can fit the jacket to almost any body shape.
In fact, some women could cinch it in for their high and narrow waist and leave the side zips open to accommodate the curve of their hips.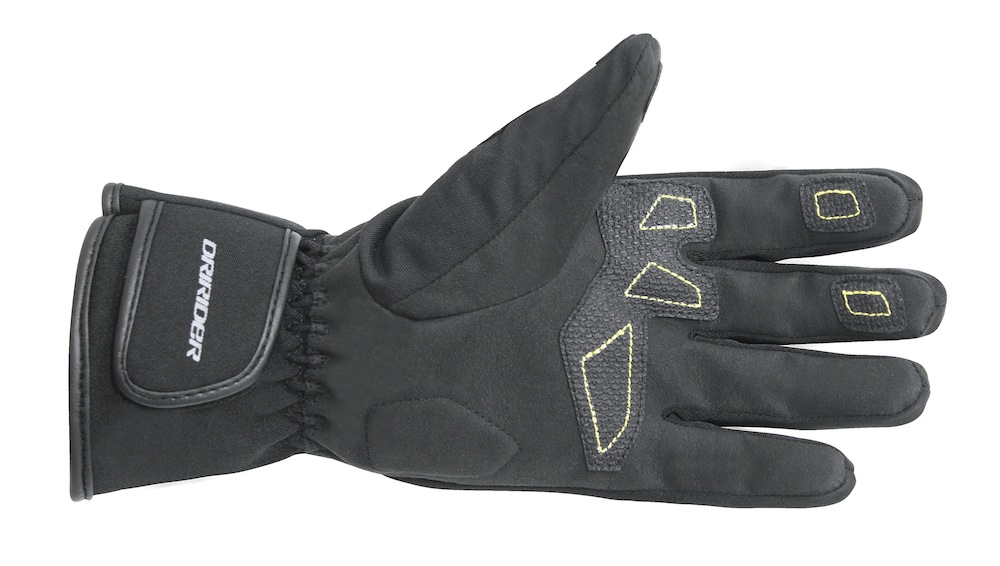 I wore it through some torrential rain and stayed perfectly dry when it was teamed with the DrRider adventure/touring Explorer gloves.
They are very comfortable, being made of a stretchy nylon and Clarino (the brand name for a synthetic leather-like material).
Inside is a Hipora waterproof and breathable lining that made my hands sweaty and then made the gloves smell.
It took two washes to get the smell out but now they don't get smelly anymore.
They have TPU knuckle protectors, a grippy material on the palm and first two fingers tips, but unfortunately no visor wiper on the first finger.
They cost $59.95 and are available in sizes XS to 5XL.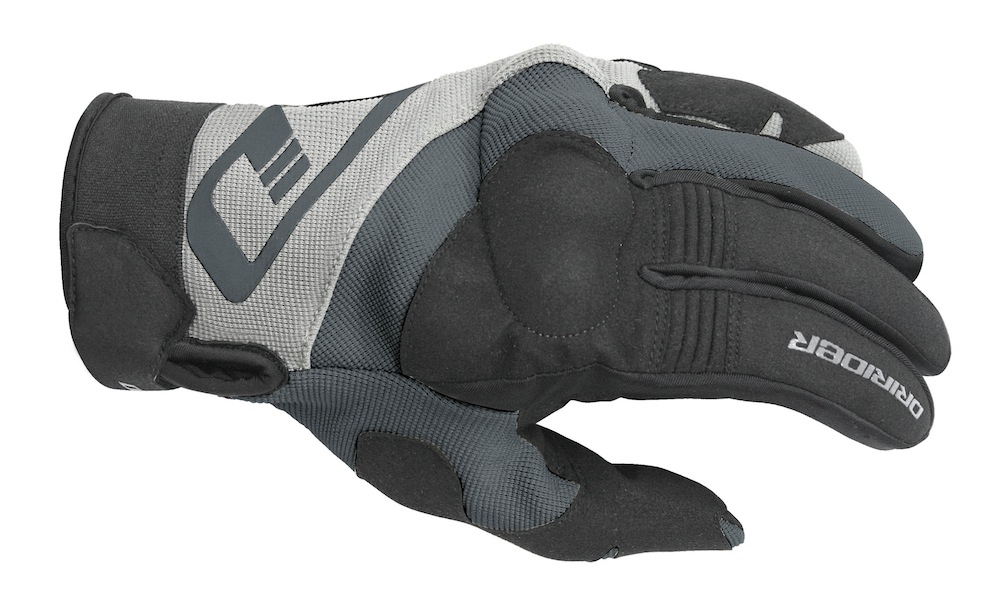 I also stashed a pair of DriRider RX adventure gloves in the front pockets to swap into when the going got hot.
They are also made of a stretchy material and Clarino with have PU knuckle protectors.
There is a double layer palm with Piittards leather, a UK company that makes technically advanced leather for many brands of sports and fashion gloves.
They're extremely comfortable and very grippy.
The RX gloves cost $49.95 and come in sizes XS to 5XL in black, grey, orange, red, blue and green.
www.dririder.com.au