Thousands attended the Brisbane Freedom Rally against the Queensland Government's anti-association laws today. A comprehensive series of reports will be posted on MotorbikeWriter over the next few days, together with photo galleries and videos. Meanwhile,  I want to share the dozen best quotes from the speakers at the Roma Street Forum.
1 Peter Wellington, Independent Member for Nicklin and supporter of the Yandina Five: "Today on Australia Day we usually celebrate our freedom and are the envy of other countries … but no longer are you equal before the law … that is not the Australian way."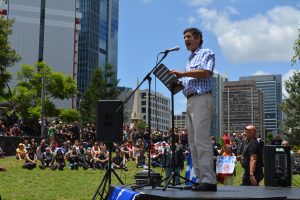 2 ETU state secretary Peter Simpson: "There should be blood in the streets over this. It's an outrage."
3 Zeke Bentley of Irish Bentley Lawyers who is heading up the High Court challenge to the laws: "The people who are affected by these laws can't even be here today.
4 Jamie "Cyclone" Evans of the Misfits MC whose YouTube video of a police interception went viral: "That's 50 minutes of my life I won't get back."
5 Motorcycle small business owner Ned Kelley talking about Cyclone's video in which police asked him why he was wearing a leather vest on a hot day: "Why are you wearing a bullet-proof vest when you're not in the middle of a war?"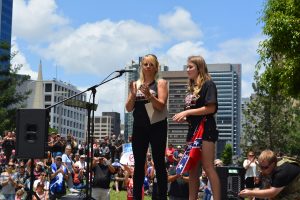 6 Tracey Kosenko, wife of Rebels MC Member Little Mick: "I worry when he goes off to work if will he come home at the end of the day or go to jail for six months."
7 Kassie Kosenko daughter of Little Mick and Tracey: "Campbell Newman does not know the damage he is doing to families like mine."
8 Zeke Bentley: "I protested in the Joh era and didn't think I would have to protest the same laws again."
9 Tracey Carew, wife of Josh of the Yandina Five: "Eight children under nine have been affected … My mum has been hospitalised with stress over this."
10 Katrina Soakai, Logan mother of five: "Everyone in Logan has a criminal history so I can't even go outside (for fear of being an associate)."
11 Caroline Stewart, mother of Jacob Little, doing 23 hours a day in solitary confinement: "I can't even touch my son or hug him."
12 Paul Keyworth, founder of the Motorcyclists Australia Party: "Who says democracy is dead?"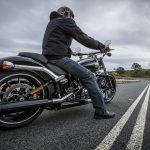 HAVE YOU SEEN THE NEW HARLEY-DAVIDSON YET?