In just three years, the Distinguished Gentlemen's Ride has become a roaring success, if you'll excuse the pun.
So far this year, the Distinguished Gentlemen's Ride has raised more than $US1.6 for prostate cancer research around the world with 20,000 distinguished gents and ladies turning out in more than 235 cities in 55 countries.
I attended the DGR in Brisbane where bikes totalled almost 300, which is a 50% increase on expectations. The local ride raised more than $50,000 toward the $400,000 Australian total with the highest fundraiser, Philip McGown, totalling $4000 in donations, which will be matched by his employer, Bank of Queensland.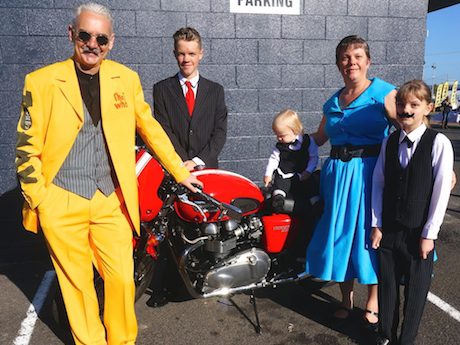 Brisbane Distinguished Gentlemen's Ride organiser Jeff Gough says the ride far exceeded expectations and he is hoping for 500 bikes next year.
He says the crackdown on bikies in the state had not affected numbers. "Last year the police saw all these riders going past and they just laughed," he says, telling the crowd before departure that the ride had not been registered with or sanctioned by the police. His comment received a rousing roar of approval from the crowd.
The Brisbane Distinguished Gentlemen's Ride ride left Oliver's Motorcycles and took in all the local icons, including the Storey Bridge, Lang Park and Mt Coot-tha where a group shot was taken, finishing at the Morrison Hotel, South Brisbane, where riders sampled craft beers and enjoyed some live rockabilly music.
Michael and Kerrie Oliver of Oliver's Motorcycle's donated coffee and croissants for breakfast for all the riders and sold merchandise at a stall at the end of the ride, donating all profits to the DGR charity, Prostate Cancer Foundation of Australia.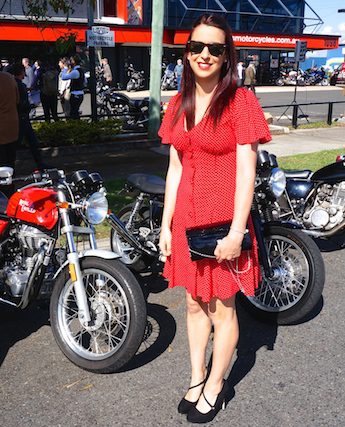 PCFA events co-ordinator Sophie Askew says she is amazed and over-awed by the response to the Distinguished Gentlemen's Ride. "It really seems to have struck a chord," she says.
Riders rolled in on a vast array of bikes, even though the ride was supposed to be limited to cafe racers, trackers, bobbers and other trendy customs. While half of the bikes were Triumph Bonnevilles, Thruxtons or Scramblers, there was a lot of Euro exotica, many old Jap customs, rat bikes and a fair gaggle of Monkey Bikes which even made it up Mt Coot-the for the group shot.