Supplies of the new BMW S 1000 RR have been substantially delayed thanks to a high demand for the company's first high-performance M package.
The third generation gets a revamped engine and suspension for 2019, with more power, more technology, but less flab.
Power has been increased by 6kW (8 hp) to 152kW (207hp) and weight has been reduced from 208kg to 197kg (193.5kg with M Package).
And for the first time, BMW Motorrad offers M options and M Performance Parts for the new S 1000 RR. 
The M package includes motorsport paint, carbon fibre wheels, lightweight battery, M Chassis Kit with rear ride height adjustment and swingarm pivot, sport seat and Pro Mode.
M gear has been available for BMW cars for years, but this is the first time it has been offered on a motorcycle.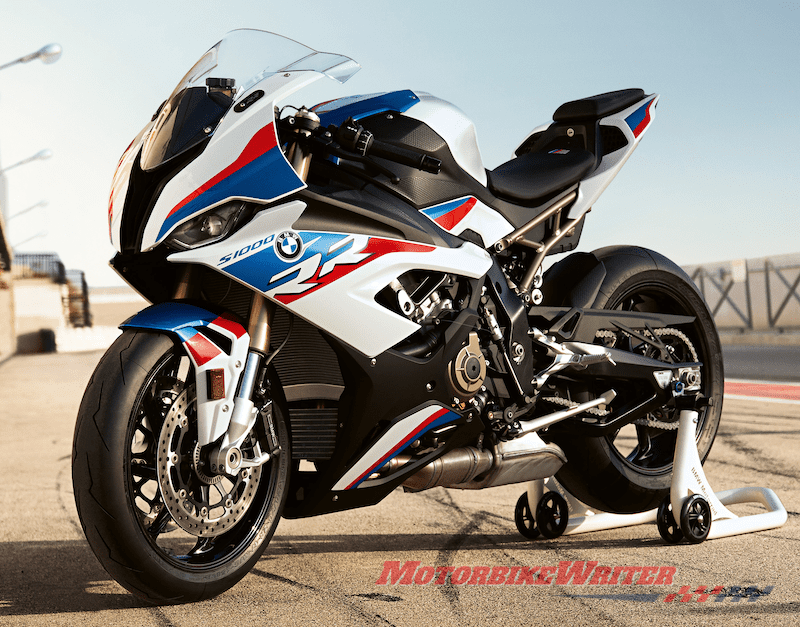 S 1000 RR M package demand
BMW Motorrad Australia spokeswoman Leanne Blanckenberg says the "strong global demand for the S 1000 RR with the M package" has resulted in a delay in supply of the standard S 1000 RR.
"BMW Motorrad has had to adapt the originally planned production and delivery schedules from our suppliers," she says.
"The production planning adaptations to the new S 1000 RR to meet the market requirements for a high M package equipment quota result in a reduced volume for the market launch in June," she says.
"In addition, longer tool and system delivery times on the supplier side are currently reducing and regulating the output on the manufacturing side.
"BMW Motorrad is working in the best possible way to eliminate the bottlenecks to counter delivery delays and meet the great demand for the S 1000 RR."
It is also believed early production models had a crankcase problem that has now been fixed.
Incentives
In Europe, buyers who have paid a deposit and face long delays are being offered a loan bike while they wait or they can keep and continue to ride their trade-in bike at an agreed price until the S 1000 RR arrives.
Some dealers are also offering customers discounts and cash rebates on BMW rider gear or bike parts.
Leanne says BMW Motorrad Australia has not yet made any decisions on incentives.