If you arrive at a Triumph Motorcycle dealer in India dressed in thongs (flip flops), shorts and a t-shirt, they may not hand over your new motorcycle.
This comes as police in Victoria want minimum riding gear standards that include gloves and boots in an effort to reduce the rising motorcyclist road toll.
The debate on minimum clothing standards for motorcyclists has raged for several years and split the motorcycle community.
But the Indian Triumph dealers have taken things into their own hands – at least at the handover stage for new motorcycles.
Apparently, 12 customers have been turned away in the past two years that the British motorcycle manufacturer has been enforcing this policy in a country where high temperatures make riding gear uncomfortable.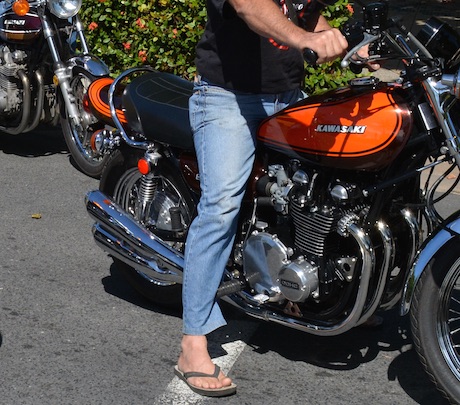 Triumph Motorcycles India managing director Vimal Sumbly says the rider needs at least a helmet and boots, but did not stipulate other riding gear. Thongs and no helmet are definitely out of the question.
"In our store, even if a customer walks in with full money, we refuse him the bike, if he's not ready to wear a helmet or riding boots or doesn't hold a valid driving license," he says.
The "All The Gear All The Time" brigade say it is a financial burden on the rest of society when a rider crashes and is badly injured or killed because they did not wear appropriate gear.
That's true.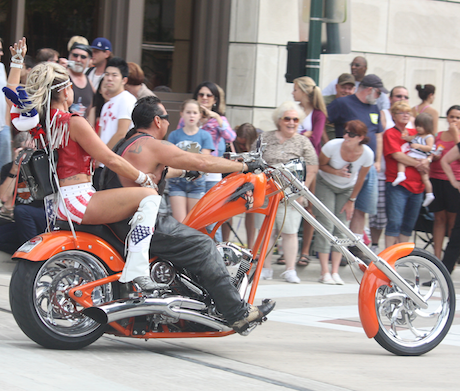 Those against minimum standards say the debate gets muddied when you start legislating standards for riding gear.
That would require acceptance of a standard, certification, enforcement, etc.
All of this would make gear more expensive and turn more people off riding.
Certainly riders in hot climates such as India might like to dress a little lighter than most. But surely thongs are out of the question!
Where do you stand on minimum riding gear? have your say in the "Leave your reply" section below. 
Meanwhile,

Bangladesh has banned more than two people on motorcycles following several murders committed by bike-riding criminals. 

While the Motor Vehicles Act, 1983, already prohibits more than one pillion rider, in reality the rules are never followed. Now that criminals and militants are using motorcycles as getaway vehicles, the government is clamping down on their rules. Just days later the government extended the ban to all children.