Look, we're an ATGATT company—we don't endorse riding around on a motorcycle with your bare arms (or anything, for that matter) exposed. But we also know it's hot as balls* out there in many parts of North America and Europe this week, and since RevZilla's offering some incredible markdowns on high-quality riding vests this week, the opportunity to cover them in our weekly deals list seems too good to pass up.
Here's the kicker: if you're wearing one of these, it's best to throw on an armored riding shirt or hoodie underneath. That way, you'll still be cooler than you would be in a jacket, but you won't be risking your skin. See our picks below or browse the whole list—you know the drill by now.
*Definitely don't ride with those exposed, boys. Nobody wants to see it.
Select Men's Motorcycle Vests Up to 57% Off
Roland Sands Ramone Vest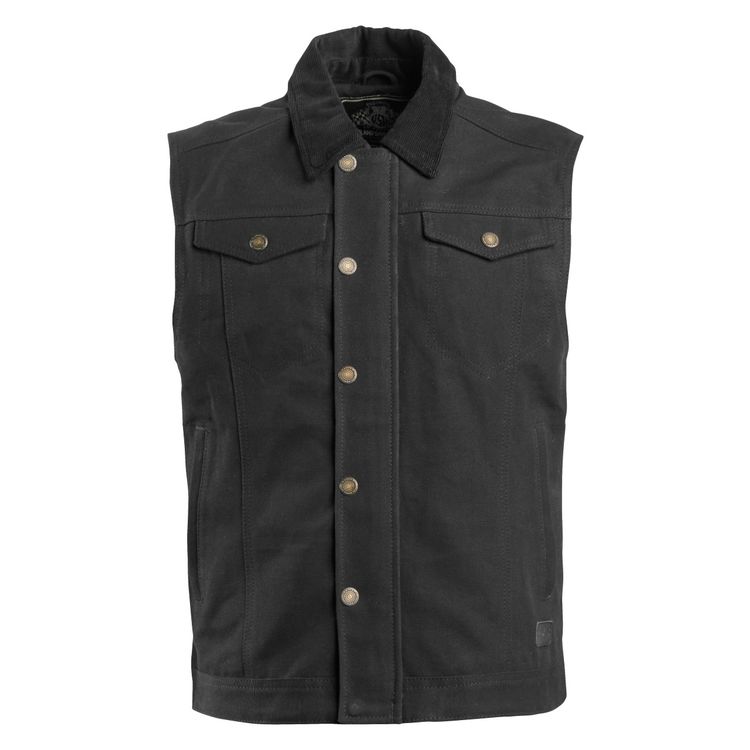 Regular Price: $175.00, Sale Price: $75.00 (57% Off)
A classic look packing more than meets the eye. This vest is made from heavy duck cotton fabric, with a pop-collar made from corduroy and a pocket for an optional back protector. Mesh inserts help you regulate your temperature while riding, and action back gussets make it easy to move around in. Also available in a perforated version for those truly sweltering days.
Street & Steel Redwood Denim Vest
Regular Price: $99.99, Sale Price: $69.97 (30% Off)
With a surprising amount of interior and exterior pockets to hold your essential items, this denim vest also makes a great garment for those of you intent on joining a club—thanks in large part to its single back panel designed to make adding a patch less of a hassle. It's also got a leather trim—which won't do much to protect you in a slide, but does lend the entire vest a kind of edgy appeal.
Roland Sands Ringo Vest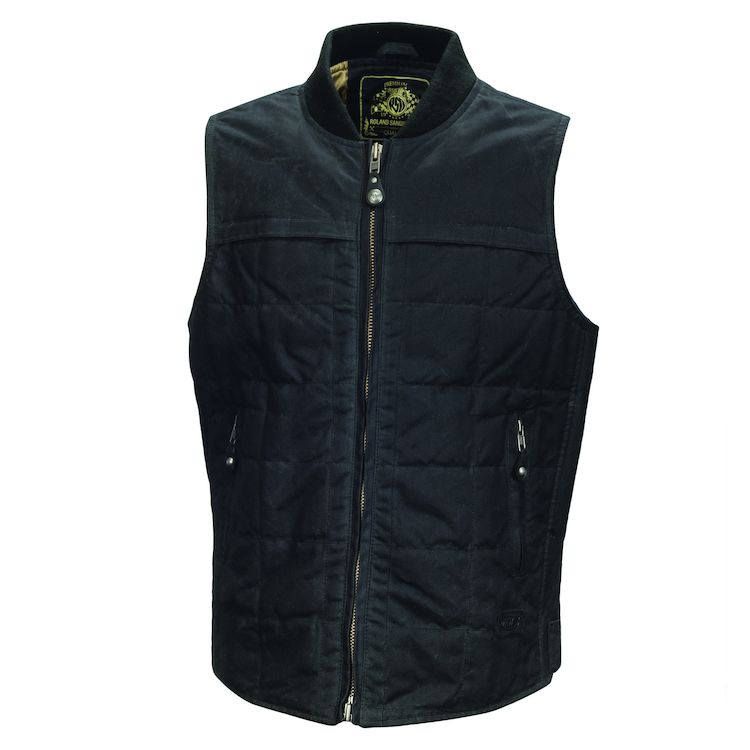 Regular Price: $220.00, Sale Price: $132.00 (40% Off)
Made from quilted, waxed cotton with a classic riding fit that makes use of a dropped back length and rib-knit collar, this vest is practically guaranteed to fit comfortably. It's also water repellant and breathable, making it surprisingly utilitarian for something that looks so badass.
Roland Sands Tech Denim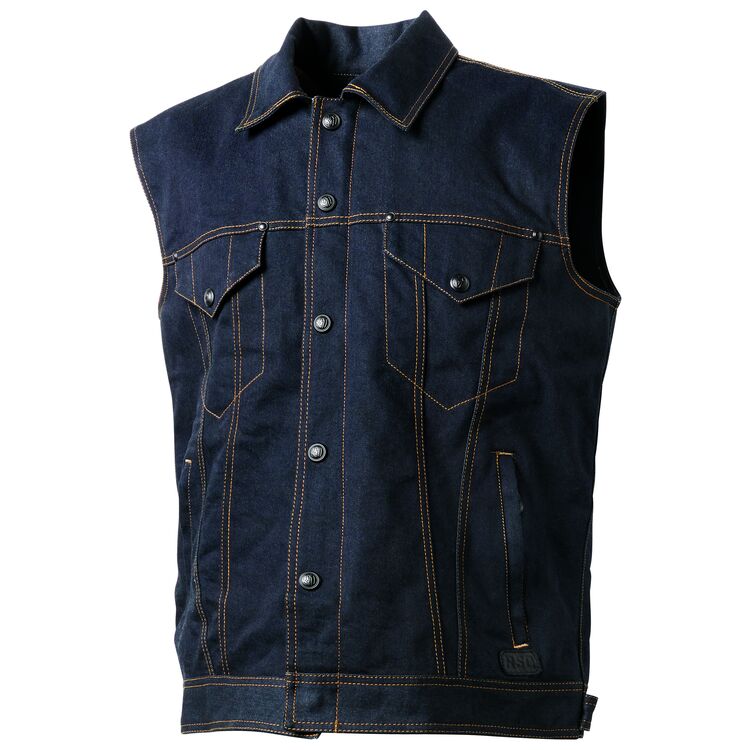 Regular Price: $220.00, Sale Price: $120.00 (40% Off)
"What the heck is tech denim?", you might be asking. Well, Roland Sands has an answer for you: Cordura Denim with Aramid-reinforced impact areas, giving you quite a bit more protection than people will think you've got at first glance.
Check it out at RevZilla
Select Women's Motorcycle Vests Up to 63% Off
Roland Sands Hayden Vest – Merlot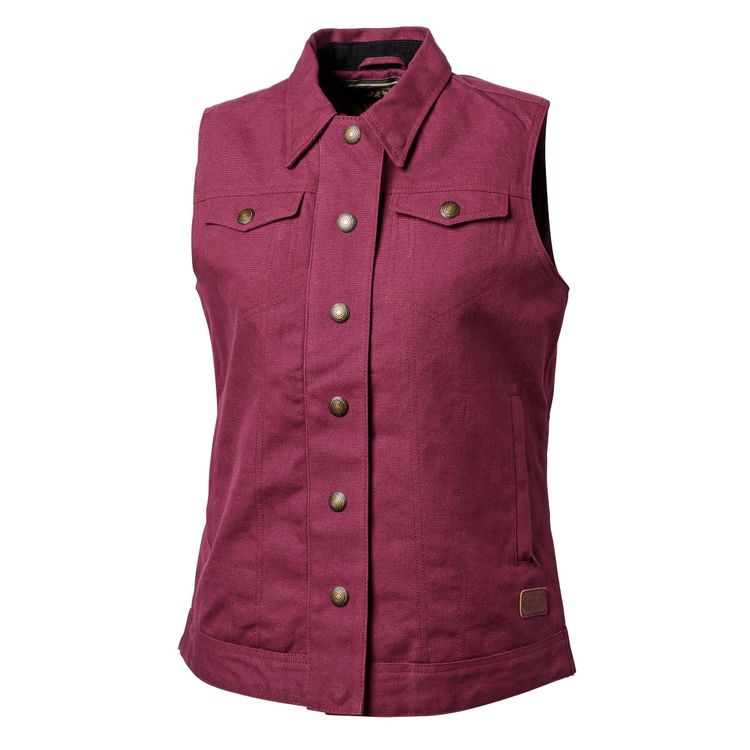 Regular Price: $175.00, Sale Price: $65.00 (63% Off)
Don't let the distinctive color fool you; this is still one tough riding garment. It's made from tough 11oz duck cotton fabric and can also be upgraded with a back protector, plus it's got a waterproof device pocket for your smartphone and action back gussets for ease of movement. And did we mention the color? I mean, c'mon—just look at that thing!
Roland Sands Hayden Women's Vest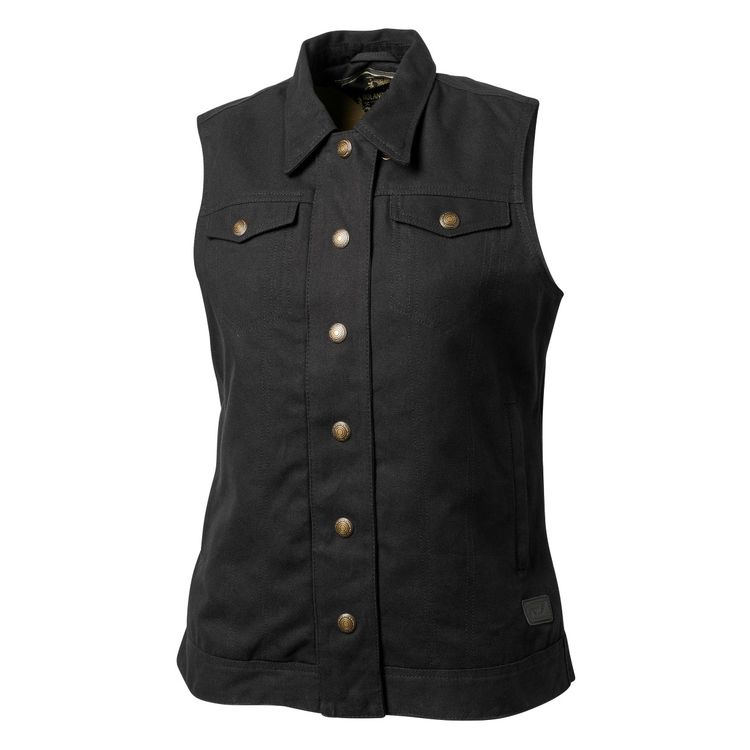 Regular Price: $175.00, Sale Price: $105.00 (40% Off)
Those of you who find the previous vest just a little too flashy will doubtless be relieved to hear that it also comes in a much more toned-down variant (pictured above). Other than that, though, this is the exact same garment—comfortable, easily adjustable, and surprisingly tough.