Damon Hypersport electric motorcycle has launched with some impressive 200 figures: 200Nm of torque, 200mph top speed and 200 miles (320km) of "real-world" range.
The Canadian start-up won the Las Vegas Consumer Electronics Show Innovations Award last week and claims their Hypserport is the world's "smartest, safest, and most powerful electric motorcycle".
That's not quite right. The 200hp Lightning LS-218 has a top speed of 218mph (351km/h) while the Energica Evo and Ego have 400km of range.
However, Damon Motorcycles CEO and founder Jay Giraud points out that the Energica's range is only in city riding. "Ours is over 300 miles (over 400km) in the city as well," he says.
"We don't know yet if it is the most powerful motorcycle, but it is certainly one of the most."
Damon smarts
However, it probably is one of the smartest and safest bikes around, as well as the most adaptable.
Among its attributes are the ability to scan its surroundings to warn the rider of hazards, powered by mobile phone company BlackBerry's QNX technology, and transform to suit the rider's style with handlebars, windscreen, seat and footpegs that move.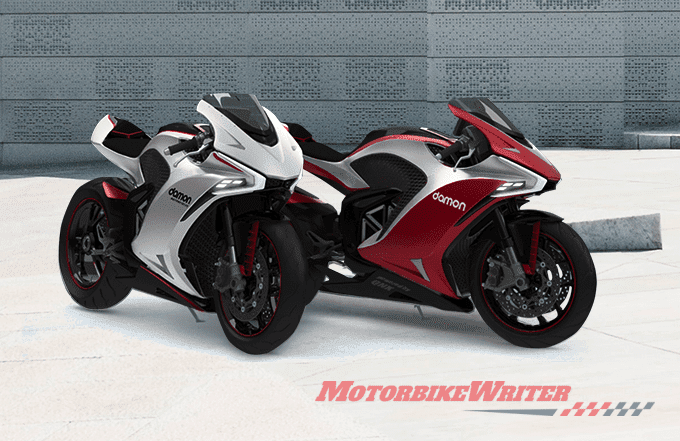 Orders are now being taken with pricing from $US24,995 (about $A36,350).
Damon has now upgraded their Hypersport's software so it can power your house when you're not riding.
It will offer up to 3.3kW of power through an AC system with parameters set through the Damon smartphone app.
There are two models, the Hypsersport Premier which is limited to 25 and the Hypserport HS.
The Premier adds Brembo brakes, Ohlins suspension and a carbon-fibre swingarm.
Both have the same performance, less than three hours charging time on level 2 chargers and 320km of highway and city riding range.
Jay says they have received "lots of orders" from Australia after the bike was featured on A Current Affair.
"We start shipping mid-2021," he says. "The more we get orders from Australia, the sooner we'll ship to you."
Jay says they have partnered with Telstra for connectivity and data will be included in the price of the bike. 
The Vancouver company unveiled their Damon X prototype based on a Yamaha R1M in October 2018.
In July last year, Jay demonstrated their patented collision avoidance system at TechCrunch Sessions in California.
Party tricks
Apart from the bike's electric performance, the party tricks are their "Shift" adaptive rider position and"CoPilot" collision avoidance system.
Making this bike more versatile than any other, Shift will change rider position from commute mode to sporting mode at the touch of a button on the handlebar.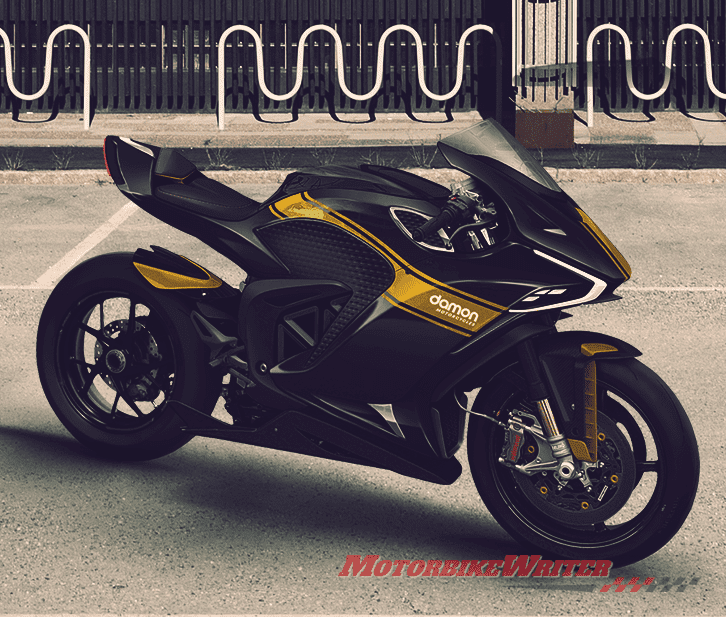 CoPilot uses sensors to lock on to dozens of objects 360º around the motorcycle.
"It intuitively know what's around you at all times by tracking and warning riders of danger through haptic feedback on the handlebars, integrated LEDs on the windshield, and an always on 1080p rearview rear-facing camera," they say.
It also comes with 4G connectivity and 1080p cameras front and back.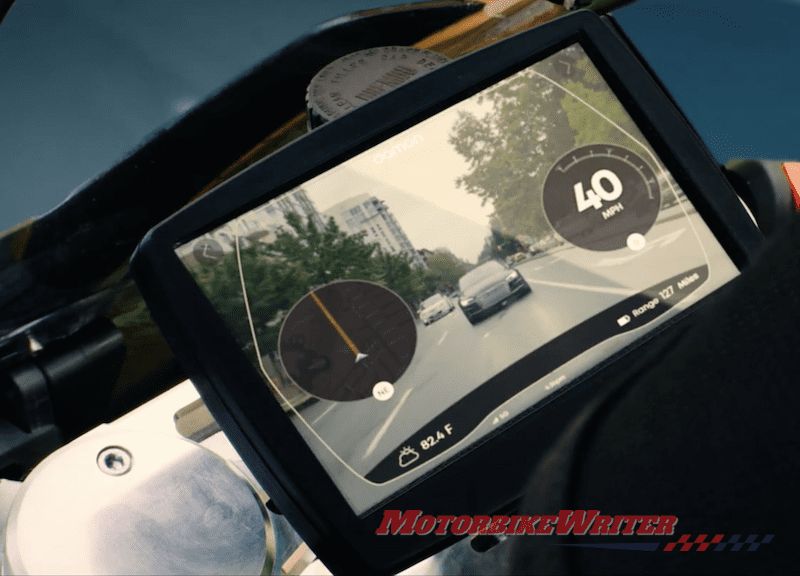 Jay says there will be an app keeping the rider "persistently connected to your motorcycle at all times, in case someone bumps your bike with a car door in a parking lot or steals it".
"You'll be notified instantly on your phone to track it." 
All this technology could turn up on other motorcycles, according to Jay.
He told Wade Thiel of Wind Burned Eyes websitehe would be interested in licensing its technology to other motorcycle companies.