Good Stuff and Cheap!
The Cycle Case Hi-Viz line of soft motorcycle luggage has excellent quality.
The luggage is built to a low price.
But the availability of the Hi-Viz yellow color and the quality make this an excellent choice.
Simply designed and very functional, the four Cycle Case products in this review install quickly and securely.
They also provide basic storage needs for commuting, weekends or longer forays down the road.
A few unique features and easy access to all compartments serve to make living with the Cycle Case luggage pretty easy on a day-to-day basis.
How well the individual pieces will hold up over the longer term isn't yet known.
But with some periodic cleaning that involves wiping down of the exterior surface to keep the Hi-Viz just that, maintenance has been simple so far.
Based on form, fit, function, cost and visibility, the Cycle Case products should be on your short list when considering soft motorcycle luggage.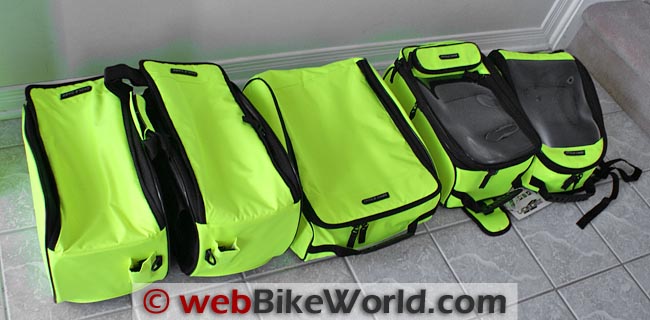 Introduction
---
Where to Buy Cycle Case Motorcycle Luggage
Check Reviews & Prices on Amazon
Check Reviews & Prices On RevZilla
Also Shop for: Motorcycle Luggage, Motorcycle Gloves, Motorcycle Boots, Motorcycle Pants
---
Leaving home? Do I have a deal for you!
This was one of my thought as I browsed the Cycle Case website, sent as a link by the Editor — who knows I'm a softie for soft luggage.
Virtually any type or form of luggage can be used for motorcycling, as long as it: (a) can be mounted safely and, (b) does what it needs to do.
There are lots of other requirements — most learned through experience or by learning from the experiences of others.
As a long-time rider who started travelling way before "motorcycle luggage" was a known entity (and when it comes to making or sourcing the economical and not so economical carriers of my personal stuff), I've been there, done that.
Sometimes it works and sometimes it doesn't.
But zooming forward a few decades brings us to a luggage-rich environment that can be truly overwhelming unless some discrete filtering is done to refine requirements, with or without a budget of sorts.
If you can think of it, chances are it is already available — or will be…and probably at your target price. So into this luggage-rich environment comes another player: Cycle Case.
Cycle Case products are reflective (pun intended) of a lot of things that so many of us now observe or take for granted.
That includes simple, proven designs with basic but functional features; mass production with consistent build quality; and competitive pricing.
This isn't a negative observation, but just a fact and as the consumer, you are the ultimate decision maker about what is purchased. As stated above, I've already made my decision about the Cycle Case luggage.
But if you want to come along for the close-up, read on…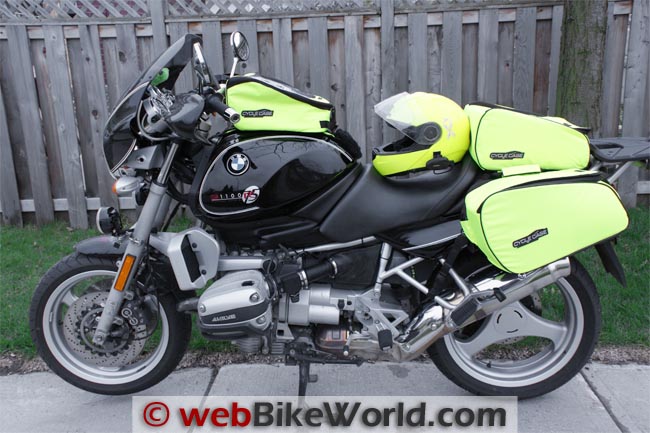 Cycle Case Products: Form and Features
As we requested, all of the products received for this evaluation were the strap-mount variants and all in the distinctive Hi-Viz Yellow color with black accents.
The retro-reflective lettering provides some relief and additional visibility in low light.
It wasn't a case of not having a choice between the traditional Black or newer Hi-Viz Yellow, but rather a desire to have all the luggage pieces "Hi-Viz".
Being an All-The-Gear-All-The-Time (ATGATT) motorcyclist, there is logic and purpose behind this visibility approach. So do I take exception to the well-worn but continuous refrains like "I can see you coming a mile away" or "Quick, hand me my sunglasses!"
This doesn't bother me at all. And while some might perceive the comments as negatives, they are actually positives!
With the exception of the saddlebags, the products reviewed here are offered with strap or magnetic mount options as listed on the website — and they're also available in black.
The Cycle Case luggage products all have the following common features:
Constructed of heavy duty Maxtura ballistic fabric that can be easily cleaned with a wipe.
Seams use strong single or double stitching with internal edge reinforcements.
Lightweight (generic brand) zippers run smoothly and are self-sealing to a degree although they are water-resistant rather than waterproof.
Plastic seam and edge piping used for strength. The joining points have an overlay piece for reinforcement to minimize wear through exposure and use.
"Reflect-a-Light" side logos provide added visibility for safety rain covers, which are built-in with the saddlebags and available as an option for the other luggage products.
The tank bag covers feature clear tops.
---
Where to Buy Cycle Case Motorcycle Luggage
Check Reviews & Prices on Amazon
Check Reviews & Prices On RevZilla
Also Shop for: Motorcycle Luggage, Motorcycle Gloves, Motorcycle Boots, Motorcycle Pants
---
Cycle Case "Expander" GPS Tank Bag
Measuring 13.5 inches long by 9 inches wide and 9 inches tall, the Cycle Case Expander GPS bag can be, as its name implies, expanded a further five inch inches to almost double its capacity.
A transparent top window allows map, route card or navigation device viewing, thanks to the 16:9 format pocket recess stitched into the centre of the top flap — although the pocket itself needs to be further forward to facilitate viewing.
The strap mount bag attaches quickly using a two-point yoke style strap with one inch Fastex-style clips that mate up to their counterparts stitched into the front of the bag.
A single connection with a loop strap is used for the rear.
As with all the Cycle Case bags, a protective rubberized mounting base cut to also include the fastener areas protects the motorcycle finish and keeps the bags from sliding or skidding around.
Just remember to clean the underside of the base and the motorcycle surface occasionally to prevent accidental scratches or wear.
An external zipper-top accessory pocket at the front top edge can hold a pair of sunglasses, or better yet, the optional rain cover.
The lightweight but sturdy carrying handle at the back of the bag makes for ease of carrying unless the provided shoulder strap is used.
Inside the roomy compartment resides a clip-on key holder and two elastic loops for pencils/pens/pencil-style flashlights, etc. The back wall of the bag features a heavy duty weatherproof pass-through for power, audio cables or a water bladder tube.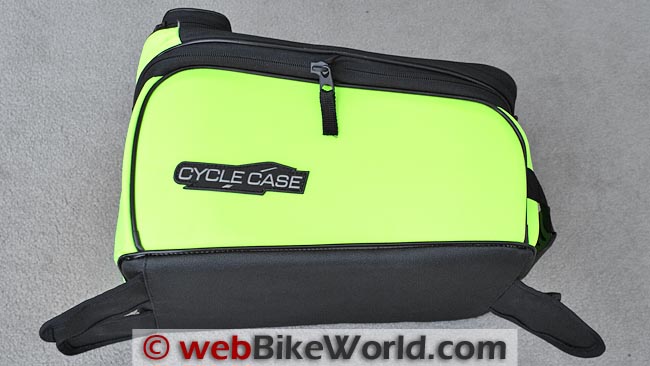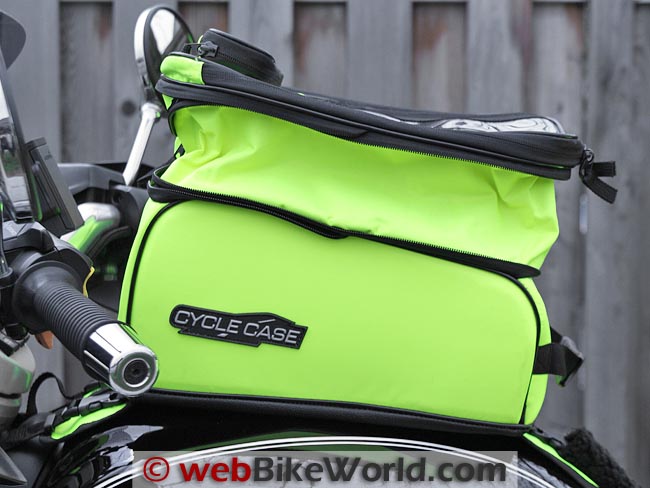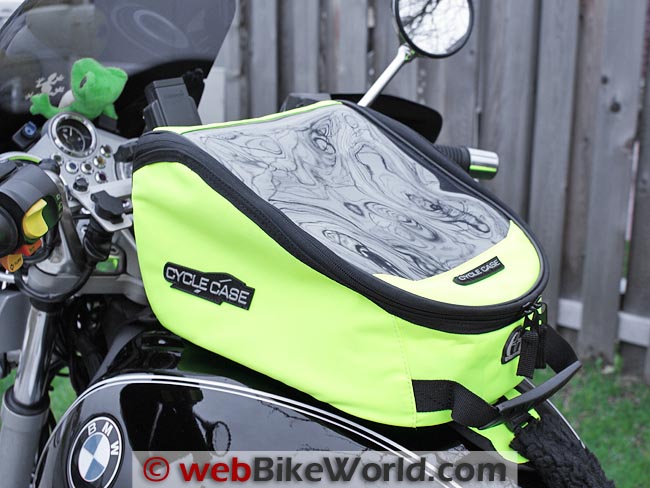 Cycle Case "Rider" GPS Tank Bag
The Cycle Case "Rider" GPS tank bag is smaller, at 13.5 inches long by 8.5 inches wide by 8 inches tall. It does not expand.
The clear top pocket is accessed by an inside zipper located at the back of the top flap.
Although slightly smaller than the Expander, this tear-drop shaped bag is still very roomy inside (as are all of the Cycle Case bags) and it has all the basic features found on the larger bag, less the external pocket and expansion capability.
While better angled due to the shape of the bag, the central location of the navigation pocket is still a bit low for easy and safe viewing of the GPS, at least from my perspective.
Two other riders who sat on the motorcycles with the tank bag and navigation device installed also commented on the poor viewing angle, although it was not as severe for them.
This "viewing" issue is why some other tank bags designed for carrying a navigation device use a flip-up style support or angled holder of some type, or place the navigation device pocket at the most forward point of the top flap.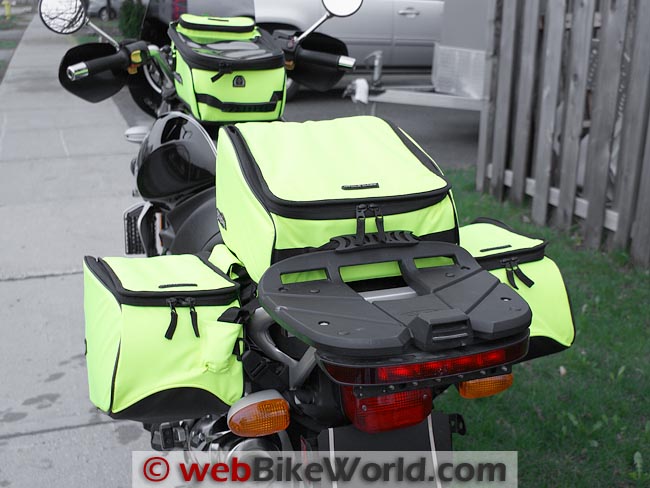 ---
Where to Buy Cycle Case Motorcycle Luggage
Check Reviews & Prices on Amazon
Check Reviews & Prices On RevZilla
Also Shop for: Motorcycle Luggage, Motorcycle Gloves, Motorcycle Boots, Motorcycle Pants
---
Cycle Case Motorcycle Tail Bag
Featuring a familiar slight taper to the rear, the tear-drop shaped Cycle Case tail bag is otherwise rectangular in shape and measures 14.5 inches long by 12 inches wide and 8 inches high.
As with most of its market counterparts, a three-sided perimeter zipper allows unfettered access to the roomy interior.
Two basic mounting options are provided and one of them should work for almost any application. The first involves using the two 40 inch long straps and four D-rings located in each corner of the bag.
The long straps can be run around, over or under whatever with excess strap taken up by the connection sliders.
The second mounting option is applicable when using the Cycle Case saddlebags for a more integrated and secure mounting solution with the four 15 inch long straps with one inch fasteners tucked away in each corner between the floor and non-slip outer layer of the bag brought into play.
With the straps deployed and snapped into their companion pieces and with any excess taken up by the sliders, the three pieces form a single integrated luggage system.
The snaps are recessed in small upper front and back pockets on the Cycle Case saddlebags.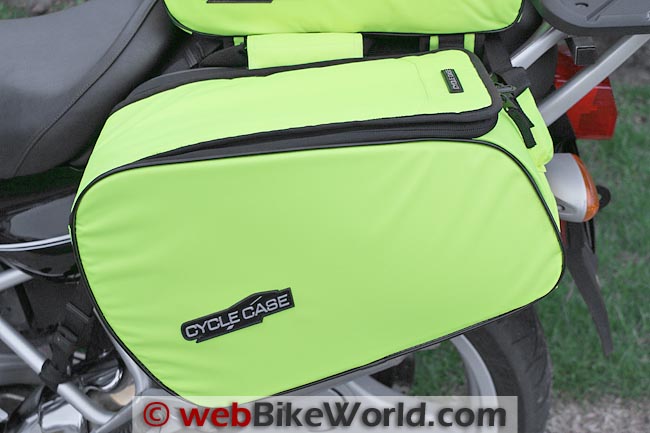 Cycle Case "Rider" Saddlebags
The Cycle Case "Rider" saddlebags measure 15.5 inches long by 7.5 inches wide and each is 10.5 inches tall at the front. Again, a familiar tear-drop tapering brings the rear height measurement down to six inches.
The non-slip side heat-resistant mounting pads stitched onto the inner mounting surface of each bag protect the motorcycle and minimize movement/rubbing between the two surfaces.
A lightweight stiffener strip inserts into a material strip at the front and runs along the bottom to the back and the strip is removable for cleaning or replacement; neat. The inner and outer side stiffeners are stitched in.
Given their small size and light weight, the bags keep their shape even when empty and on the road, although they can move around a little.
The default width of the 4.25 inch wide front and 2 inch wide back cross-over straps is 13 inches.
But mounting widths of up to 21 inches can be accommodated (given a two-inch engagement of the Velcro for safety/strength) — or less, of course. For example, the BMW F800GS (info) accommodated the bags nicely, considering the under-seat fuel tank bulge.
Full access zippers provide unfettered top access to the cavities inside the saddlebags. When dismounted, the single carry handle on each bag comes together via a hook-and-loop wrap to form a comfortable hand carry.
Integral rain covers are hidden in the bottom between the material and the outer heat resistant covering of the saddlebags and are accessed by a short zipper in the middle of the inside edge.
Securing the saddlebags is accomplished by properly adjusting the crossover straps for correct bag positioning on the motorcycle.
Then use the four 28 inch straps with frame loops and the front and rear D-rings to apply some tension from the front and rear.
Further top-side security is provided when the integrated quick-release buckles inside the recessed pockets are used with the tail bag as described above forming a three piece system.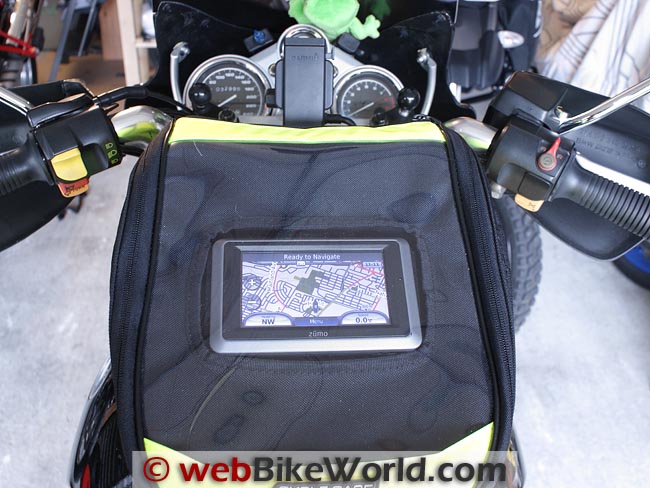 Cycle Case Luggage Functionality
All four Cycle Case bags were mounted on and continue to be used with all the machines in the home fleet.
This includes a BMW R1100R; the now-departed BMW HP2 Sport (info); the venerable BMW F800GS (info) and a new BMW R1200GS Rallye machine.
Tank Bags
The two Cycle Case tank bags, along with the tail bag are the day-in, day-out pieces and they just plain work. The tank bags hold a lot of stuff and are relatively easy to remove for refueling stops or cleaning.
The Cycle Case tank bags are available in either strap-on or magnetic mount versions, and the magnetic tank bags have their uses (on a steel fuel tank, of course), but if I can find a place to use the straps, that is still my preferred solution.
Something noted during use is largely due to the hi-viz surface of the bags.
A lot of glare can be generated by the bags on the instrument panels, making viewing the readouts and dials less than perfect. A darker strip along the top front edge of the bags would eliminate this.
When it got wet outside, the optional rain covers provided for the evaluation proved full serviceable and of particular note is the inner sleeve for the Expander tank bag rain cover; it deploys when needed as the cover is pulled over the expanded bag.
Tail Bag
Whenever a small bag is needed to fit the day's riding activities, the Cycle Case Hi-Viz tail bag is drawn into service and having its hi-viz presence on the back end is always comforting.
The long straps are light weight but effective when engaged using the small D-rings and even with some heavier loads and off-road use, nothing has come loose.
---
Where to Buy Cycle Case Motorcycle Luggage
Check Reviews & Prices on Amazon
Check Reviews & Prices On RevZilla
Also Shop for: Motorcycle Luggage, Motorcycle Gloves, Motorcycle Boots, Motorcycle Pants
---
Saddlebags
The frame mount loop straps provided are also lightweight but effective and provide multiple options for securing the pieces, although based on use and experience, placement of the front and rear saddlebag D-rings is not optimal.
They need to be moved down, or augmented with additional D-rings mid-point or just above the bottom edges of the bags.
This placement would keep the bags pulled down and as needed, pulled inwards somewhat for a more secure positioning, empty or loaded.
One final functional note about the saddlebags: care is needed when opening up the bottom side rain pouch if a hot exhaust pipe is just below: possibly hazardous and something to remember.
web

BikeWorld

 Overall Opinionator – Cycle Case Luggage

Picks…
…and Pans

Like, really HI-VIZ!
Optional clear rain covers.
Lightweight, easy to use and care for.
Low price, high quality.

D-rings design and positioning.
Tank bag GPS pocket placement.
Optional rain covers shouldn't be.
Hot exhaust is a problem.
Conclusion
All four Cycle Case luggage items are just what they claim to be: extremely low cost, simply designed, high quality and highly visible.
They are near-perfect solutions to light- to medium-duty soft luggage requirements.
Soft luggage isn't always perceived as "real" luggage by many motorcyclists, but for this rider, the right soft luggage, properly loaded and secured, is a viable solution for virtually any requirement.
But one of my biggest beefs with typical motorcycle luggage has been a real lack of literal visibility, and the high-viz versions of the Cycle Case luggage address that issue in a big and bold way — thank you!
Other soft luggage products, like the Nelson-Rigg CL-950 Deluxe Saddlebags (review) or theMotoCentric Mototek Motorcycle Luggage (review) are clearly meant for heavier-duty and they provide a few more features.
But when it comes to the basics, with the big hi-viz bonus, the Cycle Case products are hard to beat.
Fellow riders have been most complementary about the quality and function of the Cycle Case luggage pieces and extremely positive over the Hi-Viz scheme.
The icing on the cake is being able to tell them that the entire set, including the tank bag, tail bag and saddlebag system, all in the Hi-Viz yellow, can be had for around $200.00 total!
w

BW

 Review: Cycle Case Motorcycle Luggage

Manufacturer: Cycle Case
List Price (2012): $49.99-$84.99
Colours: Black or High-Viz Yellow
Made In: Unknown
Review Date: May 2012
Warranty: 5 years
From "B.L." (June 2012): "The rain covers are black? That defeats the hi-viz color scheme when you need it most — in the rain!
Other than that, they look really decent, and the price is excellent. Thank you for the review. I hope the manufacturer takes note of your critique to improve the product line. Cheers!"
---
From "L" (May 2012): "I have one and the price and quality are both good. I got the magnetic tank bag and If I had to do it again I would not. The magnets it uses are huge but not all that strong. I just didn't stay secure on the tank.
It never flew off but it did move a bit more than I would have liked. I packed it with two jacket liners and my wife's DSLR camera and lenses so it was expanded to the max. It also a very windy day that day (Bike FZ-1).
I will also agree that they GPS pocket was about useless. I now have a RAM mount for my cell phone for nav. If they added better magnets, higher traction bottom, backpack straps, and moved the GPS pocket it would about perfect IMHO as it is for the price it is very good."