What a custom motorcycle helmet means to me may means something a little different to you. So to start I would prefer to line out my interpretation of a Custom Motorcycle Helmet: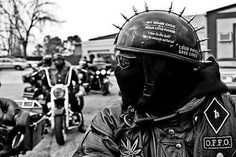 cus·tom  (k
s
t
m)
1. Made to order.
2. Specializing in the making or selling of made-to-order goods: a custom tailor.
A motorcycle helmet is a type of protective headgear used by motorcycle riders. The primary goal of a motorcycle helmet is motorcycle safety – to protect the rider's head during impact, thus preventing or reducing head injury or saving the rider's life. Some helmets provide additional conveniences, such as ventilation, face shields, ear protection, intercom etc.
A made-to-order motorcycle helmet that retains the primary goal of safety and protection of the rider that wears it. So by that definition, producing or manufacturing helmets in quantity removes the possibility of being able to accurately describe them as Custom.
Some manufacturers like to try and market their brands as custom, when they are simply different. And different is good. Different and original is even better. Especially in the biker world.
So if you can't buy a custom motorcycle helmet from a manufacturer what do you do?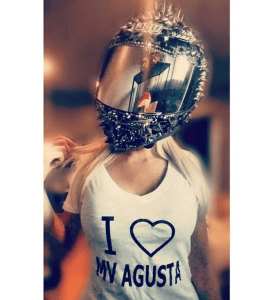 Custom Painted Motorcycle Helmets for Sale
Coming soon…. Check out the helmet comparison table on the homepage for now and check back here later for the addition of a new marketplace.
How to Custom Paint your own Motorcycle Helmet
Anyone who rides a bike knows there is nothing quite like a custom painted motorcycle helmet. These days painting a helmet is like adding chrome to your chopper: it makes a statement and allows you design it how you want. It can also save an old helmet by stopping it from deteriorating and make it look new. Pretty ironic when you consider that just a few years ago many experts believed painting a helmet compromised the fiberglass shell. Now, as long as you use the right paints you can transform any type of headgear from ordinary to extraordinary. These tips will help you create a one-of-a-kind helmet that will rival a professionals.
Find the Right Paint
Before you can begin you need to determine what your motorcycle helmet is made of and what paints can be used with it. The best way to do this is to get in touch with the manufacturer, which can tell you which paints are safe and which are not. Otherwise you can do irreversible damage to the outer shell.
Invest in the Right Supplies
Once you determine the right paints you will need to get the proper tools to prepare the helmet and apply the paint. The necessary tools to prep: screwdrivers (to remove the parts you don't paint, like the shield), rags, sandpaper, gloves and tacky cloth (which is a painters rag to remove dust without leaving a film behind) and cleaning solutions. For the actual painting you will need a spray gun and compressor or some other painting apparatus, like a brush. You'll also need tape to protect the parts you can't remove that don't need to be painted.
Remove all Unnecessary Parts
Step one of the process is to remove any parts you won't be paining and that can get in the way of you painting the shell. these parts include the vents, visor and chin strap if there is one. You can se a screwdriver or just pop out some of these pieces
Clean the Outer Shell
Using either an acetone based cleaner or soapy water thoroughly clean the helmet to leave all residue, such as grease, debris and anything else that may be on your helmet and let air dry. It is crucial to start with a clean surface or the paint job will not come out right. Wear gloves from this point on to ensure you don't leave fingerprints- oil from your hands can ruin the paint job too.
Prep the Surface with Sandpaper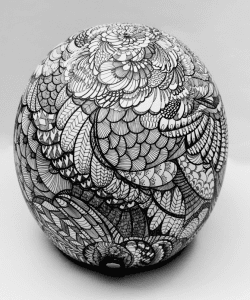 You need to sand the entire helmet using a heavy-grit paper of 400. Sanding the helmet will even out the surface and dull the finish. Making it dull gives the paint a surface it can stick too- if it's shiny the paint won't adhere.
Once it's sanded wipe it down with a damp cloth to remove the majority of the dust.
Once it's dried use the tacky cloth, which will remove any remaining dust.
Prep the Helmet for Painting
Before applying any paint you must mask off any pieces you didn't remove that shouldn't be painted, like casings, screw holes and fittings. You should also cover and tape the inside so you don't accidentally get any on the padding. Use a thick tape, like masking tape so it stays in place.
Apply Your Paint
Now you are ready to start painting. It is best to apply light layers in a slow, even motion so there are no drips. Go from left to right or up and down across the surface, but choose only one; otherwise you will criss-cross and the color will look uneven. Make sure to paint in a well ventilated area and let it air dry completely.
Create A Design
Once the base coat is dry you can create a custom design to make your motorcycle helmet completely original. Use tape about an 1/8″ and paper to make the design. Pay attention to every detail make sure all the lines meet up, are straight where they need to be and that everything is centered.
You can then paint your design the color, or colors you have chosen, one at a time. Pin striping is common with custom helmet painting projects also. Wait between colors until they are dry before moving on to the next one.
Give a sharpie marker design a try too – your options are endless.
Seal Your Helmet
For your last step of the process you need to seal your new paint job so apply a few layers of urethane. More layers of urethane will deepen the finish of the helmet. It is recommended to use 4 coats of urethane to reach the maximum depth.
Shine Your Helmet
To complete the job you need to buff the helmet to a glossy shine. you can do this by using a compound designed specifically for this purpose. Re-attach all the components and fittings and you are done.
Giving your helmet a custom paint job is a great way to personalize your gear and bring new life to helmets that are out of date. Thanks to today's technology there are many types of paints that allow you the creative freedom to paint your helmet without harming the fiberglass. Armed with this information you are now ready to design a helmet everyone will admire.
Creating your own custom helmet is a work of art – one not to be rushed. And some artists make a fine living at it on a canvas, painting on a motorcycle and also on motorcycle helmets.
Buy a helmet and pay someone to customize it for you
It's completely "ok" if you don't want to buy all the stuff and learn how to paint your own custom motorcycle helmet.  Not when you can pay someone to do it for you. A few things to keep in mind here; if you are going to pay someone top dollar be sure and check out their work. If you are going to go on the cheap, your helmet might come back looking, eh…., er, cheap.
Check out craigslist or head into your local custom toy shop and ask around. You might also find some booths doing nice work on site at your next big motorcycle rally. All you really need to do in this scenario is pick which helmet category that you like, and send your ideas off to a designer. Find a great artist (I see a lot on Instagram) and you're all set.
Buy a used custom motorcycle helmet
Like the definition above says "A made-to-order motorcycle helmet that retains the primary goal of safety and protection of the rider that wears it." A used helmet can save you a few bucks up front and with a little TLC can be made to look like new again. Inspect any used helmet purchases thoroughly and ask plenty of questions of the owner about its history. Personally, I would never buy a used motorcycle helmet, but that is just me. Whenever my boy outgrows his helmet, we donate it to the local Goodwill for resale.
Custom Helmet Liners
Photo Credit: hellmuttsbillyd on Instagram
Cover it with a custom helmet cover
Simple, fast, and can be change to match any outfit, ladies. A cover can also help to protect your hemet from some of the road hazards that you are sure to come up against. Rocks, hail, and the occasional oversized june-bug to name a few.

Put a tons of stickers on it and call it custom.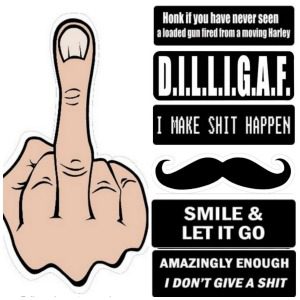 Metric shit-ton, f-ton, and f-load (these are all technical terms) of stickers can cover up just about any crappy paint job, or turn that novelty helmet into a thing of beauty.
Some of these do a great job of projecting that award winning personality.
Bikers you know what I am talking about.
 Don't wear a helmet, wear a badass face mask.
It gets cold here in Michigan and if you want to ride outside of June and July with a half-helmet, I would take a look at a face-mask. Not all of them have a crazy design, you can find some plain black ones that get the job done.  But where is the fun in that? And on a side-note, you get what you pay for when you purchase one of these. Here are some badass face masks that will not keep you warm, but will make you look like a badass.
Don't wear a helmet, shave your head and paint or tattoo that.
Michigan recently withdrew its helmet requirement and made it optional. I still wear one on major roads and highways, but sometimes if I am just going for a quick backroads run, I don't. My choice, and I see this continuing across more states in the future. (The laws that is, not head tattoos. 🙂

Come on, they are cool. 🙂
If I customize my helmet, will it still protect my head?
That depends. In the US, the department of transportation (DOT) sets the standard, tests, and certifies helmet manufacturers as DOT. Placing a small sticker on the lower rear of the helmet is a common place to find this certification. For a more comprehensive list of global helmet standards, take a look at Laws and standards.
Removing or painting over this certification will also remove the helmet certification and is fine-able within the US. To read more about DOT stickers and DOT requirements, I recommend checking out this article at webbikeworld DOT Motorcycle Helmet Label Requirements.
So unless you remove some of the built in safety features like the interior padding or modify the structure integrity of the helmet, customizing your helmet will not reduce its protective benefits.
May your next ride be Badass!