10. Post Apocalypse NS-5 Nitrinos Helmet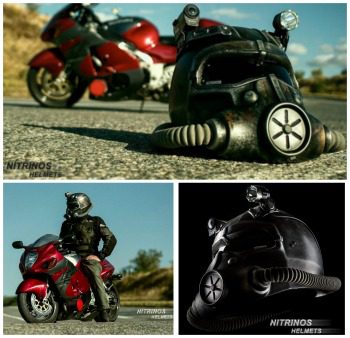 The Russian Helmet makers of the Cat Ear Helmet and the famous Spartan Helmets are at it again. This time they are bring us a post Apocalypse themed helmet called the NS-5.
While it draws on a heavy Fallout4 vibe, it has some characteristics of our friend Walteriffic too.
Not too many details are available on this bad boy yet, I hope the Light and Camera mounted to the top come standard. Take that Gopro.
I'll keep you updated when there is more to tell.
9. Caberg Ghost Carbon Helmet review
Caberg's Ghost Helmet has already won numerous hearts all over the world, so you should know the crazy fan following that the carbon version of the helmet will enjoy. Enjoy your favorite helmet in a lighter and stronger avatar as you ride your bike feeling special, thanks to all the whistles and thumbs up that passers by will be giving you!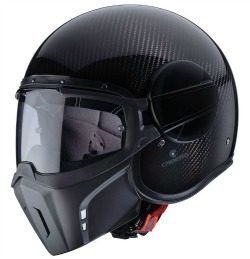 Features:
The carbon fiber helmet makes it extremely lightweight and tough.
Thanks to the spring loaded mechanism, the visor and face mask can easily be moved up and down.
There is a bug guard in the helmet to prevent insects and bugs from getting inside it as you enjoy your ride.
It has the dual homologation to ensure you enjoy your ride peacefully.
The mesh liner and honeycomb weave material keep you cool and comfortable.
Just weighs about 2.61 pounds!
Pros:
A well-designed helmet from, undoubtedly, one of the best helmet makers.
Secure fit, comfort and protection and safety is guaranteed.
The visible black weaves on the helmet add a more stylish look to a well made helmet.
The face mask and visor can easily be operated one handed by the wearer.
Breathable fabric means you don't have to be bothered by your sweat as you enjoy the journey.
Two shell sizes are available for that perfect fit.
Cons:
There is no exhaust for ventilation so you will have to do with the open face feature for airflow.
Does not have the DOT certification. (Does meet EU standards)
Not really a good fit for those with elongated oval heads.
Customer Verdict: It goes without saying that it has enjoyed immense popularity in the European market though the wind noise could be a major complaint that some of them might have.
Final Verdict: This is a fantastic helmet that is sure to make sure you enjoy your ride like never before – the looks, fit, weight and safety – everything has been considered by the experts and brought together using skilled craftsmanship and technology to give you your dream helmet!
8. Schuberth C4 Modular Helmet:
The entire biking world had been eagerly waiting for this helmet and when it finally came, it exceeded everyone's expectations. It is a way better version of the Schuberth C3 pro that gets a sportier design without the extra weight while creating complete silence as the wearer enjoys his bike ride.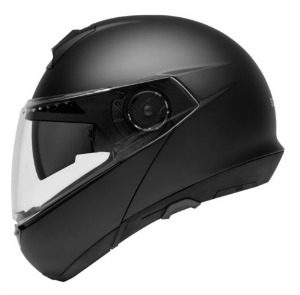 Features:
The latest technology has been used to manufacture it – Direct Fiber Processing, that creates an ultra strong and lightweight shell.
The anti-fog double pane shield means a better vision than ever before.
The simple snap fit feature helps lock the face shield securely.
A sporty vent at the top along with the chin vents ensure improved air flow through the helmet.
The lining material is from ShinyTex that absorbs sweat, dries quickly and is anti bacterial.
The helmet has an ergonomic fit that minimizes pressure on the wearers.
Pros:
The face shield can be easily removed and put back on and come with 'turbulators' that help deflect the air.
The inner lining material is anti-bacterial and moisture absorbent keeping the wearer comfortable all day long.
It comes with DOT and ECE safety certifications, so it has met some of the toughest safety requirements.
It has been subjected to intense and extreme wind conditions at the Schubert Labs ensuring the best safety for the wearer.
Cons:
The Anti-Roll-Off- System, makes it difficult to remove the cheek pads.
There is no opening at the back to allow the air to escape. It happens around the neck area at the bottom.
Customer Verdict: Although most of the buyers have loved this helmet, there is a lot of noise at 70-80 mph level that has kept some of them away from trying this amazing helmet.
Final Verdict: Backed by a reliable and trusted name, this helmet definitely deserves a place in your collection. It gives you all the comfort and protection without creating unnecessary hassle and isn't that what we all want?!
7. Icon Airframe Pro Barong Style Helmet:
This sports helmet comes with an aerodynamic design that helps the rider enjoy high speed as well as safety. With the ability to perfectly any head, it has clip on feature to prevent the jacket from disturbing you while minimizing air and wind resistance.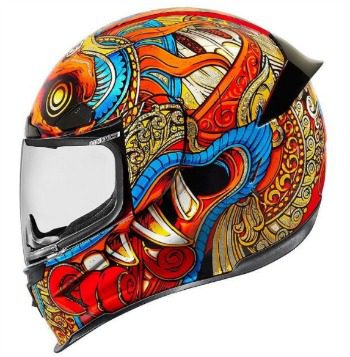 Features:
The shell of the helmet is made of the latest carbon fiber material that is very much in demand. The handmade shell is lightweight but ha enhanced structural stability.
It is available in 4 shell sizes that easily cut through the wind, enhancing your speed and giving a better fit.
The jawline is better than most other helmets along with superior neck roll.
It has a sculpted base that minimizes interference from shirts and jackets.
The inner lining is made of hydra dry that absorbs your sweat quickly leaving your face dry.
Superior level ventilation, thanks to the well designed vents.
The optics are fog free and the face shield can be easily released.
It has met the safety standards of DOT FMVSS 218 (US), SG (Japan), ECE 22-05 (EUROPE) and SAI AS1698 (Australia).
Pros:
Well engineered and long lasting helmet.
Helps with speed and minimizes resistance.
Provides better vision, comfortable fit and protection and proper ventilation.
The inner lining has 5 layers instead of the usual 3, providing a better fit than most of the others.
Lightweight but Jutra-tough helmet.
Cons:
The chin strap button could be improved.
The extremely snug fit can cause discomfort if accessories like earphones are being used.
The cheek pads can be too thick for some wearers.
The chin guard can cause some disturbance at high speeds.
Customer Verdict: The buyers couldn't have been happier. The cons are minor and considering all the other features that you get with this one, this Icon Airframe Pro Helmet is a steal!
Final Verdict: The bottom line is that this helmet is not something that you should miss out on. Aerodynamic design, superior materials, made with the latest technology, strength and protection and minimizes noise so that the rider can concentrate on the road – this helmet has everything that a well made helmet by the experts should have.
6. CrossHelmet – Smart Motorcycle Helmet:
The world of biking has evolved fast, thanks to the helping hand that technology has leant. While bikes have gotten smoother and faster, helmets have improved in looks, comfort and safety. However, the CrossHelmet takes the helmet innovation to the next stage with a 360 degree vision, bluetooth facility and sound management. Feeling excited already? Wait till you hear the features…they will blow your mind away for sure.
Full Details Here (Kickstarter)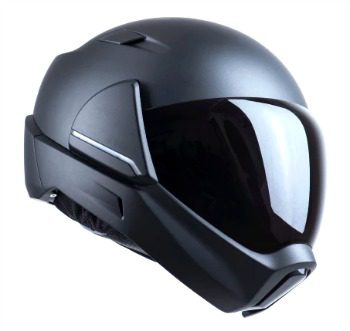 Features:
It has a polycarbonate shell making it lightweight and durable and has an aerodynamic design.
The helmet has a rearview camera along with a visor that gives you a broad and unobstructed view. This is what gives the wearer a 360 degree vision for enhanced rider safety.
With an HD display on each side of the HUD, the wearer is aware of everything happening behind him.
All necessary information that will aid you on your journey – weather condition, traffic status and direction along with battery levels and network connectivity – will be provided to you.
The helmet comes with a CrossSound Control system that can minimize or maximize sounds, depending on your needs.
The Group Talk Feature allows you to communicate with other members of the group – even those who do not have this helmet.
The LED lights on either side give extra brightness at night.
Pros:
Wearers can listen to music and make and answer calls with good quality sound.
The almost invisible touch panel helps you carry out important functions easily.
There is a smartphone app available for the helmet so that you can carry out all the functions using your phone.
The battery used is absolutely safe with no chances of leak, smoke, fire or explosion after any kind of accident or damage.
It has safety certification from DOT, ECE and JIS.
Cons: The bulky style make this helmet look a little futuristic and can look way too big on smaller riders.
Customer Verdict: The helmet is still in the stages of production and is scouting for funding. Seeing the features of this helmet, we know that when it finally hits the market, the waiting period will be long and slow.
Final verdict: The CrossHelmet will create a revolution in the world of helmets with all the features that it has for the wearers. It has been designed by the experts using the latest technology and materials, so the wearer has nothing to worry about, as long as he does not get distracted by the mouths of the viewers hanging open in awe.
5. Predator Cross Helmet from Nitrinos:
Yet another winner from Nitrinos – whether you are riding a motorbike, an ATV or even a snowmobile – if you decide to trust your head with this one, be prepared for all the 'ooohs' and 'aaahs' coming your way as you concentrate on the road ahead. A seriously stylish, edgy and raw design with a don't-mess-with-me air about it, if nothing less than the best is what you want, this is the one that you should go for.
Full Details Here.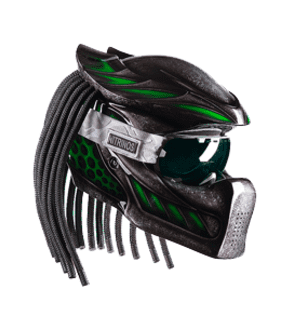 Features:
It is made up of fiberglass and Kevlar that makes it unbelievably light and tough.
There are 20 durable nylon dreadlocks to make it more menacing.
It has a double D chin strap fastener.
Along with the dreadlocks, the helmet weighs 1750 grams!
The helmet can be given tangible engraved figures such as scars and hieroglyphs to give it an individual style.
Pros:
The innumerable colour choices make sure you have the one that matches your colourful taste.
There are different sizes available to fit heads of every shape and size.
An edgy helmet that is lightweight making it suitable for long and short journeys.
The removable lining meaning it can give you the perfect fit that you want.
Innumerable variations and choices means you can make this helmet one-of-a-kind.
Cons:
You will have to wait for 2-5 weeks for the helmet to get made once you have made the payment.
A bit on the pricey side.
Customer Verdict: People have been in love with this one ever since it hit the shelves. It is a helmet like nothing that you have seen before. The dreadlocks add an extra evil touch and the lightweight nature is just the icing on the cake. Buyers can't stop wearing it and onlookers can't stop getting mesmerized by it.
Final Verdict: Impressive to look at, superior protection and safety of your head, made with impeccable material with a design backed by the experts and made specially for your head size – what else could you possibly be looking out for?!
4. Marvel Series Deadpool Motorcycle Helmet by HJC Helmets (Limited Edition)
If you love your bike rides and consider yourself a Deadpool fan, then you know that this helmet is going to be very close to your heart. While the well engineered helmet gives you a snug fit and superior protection to your head, the Deadpool inspired looks will certainly win your hearts and gain you some admirers as well.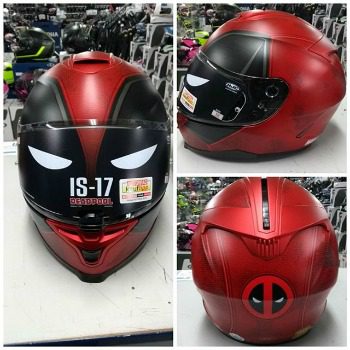 Features:
It is available in different sizes – extra small, small, medium, large, extra large and extra extra large.
The shell is made up of the light and strong polycarbonate material.
It has been tested for safety as it comes with DOT certification. So your safety is not compromised.
Pros:
The different sizes ensure that the helmet will securely fit heads of every shape and size.
It is a well made, lightweight and sturdy helmet.
The helmet has been officially licensed by Disney.
Cons:
The limited edition means that the buyers must be ready to shell out more from their pockets.
Customer Verdict: The helmet, certainly has found many eager buyers in the market. It is an official HJC product, so it is backed by one of the most trusted names in the market. It is rare that you see something so special in the market. The excellent designing, superior quality materials and secure fit will take your biking journey to a whole new experience – one that lets you enjoy your journey while feeling as invincible as deadpool himself.
Final Verdict: This helmet is a must try – even if you are not that crazy about deadpool. Anyone who is looking out for a well-made helmet that is also easy on the eyes, must think of having a look at this one because we know that you will love it the second you lay your eyes on it.
3. HJC RPHA 70 ST Iron Man Motorcycle Helmet Review
Just as the name suggests, this helmet has been inspired from Iron Man is likely to make you feel as powerful (and witty) as him. Built with excellent features and providing supreme comfort, this helmet is an expensive one, but, trust us, it is worth every penny. This helmet gives you the right combination of looks, styling and functionality.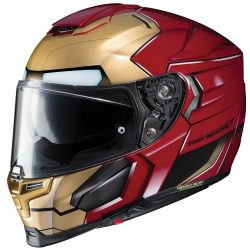 Features:
The helmet is made up of carbon fiber and carbon glass hybrid fabric which makes it an extremely strong one.
The multiple vents provide for easy movement of air. The are vents at the front and back to regulate the air flow.
The helmet shield can be easily and quickly deployed and is anti fog and smoke tinted.
The lining is soft, anti-bacterial and moisture absorbent.
The helmet comes with a Rapid-Fire Shield Replacement System that makes it easier to change the shields.
The helmet has a very important and much in demand feature – the Emergency Quick Release System. This helps to remove the cheekpads in case of an accident so that no further damage is caused to the already wounded wearer.
Pros:
The material used in the construction makes it highly resistant to severe damage in big accidents.
Proper ventilation means long lasting comfort and breathability for the wearer.
The cheekpads help lend it a secure fit and there will be of complaints of the helmet wobbling on the head.
The sweat is easily absorbed by the special lining making is skin friendly and comfortable.
The inner lining can be easily removed and washed keeping it clean and fresh every time you wear it on.
Cons:
An expensive helmet, but considering the features you get, it is well worth the money.
Customer Verdict: Everyone who has tried it on has loved this helmet, but, then again, you knew that already, right?
Final Verdict: Get one for yourself and you will know why everyone loves it so much.
2. Mike Pro Lids Doughboy Helmet:
If you thought adults hate wearing helmets, you have no idea how hell will break loose if you try to get a child to put one on his head. With children today loving everything fancy and edgy, the boring, dull usual helmet is certainly not going to be their choice. They need something attractive, colorful and to complement their quirky outfit, and the Mike Pro Lids Doughboy helmet gives them just that. (You can get one for yourself too, no judgements here.)
Features: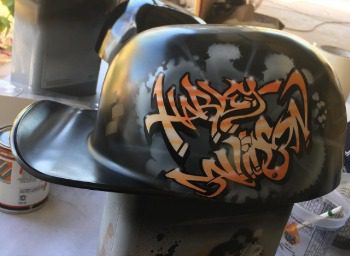 The impressively designed helmet is shaped like a brimmed hat.
It is available in several colors ranging from matte black to candy red.
The inner lining can be easily washed and cleaned.
The inner surface has an open cell foam for the protection.
Can be worn any way the wearer wants – front or back!
Pros:
The different colours meet every taste and whacky preference.
Cleaning and maintenance is unbelievably easy, so it remains fresh and clean every time your child wears it.
Protected without too much pressure being exerted on the head.
Cons:
It does not come with a DOT certification; it is a novelty helmet.
The 4 week long waiting period can be a bummer.
Customer Verdict: Some of them did think that the helmet is an expensive one, but on getting the product after a long waiting period, they felt that they got their money's worth. If you examine the make and quality of the doughboy, trust us, you would feel the same. Sure every parent is concerned about the safety of his or her child and the Doughboy not only takes care of them as they have fun in the neighbourhood, but will also be one of their favorite accessories.
Final Verdict: If you have been worrying about your kid's safety while he rides his bike, then you must give Doughboy a shot. It's unconventional, colourful and edgy – just like the children of the 21st century. The looks, material and impeccable craftsmanship will ensure that your beloved little one is in safe hands.
1. Ruroc Atlas Origin Motorcycle Helmet
This helmet from Ruroc, will make you fall in love with it as soon as you lay your eyes on it. Good looks, tough helmet, superior level protection – it gives the riders everything that they need in a helmet because Ruroc understands helmets like nobody else. Whether you are going for a normal ride, in which case you should opt for the Atlas series or an adventurous one, which makes us recommend the RG-1 helmet.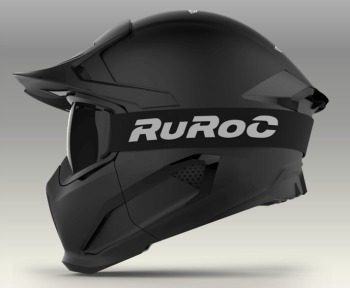 Features of the Atlas series:
The patented helmets come with a detachment system for easy removal.
The helmets are lightweight and aerodynamically designed.
It comes with its own set of accessories – visor, goggles, lenses, peaks and shockwave systems.
The M-Forge fiber technology is what makes it so quiet and tough.
Available in attractive colors.
The helmets are designed and made by adventure experts who understand their biking accessories thoroughly.
They are made with the maker's patented AirRaid system.
The detachable mask can be easily removed for the rider's convenience.
Extremely lightweight, versatile, flexible and stylish.
Pros:
There is a special engineered fit made specially for Asian heads that are more rounded.
The rider's safety and comfort is taken well care of.
Carefully and well-designed helmet meant for those who don't compromise on their safety and convenience while riding their bikes.
Excellent ventilation and no fogging and blurry vision problems.
Comfort, freedom and flexibility – guaranteed.
Cons:
To be determined. Since the release date is still in front of us, we haven't had a chance to fully give this lid a good once over.
Customer Verdict: So far they have loved everything about this helmet and it has ticked off every box on their checklist. They have used it for quiet and adventurous rides and found it suitable for every kind of journey. The makers know what you expect from your helmet and give you precisely that – and much more!
Final Verdict: From its looks to the lightweight factor, the helmet is definitely going to be your best friend whenever you take your bike out, whether it's just for a spin within the city, or a long one in the countryside.