Two mini-series about riding across Siberia and the length of Africa with Australian-based international motorcycle travel company Compass Expeditions are coming to 7 Mate.
The four one-hour shows, narrated by Charley Boorman, will screen on Saturdays in mid-January through to early February 2017.
While Charley didn't ride in the Beyond Siberia and Beyond Sahara tours, he has toured with Compass Expeditions on their Australian Outback tour to the Flinders Ranges.
And these two shows follow similar true tracks to Charley's famous Long Way Round and Long Way Down TV series with Ewan McGregor.
Viewing schedule: January 14, 21 and 28 January at 3:30pm and February 4 in Sydney, Melbourne, Brisbane, Adelaide at 5pm and Perth at 3pm.
Compass Expeditions founder Mick McDonald says that while he is pleased the shows will be screened on 7 Mate, he is disappointed that the Seven Network didn't choose to show them.
"According to Channel 7 there's little interest in biking stories," he says.
"We need more than dating shows to satisfy our viewing needs when not riding."
BEYOND SIBERIA – RIDING THE ROAD OF BONES
Two one-hour shows feature the 2014 Compass Expeditions trip from London to Magadan including the notorious Road of Bones which was the dramatic highlight of Charley and Ewan's first round-the-world adventure.
Compass Expeditions took 16 riders from London on the 105-day, 30,000km adventure ride with documentary filmmaker Robin Newell along for the ride.
Starting in Europe they ride the length of Russia, on to the historical Silk Road, deep into Mongolia, through the Siberian wilderness and experience an incredibly moving final ride through the infamous Road of Bones; a spiritual wasteland where two million people perished, with their bodies used as road fill during Stalin's reign of terror.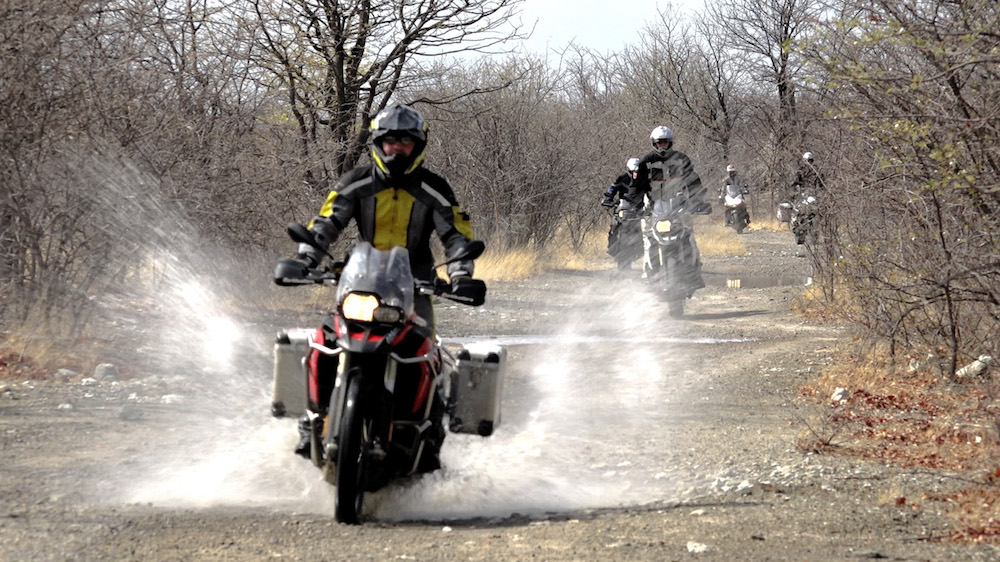 Through blazing deserts, inland seas, snow-covered peaks, black ice, torrential rain, raging river crossings and vast empty plains, this is an epic series of extreme highs and gut-wrenching lows.
These riders know that every bend in the road could be their last and not everybody will make it to the end.
BEYOND SAHARA – RIDING FROM CAIRO TO CAPE TOWN
This two-part series follows 16 motorbike riders across 20,000 gruelling kilometres through Africa.
For 80 days, they battle blazing heat, treacherous roads, suffocating bureaucracy and bone-crunching crashes, attempting to join a very elite group of people to have conquered this journey.
Riding the vast savannahs and witnessing the world's greatest wildlife spectacle on the African plains, the riding gets tough as they battle through gravel, sand, dirt and spectacular lightning storms across Malawi, Mozambique, Zimbabwe, Botswana, Namibia and South Africa. It's an incredible journey of vast sandy deserts, high mountain passes and never-ending savannahs on roads and tracks that are amongst the most dangerous in the world.