Clearwater Voltage Sentry Review
The Clearwater Voltage Sentry is an easy and unique way to keep track of the electrical drain on your motorcycle.
Designed to be "thermally stable, highly accurate, reliable, flexible and with a very low power consumption", the device is small enough to fit just about anywhere.
An excellent solution for monitoring voltage and suitable for any motorcycle.
With so many different radios, lights, horns and other electrical goodies available for motorcycles today, the problem of monitoring electrical draw has become acute.
We get many emails from webBikeWorld readers asking about onboard Volt meters and apparently there aren't many good solutions out there.
Chris reviewed the Show Chrome Digital 5-Function Motorcycle Volt Meter and he still uses it, as do many other motorcyclists.
But it's not without problems. First, you'll need a lot of dashboard space to mount it.
Also, it's not waterproof, so owners have developed all sorts of clever ways to make it so. For example, Chris covered his in a section of clear shower curtain.
Clearly — if you'll pardon the pun — not the best solution!
There are other types of meters, gauges and devices out there to monitor voltage on a motorcycle and some bikes even have their own real, live, built-in meters. I think. I haven't seen one, but they must be out there, right?
For the rest of us, which is the vast majority of motorcycle owners, well, we're on our own.
You load up the bike with accessories, plugs for heated gloves, grips and gear and hope for the best. In other words, keep your fingers crossed that the "ALT" light doesn't glow bright red.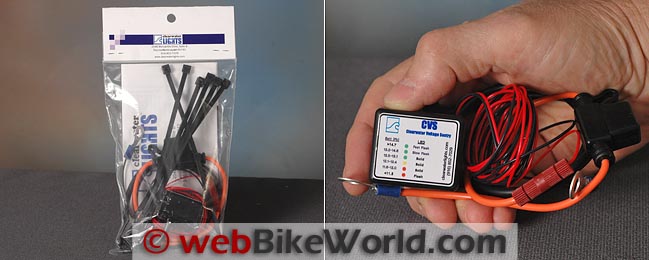 ---
Where to Buy Clearwater Voltage Sentry
Check Reviews & Prices on Amazon
Check Reviews & Prices On Revzilla
See More: Motorcycle Accessories, Motorcycle Flashlight & light, Motorcycle Battery And Charger
---
The Clearwater Voltage Sentry
I'm happy to report that there's now a better way. Those clever folks at Clearwater Lights (see ourreview of the Clearwater Krista LED lights) have come up with a unique little device called the Clearwater Voltage Sentry.
It will fit just about any motorcycle with a minimum of fuss and bother.
I use the word "unique" because the Clearwater Voltage Sentry is a different take on the classic (and old-fashioned) dial, meter or gauge types of the past.
The Clearwater Voltage Sentry is basically a single LED on a 45 cm long wire. It connects to a small control module in a box shape that acts as the "computer" that is about 38 mm wide by 32 mm tall by 19 mm thick.
The control module is comparable in size to the classic matchbox — as in a real, live matchbox, as you can see in the following photo:
What Is It?
Here's how it works: The LED is mounted somewhere on the motorcycle's dashboard or where it is visible to the rider.
It monitors the battery voltage for differences of 0.1 V or more and the LED turns from green to yellow to red and it may also flash, in 6 different color/flash combinations, to let you know the state of the battery.
The Clearwater Voltage Sentry is a very clever device. The LED light glows as soon as the ignition is engaged. It also stays on for about 5 minutes after the bike is shut down to indicate the battery voltage.
It uses only a micro amount of power, so there's no worries about having it drain your battery.
Here are the 6 different LED color and light flashing combinations and their descriptions, taken from the Clearwater Voltage Sentry instructions. These are also printed in condensed form on the label on the front of the control module:
Fast Flashing Green (>14.7 Volts): Bad situation. Alternator is overcharging and may damage your battery. Have the alternator and or voltage regulator checked immediately.
Slow Flashing Green (13.2 to 14.6 V): Excellent situation. Your alternator is doing its job. (Note: This is the indication I get about 100% of the time when riding the DR650 with its Shorai LFP battery.)
Solid Green (12.5 to 13.1 V): A good charging range.
Solid Yellow (12.1 to 12.4 V): Acceptable battery condition but poor to weak charging condition.
Solid Red (11.6 to 12.0 V): Weak battery, start and run the engine for a while or place the battery on a charger.
Flashing Red (< 11.5 V): Not a good condition for any battery. Get a charger on this battery ASAP and check to see if it will come back to life. Chances are, it may need replacing.
It may seem a bit complicated, but like they say, just remember "Green is Good", yellow not so good and red is, well, a red flag.
The control module has an internal processor controlled by firmware, which can be updated by Clearwater.
For example, if you had a special battery or a vehicle that required a different voltage indicator range, they can program a custom Voltage Sentry for the application.
The Clearwater Voltage Sentry we installed on the Suzuki DR650 has a custom map that is combined for both a lead-acid and the Li-Fe Shorai battery (review) installed on that bike.
In fact, the Voltage Sentry was originally designed with Clearwater's DR650 as a test mule and we helped evaluate a prototype version of the Voltage Sentry during the summer months.
Clearwater said that ours is programmed for a compromise between the two battery types. The Shorai sometimes flashes green at first when the engine is shut down after a full charging but then quickly turns green.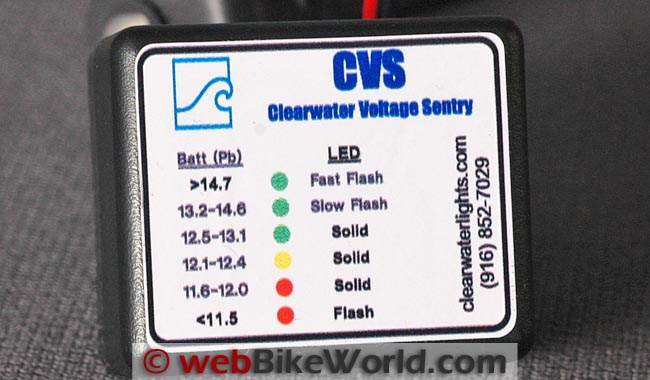 ---
Where to Buy Clearwater Voltage Sentry
Check Reviews & Prices on Amazon
Check Reviews & Prices On Revzilla
See More: Motorcycle Accessories, Motorcycle Flashlight & light, Motorcycle Battery And Charger
---
Installing the Clearwater Voltage Sentry
The Clearwater Voltage Sentry is very easy to install on any 12V motorcycle. It has only two wires to connect; both come out of the back of the control box. The red is for power and the black is ground.
Both have a ring terminal and the red wire includes a 5A fuse block (blade type).
The red wire is connected directly to the battery or it can be tapped (using a Posi-Tap, of course!) into any "hot" power line that goes directly to the battery, switched or un-switched.
It's best to connect it directly to the battery but I used the power feed line for the Clearwater Krista LED lights (review) instead.
That line runs from the front of the Suzuki DR650 (blog) directly to the battery, so a Posi-Tap was used to connect the hot wire for the Voltage Sentry.
We first tried connecting the Clearwater Voltage Sentry to a hot wire in the headlight assembly, but that wire went through several switches or connections as it gets power from the battery, which affected the readings.
The black wire is a ground or "earth" and it can be grounded in the usual manner to the motorcycle or the ground terminal on the battery.
The red and black wires terminate in the back of the Clearwater Voltage Sentry control module, along with the sheathed wire with the LED. The small LED is permanently attached to the end of the wire and it has a plastic "L" shaped mounting bracket.
We removed the bracket and located the LED on the DR650's speedometer with a cable tie, but it's best to place the LED in a shaded location, as the sun washes out the color indication.
The red and black wires are about 1 meter long and it probably would be a good idea if Clearwater would make the LED wire as long also.
The control module is small enough to stow just about anywhere and the LED cable can be fed up into a dashboard but space is at a definite premium behind the DR650's small wind deflector.
The box sort of just hangs there because it doesn't have a mounting bracket. But it's light enough (about 35 grams) that this shouldn't make a difference, although a couple of cable ties around the very light gauge wires are a good idea to hold everything securely.
One of the benefits of the Clearwater Voltage Sentry design is that the small LED can be mounted on any motorcycle. There are other motorcycle voltage meters for sale but most of them are too big for the DR650.
If you have enough space to mount a 4 mm diameter LED, then you can mount the Clearwater Voltage Sentry.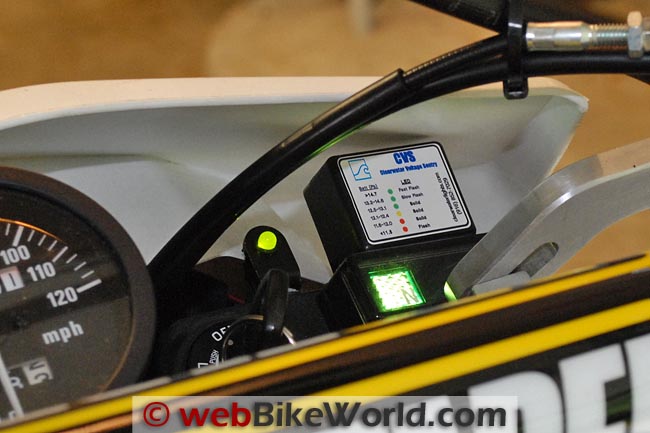 ---
Where to Buy Clearwater Voltage Sentry
Check Reviews & Prices on Amazon
Check Reviews & Prices On Revzilla
See More: Motorcycle Accessories, Motorcycle Flashlight & light, Motorcycle Battery And Charger
---
Conclusion
The Clearwater Voltage Sentry is a unique solution to monitoring battery voltage on any motorcycle.
The small size of the package and the ease of installation mean that it can be installed on smaller motorcycles also, which usually are more in need of battery voltage monitoring because of the smaller capacity alternators (and batteries) usually installed.
The only trick is in remembering the combination of light colors and flashing sequences, but this isn't a problem once you think about it. Green is good (although flashing green is not).
Yellow means something isn't quite right and red means "danger". It's as simple as that.
It's really nice to watch the light and get a visual indication of the battery charge as soon as the key is turned and all during the ride.
In fact, the color and flashing light warning system is probably better than a simple digital readout, which still must be interpreted.
The Clearwater Voltage Sentry is especially useful on a motorcycle like the Suzuki DR650, which has limited alternator output but owners typically want to install many different electrical accessories.
Monitoring the voltage on this bike and others like it is especially important.
Too bad the motorcycle manufacturers don't install a Clearwater Voltage Sentry on every bike. But in the meantime, it's a relatively inexpensive way to keep tabs on your battery.
UPDATE (September 2011):  The LED indicator light brightness has been improved and its circuitry was revised recently on the Clearwater Voltage Sentry.
The CVS is now shipping with brighter LEDs and a longer connection cable to the LED.
ADDENDUM
(Culled from correspondence with Clearwater during the prototype evaluation of the Clearwater Voltage Sentry):
The Shorai battery has a higher "rest" voltage than a typical lead acid. So, the battery "Good" indicator point is higher. The new (6 light indicator) Clearwater Voltage Sentry has 6 voltage settings and allows more accurate indications.
Your DR650 should give a good charge at anything above idle. It will not charge the battery at idle even with the Clearwater Krista LED lights (review) turned off.
We have tested many bikes and a surprising number can not charge the battery at idle. Late model Yamaha FJRs are included if the idle is set too low. KTMs seem to be the worst.
Not sure why their stators are not fully populated with coils. Cost or weight?
We also offer a dual battery version of the Clearwater Voltage Sentry for Police bikes and Boats. Currently the CHP, LAPD and San Francisco Police departments are testing the CVS Police model.
They all love the way it lets the officer know if the bike is charging both batteries or not. Typically, a Police bike goes through Auxiliary batteries 3 times as fast as the main battery.
Most of the charging systems need a higher activation voltage to turn on the AUX battery charging system. BMW RTP bikes will not charge the AUX battery below 1000 RPM.
My local Folsom, California, Police force has these on their BMWs (along with the Police KRISTA take down lights) and the Clearwater Voltage Sentry really keeps them alert about their batteries.
I expect to save a Police department 2 batteries per year! A BMW battery with labor is over $200 each. So, $400 versus $79 (dual Channel version) is a bargain.
The dual channel version also is fantastic for boats. You can monitor both batteries at the same time with very, very little power usage.
And all Clearwater Voltage Sentry monitors turn OFF after 5 minutes of constant voltage. Any condition with a variation of less than 0.1 volts would indicate that the vehicle has been turned off for storage.
The battery indicators illuminate for only 5 minutes. To view the condition of a battery in storage, just turn on the key, a light switch or any accessory to cause a 0.1 volt "blip" in the system, and it turns on for another 5 minutes.
Under operation, any vehicle has constant fluctuations of at least 0.1 volts, so it stays on and becomes an alternator indicator.
More webBikeWorld:
Updated Clearwater Voltage Sentry Review
Suzuki DR650SE Blog
w

BW 

Review: Clearwater Voltage Sentry
Manufacturer: Clearwater Lights
List Price: $59.00
Colors: N/A
Made In: U.S.A.
Review Date: September 2011
Note: Item provided by a retailer, distributor or manufacturer with these Terms and Conditions.
Note:
 For informational use only. All material and photographs are Copyright © webWorld International, LLC since 2000. All rights reserved. See the webBikeWorld® 
Site Info page
. Product specifications, features and details may change or differ from our descriptions. Always check before purchasing. Read the
Terms and Conditions
!
---
Where to Buy Clearwater Voltage Sentry
Check Reviews & Prices on Amazon
Check Reviews & Prices On Revzilla
See More: Motorcycle Accessories, Motorcycle Flashlight & light, Motorcycle Battery And Charger
---
Owner Comments and Feedback
---
From "A.E." (August 2014): "I just wanted to relate a recent experience with the Clearwater voltage monitor. Based on the review on wBW, I purchased one and have used it for over a year (on my '07 VFR800).
This past weekend I noticed it was no longer working. Turns out, the leads to the LED had broken inside the insulation/cover. It appeared to me that this was a weak point if the LED was not mounted semi-permanently, as in the dash.
Mine was on the supplied bracket and had to be moved around occasionally as 'farkles' were added/changed. Over time, I believe this resulted in the leads breaking. I didn't consider this the fault of Clearwater, or my fault, it just happened.
But I decided to let Clearwater know and to suggest maybe they find a way to make this attachment more robust. And I did so, not really expecting much in response from the company.
Was I ever wrong.
Clearwater responded quickly with an apology email and the offer of a replacement unit. This is after a year, and no real fault on their side. I informed them that I didn't really need a freebee (but would accept it) and that I felt they had 'above and beyond' customer service based on their response.
Two days later, I have a new, updated module (the little box with the 'guts' is now smaller). They even threw in a sidestand pad and travel pen. Now that's standing behind your product and I wanted to let others know."
---
From "R" (September 2011):  "Wow!!! Can't get any simpler than this. I just received my Sentry and installed it on my '06 Kawasaki Concurs in 5 minutes.
No splicing or cutting or drilling (in my case) I was able to install the LED light between the instrument bezel and sunshade. Then zip tied the wires back to the battery.
Now I have a peace of mind with my voltage health. Since I ride all year round, I like to try and catch issues before there are "issues". This is a no brainer accessory."
Other WebBikeWorld Motorcycle Battery and Battery Charger Posts
wBW Battery and Battery Charger Info