Motorcycle Battery and Charger Image Gallery
Welcome to WebBikeWorld's motorcycle battery and charger hub. This is the place to quickly find amazing battery and charger products, read our in-depth hands on reviews and find the best battery related products on sale today. We've even got some helpful tips on maintaining a motorcycle battery and more.
Motorcycle Battery and Electrical Accessory Reviews. Jump start your bike or car and power your accessories with rechargeable power packs, check your state of charge and much more with these electrical Accessories. Check out these great battery and electrical accessories.
Our team is constantly reviewing new battery related products, ensuring that our extensive review database is current and representative of what's available on the market. Our most recent battery and charger reviews can be found here.
Disclosure: We make money (and keep the site running) through ads and affiliate links. That means that when you click a link to sites like RevZilla or Amazon you are supporting us because we may get a commission if you purchase. We have developed a policy that you can find here but the gist is that our reviews are 100% unbiased and we don't take payments or allow potential commissions to dictate what we say about products. 
Our Favorite Motorcycle Battery and Battery Charger Products
Some people love to dive in and read every review while others like to skip the detail and just find the best products for sale today. If you fall into the latter these are the lists for you.
Every year we review, rate, rank and battle test motorcycle products to find the cream of the crop. Our best of the best lists showcase the top battery and charger products, our top recommendations for motorcycle riders everywhere.
Best Battery Chargers- coming soon
Best Battery- coming soon
Best Battery Accessories- coming soon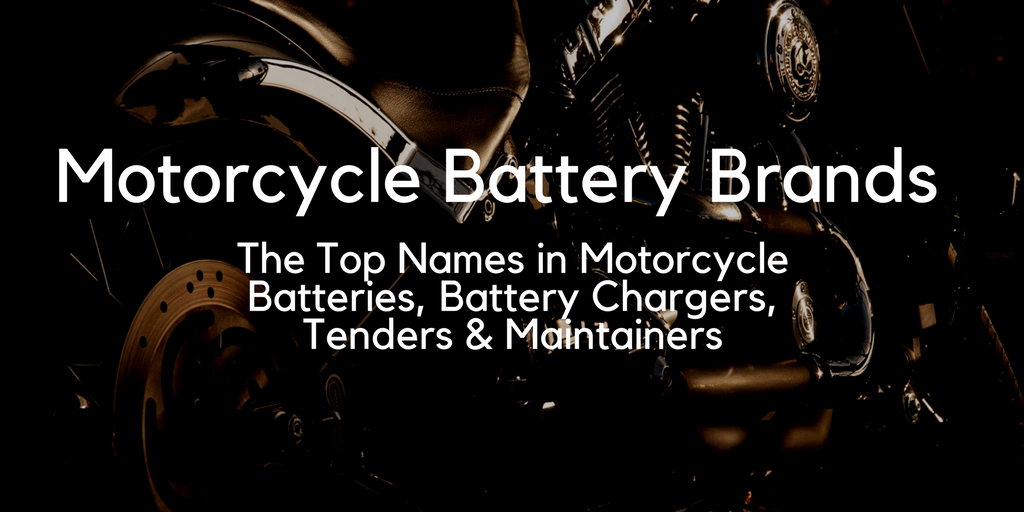 Motorcycle Battery & Charger Brands
There are many battery and charger brands out there. We've reviewed of the top brands but as you can see from the below list, we have to really dig into and work our way through the rest.

Battery and Battery Charger Reviews
Some of the notable battery and battery chargers we've reviewed at WBW include some obvious choices and some surprises too. The Costco Battery Tender surprised us. Who knew Costco sells Battery Tenders? And this one is a super deal, it has a 3.0 Amp output and was on sale for $29.99. The Motorcycle Battery Tester or Multimeter takes a Quick Look at a generic battery tester but discover you're probably better off with a cheap multimeter. The MotoBatt SAE to DIN Adapter Cable. A very inexpensive SAE to DIN adapter has a few novel features that makes it a "best buy". The Noco Genius G750 Battery Charger "entry level" motorcycle battery charger and maintainer may be all you need for general battery charging and maintenance. It's nicely made and easy to use with just a couple of quirks.
We wrote some helpful installation guys that take you the process step by step. Installing a Battery Tender SAE Wiring Harness is an easy to install a semi-permanent SAE harness to a motorcycle battery and it makes it very easy to connect a Battery Tender or other type of maintenance charger. The SAE type connector can also be used to attach other accessories. In Installing a Maintenance Free Motorcycle Battery we installed the "Maintenance free" solution. This glass mat type battery works well. Have these types of batteries been superseded by LiFePo technology though?
We have done some comparison tests over the years too. The Shorai vs. Ballistic LFP Motorcycle Battery Comparison took the super lightweight and powerful comparing the popular Shorai with the Ballistic batteries in the Suzuki DR650, which needs a lot of grunt to get started. In another comparison we take the CTEK 800 vs. CTEK 7002 Battery Charger Review, more specialty battery chargers that work well.
Some of our older but still pertinent reviews include the PulseTech Solar Battery Charger which uses the power of the sun to charge a motorcycle battery. Crude (in this case) but somewhat effective. The OptiMate 4 Battery Charger has plenty of warning lights to let you know what's up while the OptiMate 3 Battery Charger is a modern battery charger with plenty of features. On the simple side is the Battery Doc Battery Charger and PulseTech Xtreme Charge Motorcycle Battery Charger.
We're always reviewing new helmets so be sure to check out our most recent battery and charger reviews here.
Electrical Accessory Reviews
Jump start your bike or car and power your accessories with rechargeable power packs, check your state of charge and much more with these electrical Accessories. We review some great battery and electrical accessories like the Quick Cable iStart Portable Power Pack that helps your bike or car and power your accessories with this rechargeable power pack that even includes an LED flashlight!
The Clearwater Voltage Sentry is a simple device that let's you know the state of charge of the battery and your bike's electrical system, using almost no power. The Show Chrome Digital 5-Function Motorcycle Volt Meter is an Inexpensive on-board add-on to keep tabs on Voltage and other information, like temperature. Installs easily but there are a few tricks to making it waterproof.
Don't forget the Roadgear Deluxe Jumper Cables which is a real godsend and means you may never need battery cables. Finally, the Permatex Battery Cleaner and  Protector which we've been using to help protect battery terminals. Simple, cheap and effective.
Motorcycle Battery Chargers
Some of our favorite battery chargers include the Yuasa 1.5A, Yuasa 900mA chargers as well as the Superior Accu-Charger 21-1450, Superior Accu-Charger 21-1440 by Superior Motorcycle Products. Our readers voted the Battery Doc by Operating Technical Electronics and Battery Minder by VDC Electronics highly on their lists.
We're also fans of the Cliplight battery chargers for 6, 12, 24, 36 and 48 Volt batteries and Battery Cellmate by Voltage Control Industries which is "an electronic device which "Tops Off" your battery. Odyssey Drycell Batteries and The Optimate III battery charger with its "6-Step" process for automatically charging your battery are solid options too.
We're always reviewing new helmets so be sure to check out our most recent battery and charger reviews here.
and have never experienced a problem, either with the battery or the Battery Tender.
Recent Reviews
We're always reviewing new helmets so be sure to check out our most recent battery and charger reviews here.
Read Recent Battery & Charger Reviews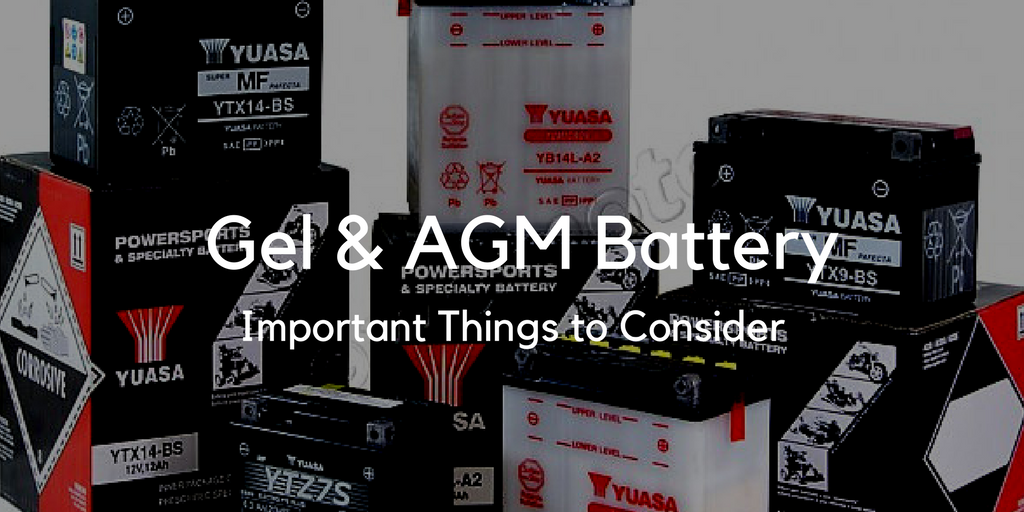 Gel & AGM Battery Information
Gel or "Gel Cell" use a thickener in the liquid electrolyte rather than water in the cells. They're similar to AGM, or absorbed glass mat batteries. Gel batteries must be charged on a trickle charger rather than a fast automotive charger.
In our experience, the trickle chargers like the Battery Tender work fine for gel or AGM batteries. Both gel and AGM batteries work much better in a motorcycle application because they can withstand vibration better than water filled batteries. It's my understanding that they also hold up better under a deep discharge.
Make sure you check with your battery manufacturer before you use a Battery Tender or other charger; certain types of trickle chargers are not recommended for use in some gel batteries, although we've been using three separate Battery Tender Plus units continuously for over 7 years and have never experienced a problem, either with the battery or the Battery Tender.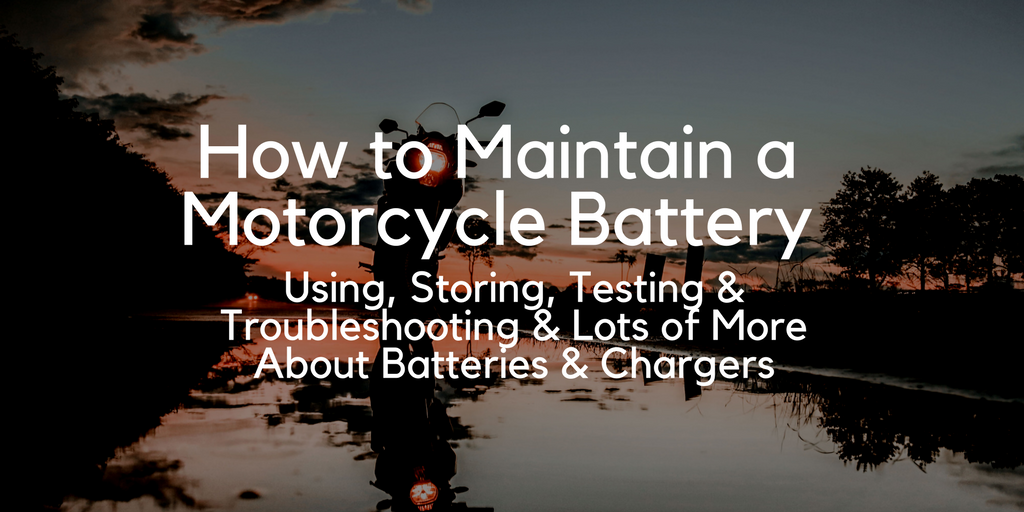 How to Maintain a Motorcycle Battery
The Yuasa Technical Manual (.pdf) document describing motorcycle batteries and how they work. Another great resource is the The Battery University which is an online resource with technical papers and information about batteries. The "Car and Deep Cycle Battery FAQ" by Bill Darden, including usage, storage, testing and more is a tool we've used countless times here at WBW. 
The Battery Web has a great article on activating a new motorcycle battery and a phenomenal Frequently Asked Question (FAQ) list with lots of information about batteries. 
Westco battery observations and review by master BMW Airhead and expert mechanic "Snowbum" and David Searle at Motorcycle Consumer News writes about Care and Feeding of Your Pet Battery (motorcycle). Sealed Lead-Acid Batteries Handbook (a .pdf file) has some good information on sealed batteries.
How Batteries Work is a good basic description in the BBC "Rough Science" guide. The Lead-Acid Battery: Its Voltage in Theory and in Practice; by Richard S. Treptow, Battery tutorial at Battery Stuff, and "Understanding Motorcycle Batteries" by Stu Oltman (Technical Editor, Wing World Magazine) round out solid science based articles on the topic of how batteries work.
"Charging or Not" is an article about troubleshooting motorcycle charging problems, something WBW readers email us about all the time.
Owner Comments and Feedback
Please send comments to editor@webbikeworld.com. Comments are ordered from most recent to oldest. See details on submitting comments.
From "H.J." (August 2012): (On using a Battery Tender to gauge the health of a battery) "A thought occurred while reading your battery review. wBW mentions use of the Battery Tender all the time (well, not while riding…) and there's a benefit to this besides being great for your battery.
A while back I got caught unawares when my CBR929 went dead during a ride. Luckily I wasn't too far into it and was able to ride back in tandem and get my truck.
(I have great Angels. FYI a fully charged 10 year old Yuasa YTZ10S, with zero charging input, will take you about 5 miles in a CBR929 running with the lo-beam!).
I found later the stator was fried, and not charging. I should have declined that ride in the first place, because I had noticed that the bike was having some issues — the battery had died earlier in the month.
The Honda had been so bullet proof up until that point (10 years, 40K mi) that I fooled myself into thinking the dead battery was because of … (duh, some stupid rationale) and I thought a long stint on the Battery Tender followed by a nice long ride was all it needed.
Had I been smart, I would have remembered that during the weeks that preceded me getting stranded, it was taking awhile for the Battery Tender to stop flashing "Charging" and show a full charge.
I have complained in the past about sportbikes not having a voltage display.
Even back in 2001, the 929 could have easily offered a toggle function to switch to voltage readout on its dash.
I think it's an egregious blunder that Honda doesn't allow riders to read system voltage, even if we have to press a few times to see it. But regular use of a Battery Tender is the next best thing.
Currently, when I hook up my '09 CBR1000 to the Batter Tender, there is no flashing light. The battery shows a full charge – either immediately or in well under a half minute.
Now I always look for the telltale signs that either the charging system or the battery is below par, and that sign is the Battery Tender displaying a charging light for too long. Almost every ride I do is easily long enough to charge the bike's battery, 25 miles minimum. If it blinks now, I know I have a problem.
Editor's Note: You can also install a Clearwater Voltage Sentry (review), a small LED and controller which can be added to any motorcycle and which will tell you the state of the battery condition.
From "A" (04/11):  "I disagree with the slag on Yuasa batteries, I've had nothing but good results from this brand on both the older conventional style water/acid filled, the gel, and the Maintenance free VRLA or AGM batteries.
However, I had very poor results from the budget or other cheap no-name brands and I've had them in cruisers, sport bikes, standards in both modern and "retro" bikes as well.
One thing people have to keep in mind with batteries (at least Yuasa) is to follow the bloody instructions!!!  I've seen people fry their Yuasa batteries because they did not (read the … manual).
It says once the electrolyte is added you have to wait at least 30 minutes. I personally wait an hour or more then I fully charge it at the correct rate as specified by the battery manufacturer…
Say no to car chargers! Anything over 2 amps is overkill for a bike battery. My charger runs at 1 to 1.5 amps. It takes a little longer to fully charge but I let it do it's thing and my charger shuts off when it reaches max capacity for the type of battery being charged.
If you skimp and say it is good enough or quick charge at high amp rates the battery may work but has poor capacity or dies before it should… also you must maintain the battery.
If it is ever deeply discharged, fully charge it again at the right rate before riding on it again and leaving a bike battery sit below a 12V charge for any length of time is never a good thing.
Freezing and Over-Charging is another reason why batteries die early. Over winter I keep my batteries in a good climate and charge them every month or two to keep them over 12V at all times.
If you can, on some batteries you can run a hydrometer on them to see if the electrolyte level is good. That can be another reason why a battery is bad.
And I always choose Made in Japan or made in USA or really made anywhere other than (comment removed).
I've never had poor results from Yuasa brand batteries in my bikes when installed, charged, and maintained to the correct method, however cheap-o, no-name products die early even when following the correct protocol."
From "A.C.C.":  "I was just browsing over some links in the "How a Motorcycle Battery Works – How to Maintain a Motorcycle Battery" section (above) and came across the one by David Searle of MCN.
He states: "Motorcycle batteries are normally rated by their amp/hour (Ah) capacity, or cold-cranking amps. The Ah figure is used in the advertising of car batteries as a months-of-life number, as in a 48-month or 60-month battery."
The Ah rating has nothing to do with the number of months a battery is expected to last."