Honda Motorcycles
HONDA MOTORCYCLES – THE BIKE THAT CHANGED THE WORLD
This is a very early 1969 Honda CB750 with sand cast crankcases. Before the 750s launch, Honda was unsure of its success & so held off in making the bigger investment in die casts. Once it became apparent they had a runaway hit on their hands, Honda quickly switched over to die casting the crankcases. Which makes these 'sand cast' models very rare & sought after by collectors.
---
HONDA MOTORCYCLES – AN INDUSTRY RIPE FOR CHANGE
No study of Classic British Motorcycles, or the British Motorcycle Industry as a whole, would be complete without acknowledging the enormous, devastating impact the Japanese Motorcycle Industry, and Honda Motorcycles in particular, had on the Brits. In 1959, the year that Honda opened its first motorcycle dealership in the US, BSA was the world's leading motorcycle manufacturer. In fact, the Brits ruled the motorcycle marketplace throughout the 1950s & well into the 1960s. But changes were brewing in the East.
HONDA MOTORCYCLES – A BRIEF HISTORY
Honda Motorcycles was founded by Soichiro Honda, a gifted, self-educated designer/marketer/businessman who started out as an apprentice auto mechanic in the 1920s & by 1937 had opened his own piston ring business & built small engines for the Japanese Armed Forces during WWII. At the end of hostilities, Japan was a nation yearning for 'wheels'. With little money & little fuel, the answer was lightweight bicycles with small engines clipped to them, which Honda began producing in 1948 using surplus generator motors. Honda Motorcycles quickly developed better and better designs & manufacturing methods, becoming very success in the home market. By the late 1950s, the ambitious Honda knew he had to expand to bigger markets & set his eyes on America. The first US dealership for Honda Motorcycles opened in 1950, and the rest, as they say…is history.
Since that time, Honda has been the world's largest motorcycle manufacturer, and by 2001 it was also the second largest automobile manufacturer. This was in large part to the Honda Accord, which was included on the Car and Driver 10 Best list a record thirty times. Using quality replacement parts for the Honda Accord will ensure a long life for this classic car.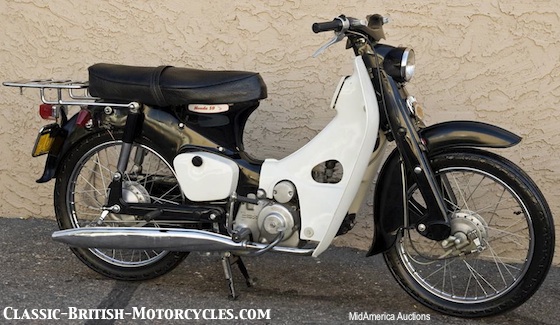 ABOVE: 1963 Honda Trail 50
HONDA MOTORCYCLES – 1963 HONDA TRAIL 50
This is the bike that rocked the world when it arrived in 1959. Tiny, quiet 4 stroke single, automatic clutch & the legendary "step-through frame". Growing up in the 1960s, one of my friends had a Trail 90, which we dubbed "The Flying Toilet", because the seat flipped up like a toilet seat in order to fill the fuel tank. But, all kidding aside, it was Honda's 'out-of-the-box' thinking, like on this tiddler, that allowed Honda to change the motorcycle market forever. Bikes like this were featured in Honda's brilliant early 60s ad campaign, "You meet the nicest people on a Honda." It not only debunked the outlaw biker image created in Hollister CA, it literally mobilized an entirely new market for motorcycles. And these new riders would start with a Honda like this then graduate up to a bigger Honda, and so forth. I did the exact same thing myself, starting with a '65 Honda Trail 55, then stepping up to the CB160 (then on to my first Triumph 650, but that's another story).
---
CLASSIC BRITISH MOTORCYCLE TIMELINE – 1959
Triumph introduces its legendary 650 Bonneville, showing the Brits were still on top. BSA's biggest seller was the Gold Star, an ancient OHV single cylinder design.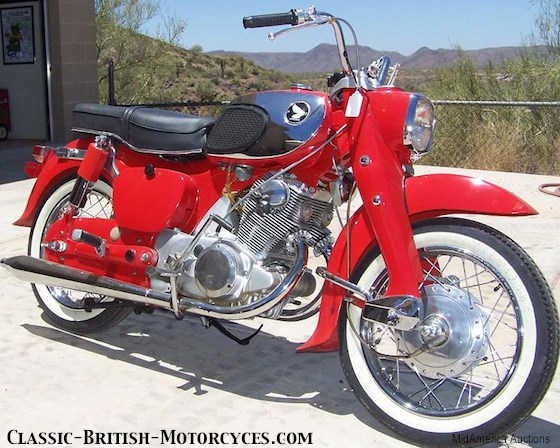 1964 Honda 305 Dream C77
---
HONDA MOTORCYCLES – HONDA 305 DREAM
The "Dream" series of bikes kicked off early in Japan with the 250cc C70 & 305cc C75, but these were never imported. In the early 60s, Honda introduced the next in the series the 250cc C71 & C72, and the 305cc C76 & C77. This is a 1964 Honda C77 305 Dream. While they look very odd now, they were the Japanese take on what a 'big' motorcycle should look like, trying to ape the Brits, who had arguably the prettiest motorcycles on the market at the time. The 305 was the biggest engine that Honda built, at that point. Like the Trail 50-90, the Dream series used a pressed-steel frame (stamped sheetmetal panels spot-welded together, the way the auto industry builds unibodies). As ugly as they may be, they went a long way toward proving Honda's reputation for excellence & dependability. And these 305s were fast too, certainly worthy of giving a Triumph 500 a run for its money. But, the styling certainly hurt them in the US market.
---
CLASSIC BRITISH MOTORCYCLE TIMELINE – 1963
Triumph converts its entire 650 line to Unit Construction, mildly updated, but still pushrod-operated & vertically-split. The legendary BSA Gold Star ends 2 decades of production, because Lucas no longer produces the ancient magnetos used. Most of the British Motorcycle Industry was struggling. Royal Enfield sells manufacturing rights to its single cylinder line to Madras in India. AMC, once parent to 5 proud brands, Matchless-AJS, James, Francis-Barnett & Norton, only Norton is actually making a profit. Only Triumph seems to be doing well.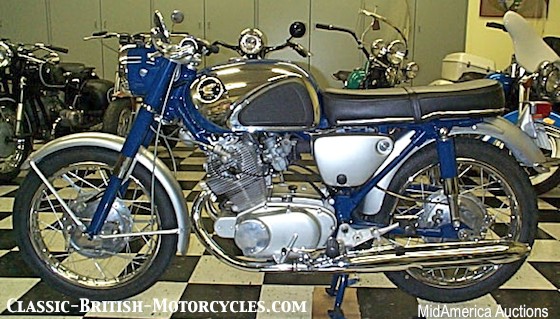 1963 Honda 305 Superhawk CL77
---
HONDA MOTORCYCLES – HONDA 305 SUPERHAWK
While the Honda Trail 50-90s broke new ground with 'the nicest people', and the Honda 305 Dreams proved that Honda could put together a decent road bike, the Honda 305 Superhawk showed the world that Honda could build a world-class performance motorcycle. And they did it in spades! The Superhawk was a technological tour-de-force in it's day. All alloy oversquare engine with 180-degree crank, Overhead Cam, twin carbs, reliable 12-volt electrics with a reliable electric starter, twin-leading shoe (TLS) brakes front AND rear (this was racing-bike stuff!), twin clocks (speedo & tach), all in an affordable, totally bullet-proof package. The world had never seen anything like it before. Because of it's lightness & engine sophistication, the Honda 305 Superhawk could shame bikes twice it's displacement, or more! This revelation was the beginning of the end for the Classic British Motorcycle industry, who at the time, were continuing to produce aging models that had been designed in the 1940s. They were trying to save money. Honda was trying to break new ground, no matter the cost.
---
CLASSIC BRITISH MOTORCYCLE TIMELINE – 1965
By this time, all the once-mighty British Motorcycle Manufacturers were struggling badly, with the exception of Triumph, who was going from success to success, with record sales of Bonnevilles for the street & TR6 Trophies for the dirt. BSA continued to produce increasingly more irrelevant machines to dwindling sales & Norton was selling every 750 Atlas it could make. All totaled, the entire British Motorcycle Industry at this point was producing only a trickle of motorcycles when compared to big Japanese motorcycle manufacturers like Honda.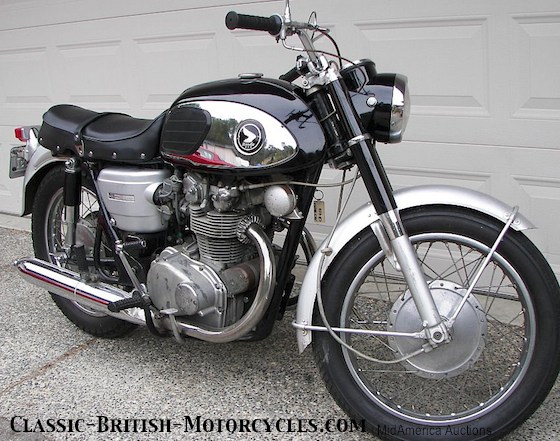 ABOVE: 1967 Honda 450 Black Bomber
HONDA MOTORCYCLES – HONDA 450 "BLACK BOMBER"
If the Honda 305 Superhawk showed the world that Honda could build a world-class motorcycle, the Honda 450 'Black Bomber' proved they could build a high-performance machine that could rival the big 650s & 750s from England, and even the big Harleys. The Honda 450 again set a new standard for engine technology, with Dual Overhead Cams (DOHC) & torsion-bar valve springs instead of conventional coils. It made prodigious power & revved like mad! Styling was still a Honda weak point, but they were taking their cues from the Brits. This Black Bomber has sort of a Classic British look to it, with chromed tank panels & headlight nacelle. The arrival of the Honda 450 Black Bomber signaled the end of British dominance in the marketplace, and on the street. Unfortunately, the British Motorcycle Industry was either too blind to see it, or too broke to do anything about it.
CLASSIC BRITISH MOTORCYCLE TIMELINE – 1967
Matchless-AJS ceases to exist. What's left of AMC focuses everything on a new Norton, the Commando. Yet, Triumph had its best year ever. Unfortunately, it was all downhill from there.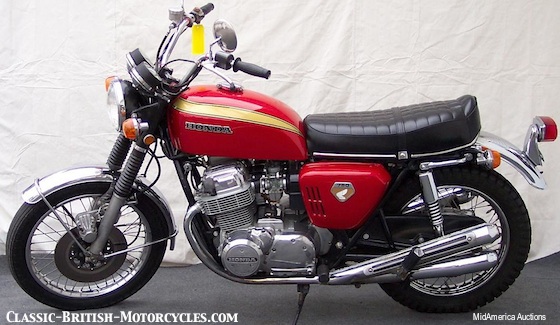 ABOVE: 1970 Honda CB750 KO
HONDA MOTORCYCLES – HONDA 750-FOUR
If it wasn't obvious by now, the 1969 Honda CB750 4-cylinder changed the entire game. Gone were the days of boring out old designs. Honda was breaking new ground with each success new motorcycle. Once relegated to the lightweight market, with nothing bigger than a 305, suddenly Honda was playing in 'the Big Game'. And there were practically none bigger. The big 4-cylinder Honda set the standard for the motorcycle industry, sparing no expense on technical sophistication & build quality. The rest of the world was stunned. The other Japanese brands scrambled to respond, Kawasaki being the first to follow in 1972 with the 900cc Z1.
CLASSIC BRITISH MOTORCYCLE TIMELINE – 1969
. Triumph and BSA launch their respective 750 Triples, the Triumph Trident and the BSA Rocket 3 just 4 months ahead of the Honda 750. As good as the Brit triples could have been, they paled in comparison to the quality, the price/value, and sheer production volume of the big Honda. Norton launches its seminal Commando to rave reviews. Triumph's Bonneville and TR6, along with a few 500s, but that was it for British bikes. 1969 was one of the last good years at Triumph. Unfortunately, as good as some of these Brit bikes might have been, they were never produced in the volumes necessary to have the same kind of impact as Honda, or the other Japanese brands, for that matter. The Brits were still using craftsmen to hand-build motorcycles, the way it had always been done. Honda was always looking for new & better ways to do things.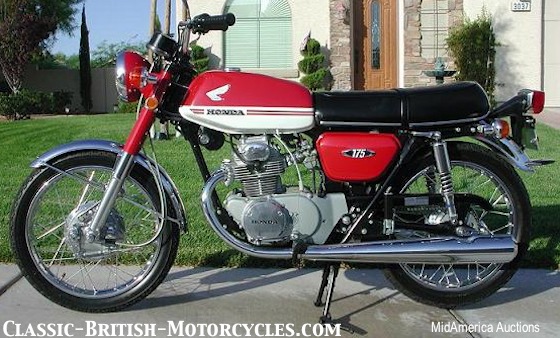 ABOVE: 1971 Honda CB175
HONDA MOTORCYCLES – FLOODING THE MARKET
By 1970, Honda is the largest manufacturer of motorcycles in the history of mankind. The other Japanese brands are following eagerly, but no one could do it quite like Honda, and none of the others had really ventured into 4-stroke territory, all choosing to concentrate on their 2-stroke designs. But Honda applied a level of design elegance & engineering excellence to every product they made, and not just the high-priced, big-bore versions either. Even the smallest, lowliest Honda was designed to be the absolute best at what it was. The Honda 175 & 350 twins are a good example. In 1969, Honda Replaced the Honda 160 & 305, the clean-sheet designs of the new 175 & 350 were modern, futuristic even. Beautifully made, in pristine die cast aluminum, with Twin Leading Shoe brakes front & rear, 5-speed transmissions & electric starters that actually worked. The Brits were still years away from things like this, even on their premium bikes. The market was flooded with cheap, high-quality Japanese bikes by the early 1970s, mostly Hondas. I grew up in this era myself & the high school parking lot was always chocked full of Honda 175s & 350s. A few of the 'rich kids' had 450s. And I had my '64 Triupmh TR6 bobber.
---
CLASSIC BRITISH MOTORCYCLE TIMELINE – 1971
Triumph and BSA introduce totally-new oil-bearing frames & cycle gear on their 650 twins. After much ado & delay, the world yawns. Despite an enormous investment in new parts, they still don't have electric starters, 5-speeds or disk brakes.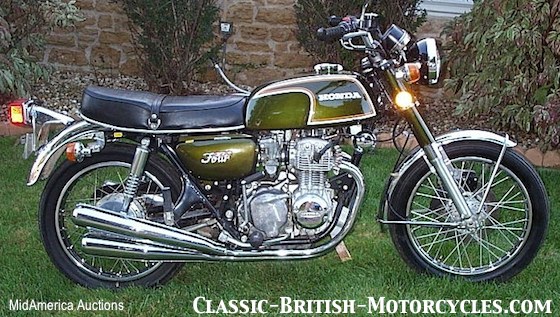 1973 Honda 350-Four
HONDA MOTORCYCLES – OVERKILL
By 1973, Honda Motorcycles was in such a position of leadership that it could afford to do pretty much whatever it wanted, and did so with ease. It took some chances, most were winners, some not so much, but they could afford to take some risks. And the market benefited by the plethora of incredible models coming from Honda. A good example is Honda's 350 4-cylinder. Standard practice in the motorcycle industry up to this point, was to spend little on middleweight and/or lightweight machines, saving the engineering budget for the bigger models that commanded higher prices & higher profit margins. Honda bucked the system by sparing no expense with the design of its new 350cc 4-cylinder. After rocking the world with their revolutionary Honda 750-4, Honda quickly followed up with a 500cc 4-cylinder & as if that weren't enough, a 350cc version. The rest of the Japanese motorcycle industry were just beginning to embrace 4-strokes. Harley & Triumph were still building the same engines they designed in the 30s. Honda ruled the world!
---
CLASSIC BRITISH MOTORCYCLE TIMELINE – 1973
BSA is gone. Of the once-mighty British Motorcycle Empire, only Triumph and Norton remain standing. The Norton Commando gets bumped from a 750 to an 850 & gets a front disk brake. Triumph 650 Bonneville gets bumped to a 750, finally gets a 5-speed & front disk brake, but still no starter. When new owners, Norton threaten to close Triumph's Meriden plant, the workers take over the plant & shut down production until 1976 model-year. When it reopens in late '75, it will be the Meriden Workers' Co-op & will struggle from the start to its slow death in 1983.
---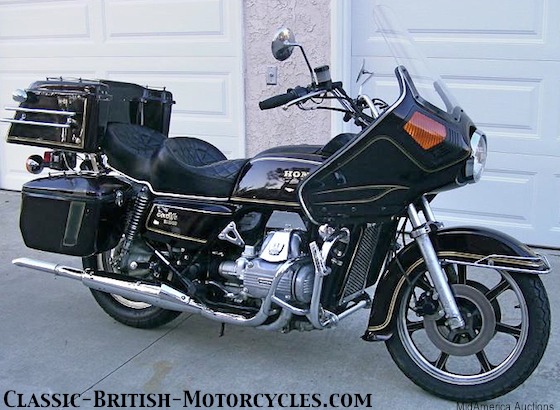 ABOVE: 1978 Honda GL1000 Goldwing
HONDA MOTORCYCLES – YET ANOTHER GROUND-BREAKER
In 1974, Honda perceived a market that no one else was really reaching, the Luxury Touring Market. To address this new market they came up with an entirely new design. A horizontally-opposed (boxer) OHC water-cooled 999cc 4-cylinder machine built for long-range, high-comfort touring. And once again, Honda touched off an entirely new segment of the market that the competition rushed to copy. Today, as a testament to the rightness of Honda Motorcycle's thinking with the Goldwing series, over one million Honda Goldwings have been produced at Honda's Marysville, Ohio plant.
---
CLASSIC BRITISH MOTORCYCLE TIMELINE – 1976
Norton has ceased to exist. That leaves only Triumph, struggling to survive as a Workers' Co-op, under-capitalized from the start, and able to produce only the ancient Bonneville 750 in dwindling numbers.
---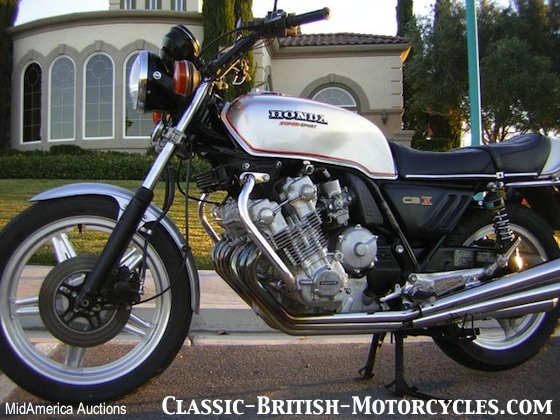 1979 Honda CBX1100
HONDA MOTORCYCLES – CBX: OVERKILLING OVERKILL
What do you do when you've already done everything? You've already changed society forever, raised the bar on excellence, brought leading edge technology to the masses, altered the course of world events & conquered an entire industry. After creating an entirely new market with the Honda 50, delivering world-class racing machinery to the common man with the Honda 305 Superhawk, taking on the world's heavyweights with the Honda 450 Black Bomber, then changing the game forever with the Honda CB750 4-cylinder, what could possibly be next? Why, 6 cylinders, of course. Honda Motorcycles introduced the insanely intricate Honda CBX1100 in 1978 just because they could. While they are fine machines & very impressive to look at, their width, bulk, and high center of gravity (you can't sling an engine that wide too low in the frame) are hindrances that outweigh any advantages. In the end, despite its ultimate 'coolness', the CBX was cut in 1982, replaced by more conventional machines. But it just goes to show what Honda was capable of. Of course, wild 6-cylinder motorcycles were nothing new to Honda, having fielded many road racers of various smaller displacements in the early 1960s.
---
CLASSIC BRITISH MOTORCYCLE TIMELINE – 1978
The only British motorcycle company still in business is Triumph, in the form of the Meriden Workers' Co-op. As they struggle on to survive on meager resources, with only one model in their lineup, the Bonneville, they must now get it to pass ever more stringent US emissions standards. The ancient design must be choked down to get it cleaned up & it becomes weak on power. Less than 2,000 Triumphs are sold worldwide in 1978.
---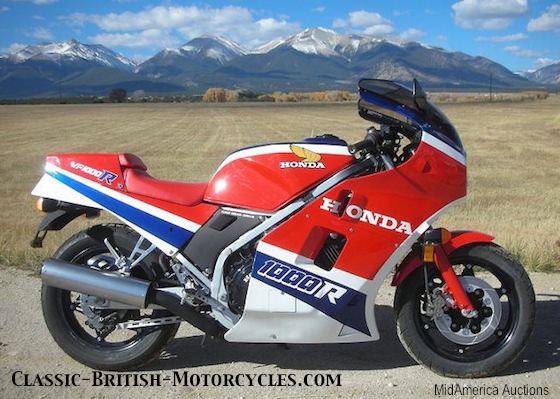 1982 Honda VF1000R
HONDA MOTORCYCLES – STARTING YET ANOTHER TREND
Once again seeing a market that wasn't being adequately met, Honda introduced its stunning VF/VFR- & Interceptor-series of bikes in 500cc, 750cc & 1000cc versions, all with 90-degree V-4s, DOHC 4-valves per cylinders. They were light, powerful, handled well & looked like nothing else on the planet. And once again the competition fell all over themselves trying to catch up. The sportbike race was on, and once again, Honda Motorcycles were in the lead.
---
CLASSIC BRITISH MOTORCYCLE TIMELINE – 1983
Triumph breathes its final gasp as it slips into receivership. It is the end of an age. No British Motorcycles would be produced, until Les Harris begins limited Bonneville production from about 1985 to 1989. Then in 1990, British real estate developer John Bloor, who had bought the rights to Triumph & had licensed the Harris Bonnevilles, now began producing a new generation of Triumphs in his Hinkley plant. Modern in every way, these new Triumphs rival the best motorcycles built anywhere in the world. The Brits are back!