The issue of children riding pillion on motorcycles has been raised again after this photograph of a seven-year-old girl on a sports bike in Texas surfaced on Facebook recently.
It was accompanied by a storm of abuse from people saying the mother was a bad parent.
The mother answered the trolling abuse and admitted it was dangerous, but also legal (in Texas you only have to be five years old and able to reach the footpegs) and that her daughter wore all the gear and her father has more than 20 years' riding experience.
She ends with: "THERE IS NO POINT IN BEING ALIVE IF YOU AREN'T LIVING!!"
Do you still have burn marks on your legs from riding pillion on a motorcycle as a child?
It seemed a rite of passage to ride on your uncle's or friend's older brother's motorcycle when you were a kid. It was painful, but I'll simply never forget the first time I was taken for a ride.
We also used to ride bicycles to school, climb trees and swim in unfenced pools. We took risks, lost some skin and developed a sense of adventure.
Look at any school grounds these days and count the number of bicycles. Today's kids are cocooned from danger, adventure and fun.
Around the world there are various laws against children riding pillion.
In Australia, all states and territories, except the Northern Territory, require children to be at least eight years old. Queensland also has that age restriction on sidecar pillions.
In the UK, anyone can ride pillion so long as they can comfortably reach the footpegs. The law even allows you to fit higher footpegs so children can reach them.
Laws vary across American states from no restrictions to age restrictions and even a requirement for children to be secured to a motorcycle or the rider by a seat belt or harness.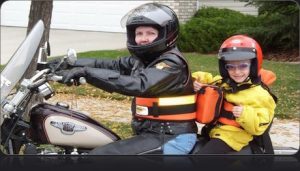 In parts of Asia, there are no rules about pillions.
In some countries, the only rules are that children have to be positioned in front of an adult, whether it's the rider or a pillion – which means you can carry more than one pillion! They don't even have to wear a helmet.
If you've been to Asia, you will no doubt have seen whole families on bikes, with mums carrying babies in their arms and children sitting on the handlebars or carry racks or standing in front of the rider.
It looks highly dangerous, but should we judge them? How else are they going to get around?
Have we got too many rules?