Limited edition models are usually decked out with extras and cost a littler bit more, but the CFMoto 650NKS limited edition is actually a lower spec model that costs less.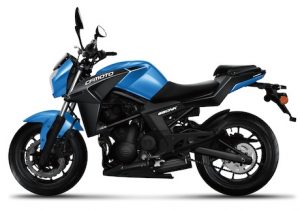 The 650NKS arrives at $5990 rideaway which is a good saving on the already top-value 650NK at $7290. Until 30 November, the NKS also comes with a free motorcycle jacket.
The NKS model is shod with Chinese CST tyres instead of the German Continentals ContiRoad Attack 2C tyres on the standard model which I have been reviewing for the past few months. I love the grip of the Contis and was critical of the previous Chinese tyres on the first NK models that arrived in Australia.
CFMoto says the brake specs on the NKS are the same, but the supplier is different and the NKS has slightly different styling, a different tachometer and different headlights.
CFMoto Australia director Michael Poynton says they brought the lower-spec model in to appeal to a more budget-conscious buyer. He expects the 650NKS to be well received by the LAMS market given the power output of 41.5KW and the value this model represents.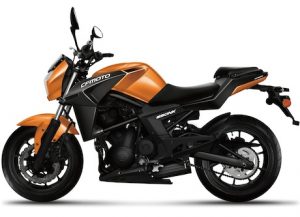 "Since we launched our first 650cc naked just over two years ago, we've gone from strength to strength with this model and sold more than 1000 across the country," he says. "Riding on the NK's success, we wanted to release a limited-edition model for the more budget-conscious customer offering even greater value for money. Our goal was offer customers a great bike at an even greater price point but not compromise on any of the quality the NK offered. While the differences are subtle between the two bikes, we believe we've managed to achieve that goal".
The NKS comes in matte black, crystal blue and sunburst orange and has a 24 month unlimited kilometre warranty, supported by a nation-wide network of more than 80 dealers. The bike has also been making news overseas, competing at the Isle of Man TT for the past two years and qualifying 7th in 2014 against a field of Kawasaki ER6s.