Our long-term CFMoto 650NK test bike has passed its first service with flying colours.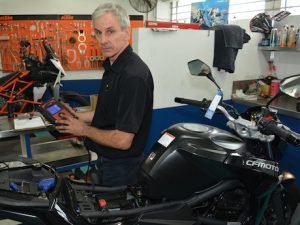 The CFMoto 650NK had clocked up over 1400km and was overdue for its first 1000km service. However, it was checked over at Springwood Suzuki and head technician Andrew France gave it a clean bill of health. "There are always small warranty issues with most bikes, but that is nothing unusual," he says.
Andrew has been doing services on the CFMoto bikes since they first arrived in Australia a couple of years ago. "The first models had some problems with their water pumps but they have definitely worked on them," he says. "That proves they are listening to feedback."
I have found the same from riding the first model. Like other motorcycle media, I had criticised the weak brakes, cheap tyres and faulty instruments. However, the second version of the bike now comes with decent brakes, instruments and grippy Continental ContiAttack tyres.
"This model is definitely more refined than the first one," says Andrew. "It's not the most advanced diagnostic system but quite common among Chinese bikes and even some European models."
Andrew says entry level bikes are built to a price, but he says the CFMoto is improving. "The plastics are as good as the Japanese and the lugs on the early models would break off, but they have changed that. So long as we continue to see improvement, these should be reliable bikes."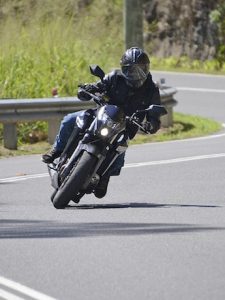 I wiled away the two hours at the dealership waiting for the bike to be serviced by checking emails, social media and my Sudoku scores. I also watched the motorcycle racing videos on the big screen and had a couple of lattes and a delicious Tony's burger with chips.
At the end of the service, the apprentice gave the CFMoto 650NK a wash and a quick run around the block to check the brakes, etc. That's good service.
Andrew gave me a dealer bulletin from CFMoto that says first maintenance is actually after 50 hours of riding, so the 1000km service – or 1400km in this case – is not overdue. However, he says I may get a service reminder notice on the instruments and the notice has simple instructions to void it.
As I rode away from the dealership I noticed that the levers were no longer loose and that the front brake had more bite. It's just the adjustment, but I've also been careful to bed the brakes in and I can detect more feel from the rear brake pedal.
The engine is also gradually loosening up and I can feel a bit more liveliness around 4000 revs.
I'm now looking forward to taking the CFMoto 650NK on a couple of short trips and getting the odometer up to its next service at 6000km to truly test the bike's reliability.