Central Coast Motorcycle Show 2011
CENTRAL COAST MOTORCYCLE SHOW 2011 IS A HIT!
This is the 4th year for the Central Coast Classic Motorcycle Show in San Luis Obispo CA. It's put on by the Central Coast Classic Motorcycle Club & they did one heck of a job! It takes place in the large parking lot of a church on a hilltop overlooking the serene beauty of the area. Perhaps 100 bikes were in attendance of all ilks: Classic American Bikes, Japanese, European, and of course our beloved Classic British Motorcycles. This San Luis Obispo Motorcycle Show was a judged show with trophies given (results coming to this site soon). There were also lots of fun Field Events, like being the slowest bike in the race, or running to your bike, starting it & being the first one off the line. Great fun for all! It was very well organized, well-attended with some very nice people, had lots of great vendors, and a ton of awesome Classic Motorcycles. More than two dozen were Classic British Motorcycles. Great show, perfect weather, had a wonderful time! Don't miss this show, next year.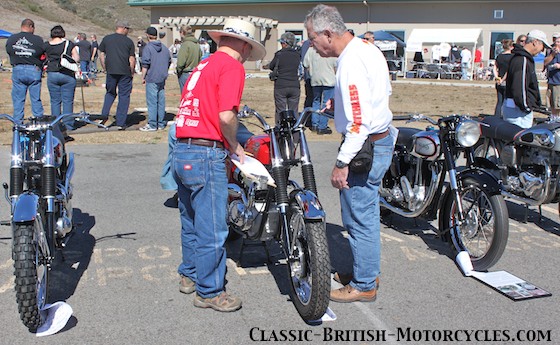 MY PLANS CHANGE
I had originally planned to ride my '79 T140D Bonneville Special down to the Central Coast Motorcycle Show 2011 with the crew from Raber's. They were leaving Friday morning, October 7 from Raber's shop in San Jose CA. But about 2 months ago, I fractured my right foot in a clumsy move at home & while the cast had just come off, I wasn't quite ready to kickstart my 750 twin with the bum foot. So, I drove the 212 miles in the Prius on Saturday morning, spent the day at the show, then drove home. But the Rabers Crew had a much nicer ride than I, avoiding freeways & taking backroads most of the way!
SO, LET'S SEE SOME CLASSIC BRITISH MOTORCYCLES: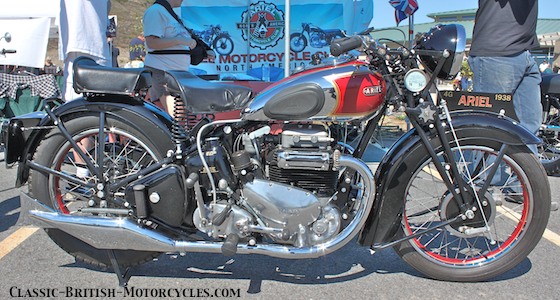 This luscious 1938 Ariel Square 4 was proudly presented by the Ariel Motorcycle Club, North America.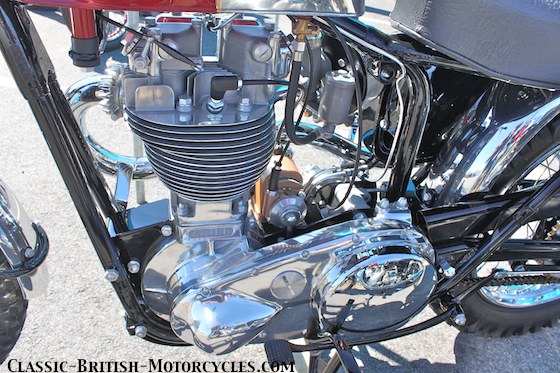 Talk about new! This 1952 Ariel Red Hunter is not new that it was finished at 3:00am the night before the show. And it looks it. What a gorgeous piece of work, also at the Ariel Motorcycle Club's booth.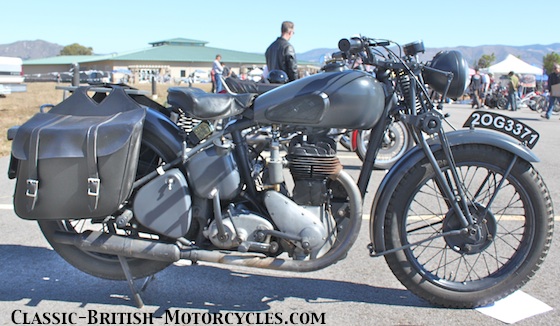 For those WWII military bike buffs out there, an unmolested 1945 BSA M20.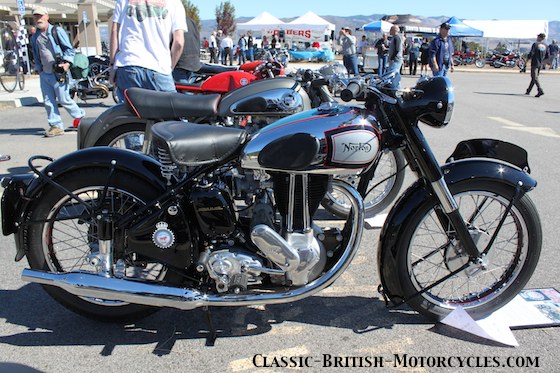 Tidy 1951 Norton ES2, with a line of other nice bikes at the Central Coast Motorcycle Show 2011.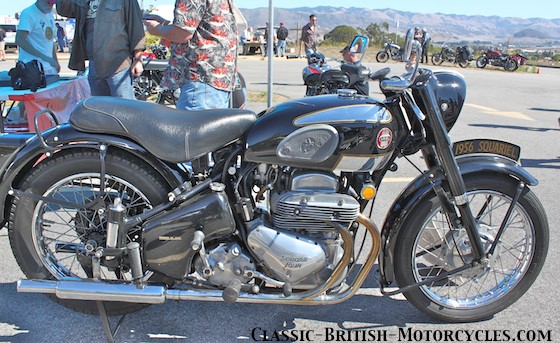 1956 Ariel Square 4.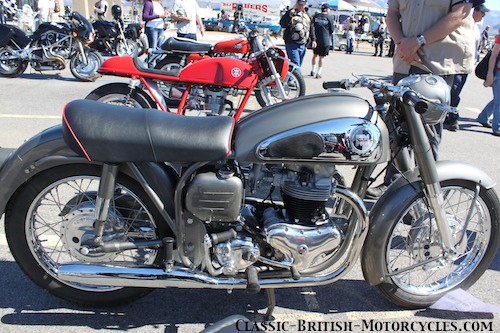 One of my personal favorites at the show. 1957 Norton Dominator.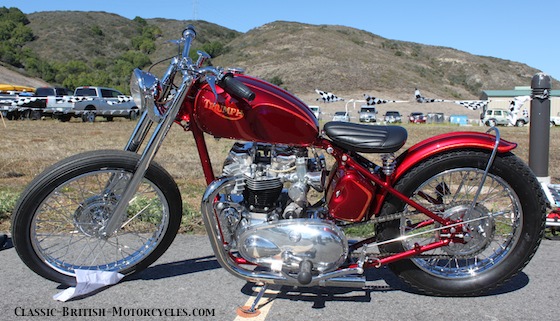 The only chopper at the show (made from a Classic British Motorcycle, that is). This sweet 1959 Triumph Chopper was extremely well put together, meticulously detailed & the paint looked so deep you could put your hand into it. I loved it!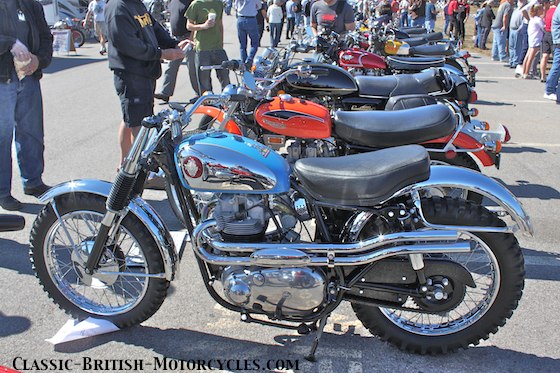 1960 BSA A10 Spitfire Scrambler.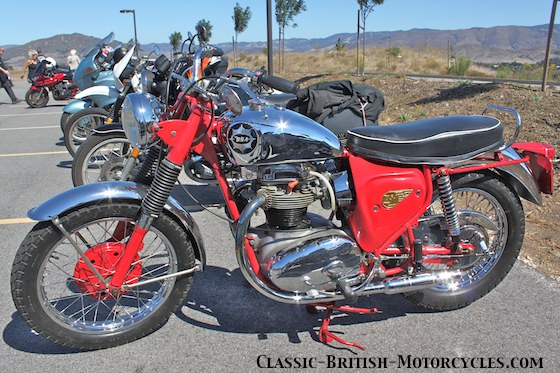 This 1965 BSA A65 has extra chrome & paint.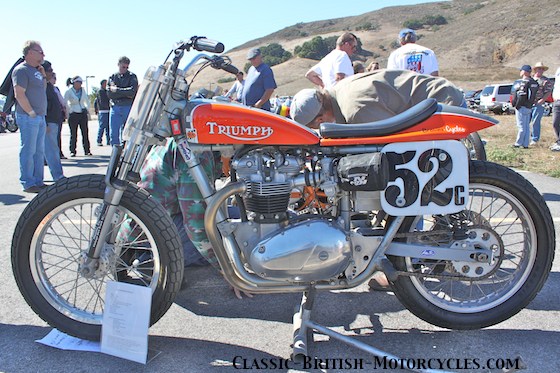 1964 Triumph Flat Tracker.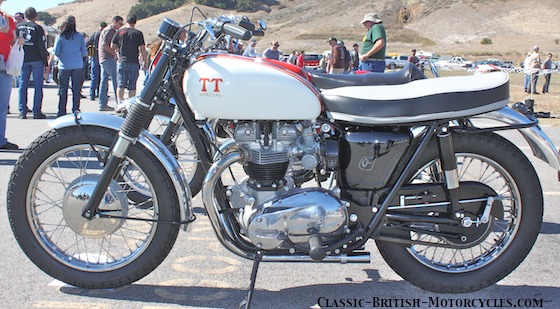 1966 Triumph Bonneville TT Special with custom paint.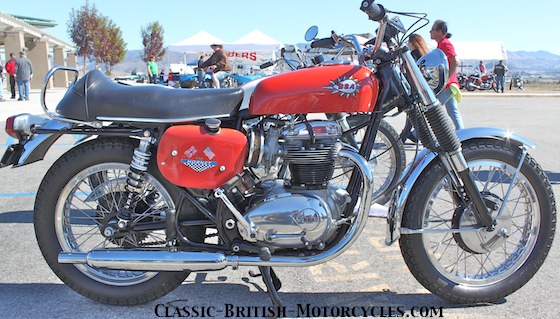 1967 BSA A65 Hornet.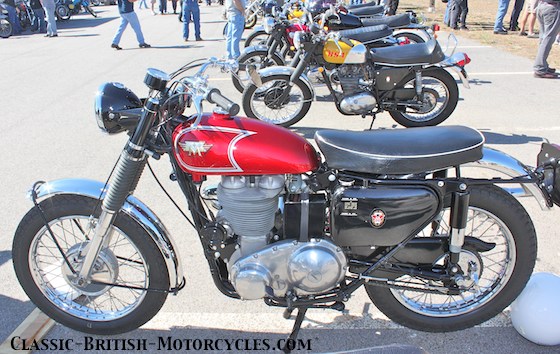 1967 Matchless G80CS.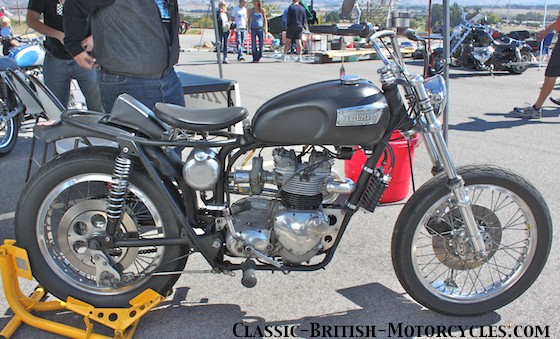 1967 Triumph Flat Tracker.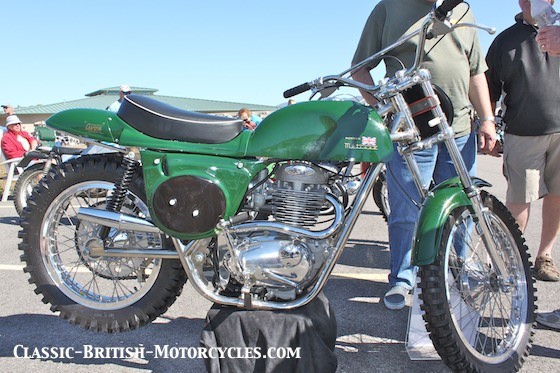 1968 Rickman Metisse with BSA 441 engine. Note the 'waffle-head' finning, done by the owner with a milling machine, to give it a cool look. I'd say it works.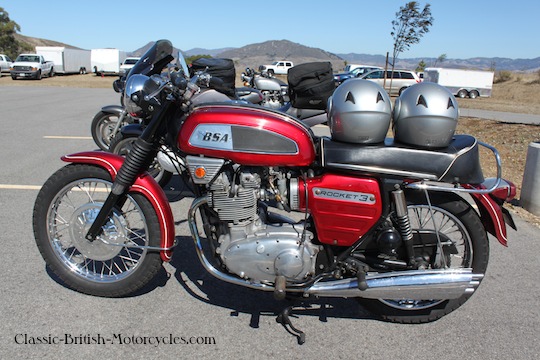 Sometimes the bikes in the parking lot are just as nice as the ones inside the show. Here, someone rode to the show two-up on this gorgeous 1969 BSA Rocket 3.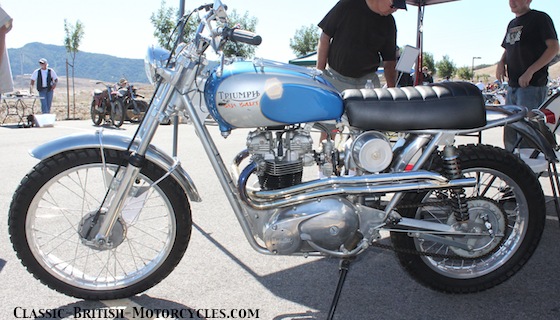 "The Baja Bullet" Triumph 650desert racer, with single-carb, Champion frame & Ceriani forks. Presented at the booth of the Vintage Triumph Rider's Group (a Yahoo group). To find them, go to Yahoo then search VTRG.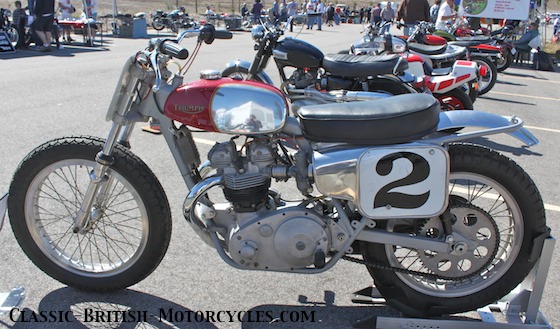 "The Dick Mann Triumph" was actually ridden by 'The Mann' himself. It is the only Triumph Dick Mann ever actually built himself & raced. Now in the hands of a private collector, it was presented by the VTRG.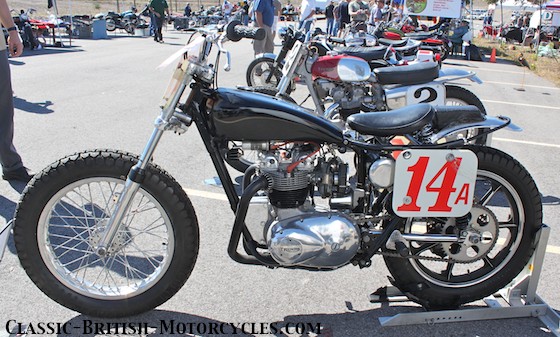 A very nice Triumph 500 Flat Tracker.