The first carbon fibre wheel that can be swapped between bikes will be unveiled at the EICMA motorcycle show in Milan in November.
While carbon fibre wheels can be expensive, the cost is diminished if you can swap the rear wheel between your bikes. That is assuming you have more than one!
It's a great idea for a track bike that you also ride on the road.
South African company Blackstone Tek (BST) has now added the new swappable carbon fibre rear wheel to its Black Mamba series.
It can be swapped simply by replacing the brake adapter and sprocket carrier. It suits models from several manufacturers, including Bimota, Ducati, BMW, Honda, Kawasaki, Suzuki and Yamaha.
The new high-pressure forged composite drive side is a BST innovation in the design and manufacture of pre-impregnated monocoque carbon fibre wheels.
All BST wheels come standard in a high-gloss finish, but customers have the option to choose satin or matt finish.  They also offer four different ink colours – red, blue, green and gold.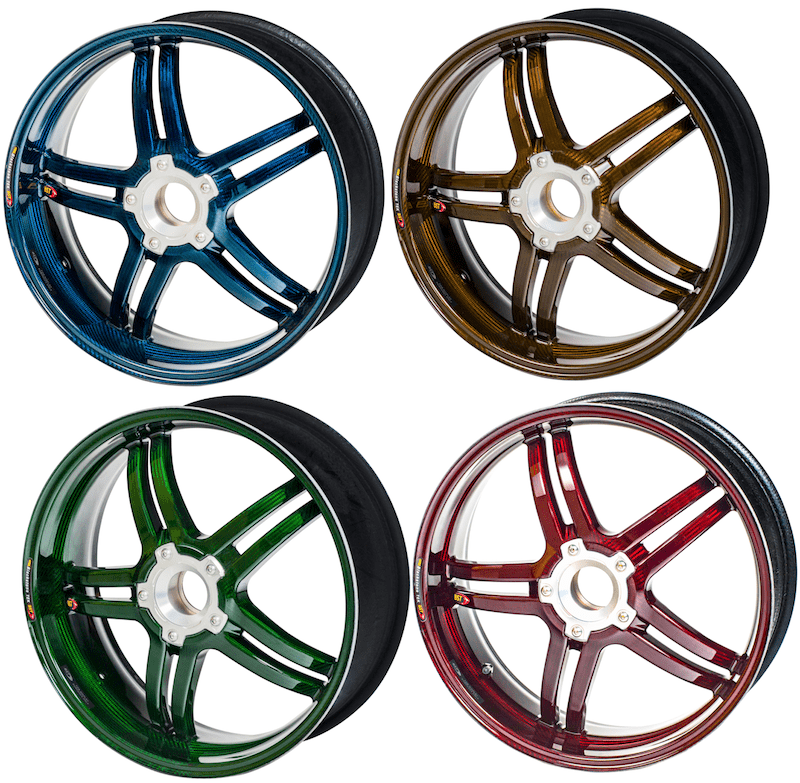 The 3.5" by 17" front wheel weighs in from +/- 2.4 kg (depending on fitment) complete and has a static load rating of 150 kg.
The 6" x 17" rear rates at 280kg, weighing in at +/- 3.2 kg (depending on fitment), excluding the sprocket carrier. The hubs are in 6082-T6 heat-treated aluminium.
BST is offering the new seven-spoke Black Mamba conventional wheel set at the special introductory price of $US2999 (excluding taxes, plus free shipping) for all orders placed before October 31, 2017.
Click here for their fitment guide and click here to order now. All BST wheels come with a two-year factory warranty.
Carbon fibre advantage
Most standard motorcycle wheels are made of aluminium, steel and/or magnesium.
Carbon fibre wheels are lighter, tougher, longer-lasting and don't corrode.
There are many performance advantages of carbon fibre wheels. They are better braking, steering, handling and acceleration because there is less inertia in the lightweight wheels.
Click HERE to read more about the benefits of BST carbon wheels and technical data.
We will shortly be fitting Blackstone Tek carbon fibre wheels to our Ducati GT1000 project bike. Stay tuned to see how much the performance is improved.