The BulletHD Biker camcorder is not only great for recording your travels, but also collecting video evidence in case of a crash or incident.
WIN A BULLETHD CAMCORDER – DETAILS AT END OF STORY
The lightweight, lipstick-sized, streamlined camera can easily be attached to your bike in any position and even wired to the battery via a power convertor so you never have to worry about running out of batteries.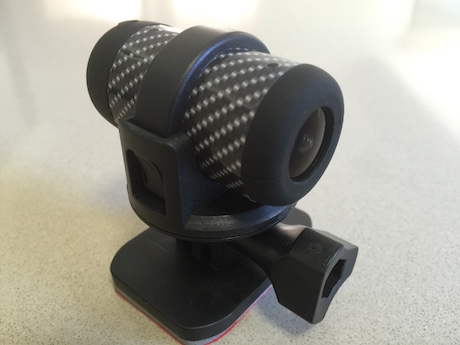 It can be configured so you turn it on with a button, or simply when you switch on the bike's ignition which is ideal for daily commuters. You can also wire up two cameras off the one convertor.
The video can be set to record in 5, 10 or 15-minute loops for everyday evidential purposes as you never run out of memory. If you want to use it for recreational purposes, you can manually start and stop video recording.
Video resolution can be set at 1080P at 30 frames per second or 720P at 60fps which is pretty good even when transferred to a big-screen TV. A 32Gb mini-SD card will record about 235 minutes of video at 1080P.
If it's in loop mode, it starts recording over the first video on the card when it reaches capacity.
It also has a lowlight CMOS sensor for clear recording when riding at night and has an anti-scratch, ultra-wide, 160-degree lens which covers a huge field of vision.
Video quality is comparable to GoPro. It's just as sharp, not as vivid in colour, but the image feels more stable and doesn't have that wobbling on the border that you get with GoPro.
The BulletHD Biker camcorder features a convenient G sensor which measures the movement of your bike through 3 axes which is useful in the case of an incident. If it detects a sudden movement it will automatically save the current video file so you don't lose crucial footage.
So that potholes and sudden braking don't trigger this function, you can adjust the sensitivity from low to mid to high or switch it off.
The camcorder can also be set to take photos one frame a second, or every 2, 5, 10, 30 or 60 seconds. They appear as a fast-motion video. I still-framed the video and was able to get passable-quality still photos as well.
All settings can be adjusted via a text file on the mini-SD card when plugged into a computer. You can even include a date stamp for evidence and turn the audio on and off.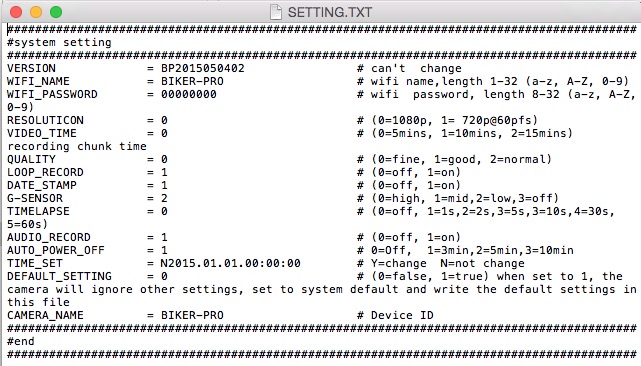 There are basically only on and off power and recording controls on the remote of the Biker Mate model ($209). However, the Biker Pro version at $229 comes with WiFi and a free Android/Apple app so you can perform a lot more controls on your phone, including starting and stopping video, switching to photo mode, naming files, playing back video and images, deleting and more.
That means you can record an incident and then immediately upload it to your social media to share with your friends.
While it's only tiny and unobtrusive, it's connected via a hefty optic-nerve cable to a remote control which can be difficult to place out of site. It also prevents use on your helmet, although BulletHD make special helmet cameras from $169 in a similar lipstick shape.
Instead of wiring the Bike Pro camcorder to my bike's battery I chose to charge up the unit via the supplied USB cable, allowing me to change the camera location for photos and video.
It even allowed me to position the camera roadside to video my bike as I rode by! I was able to sit up the road from the camera and see the image on my iPhone, then start recording and ride past. Then I posted the video on Facebook directly from my phone.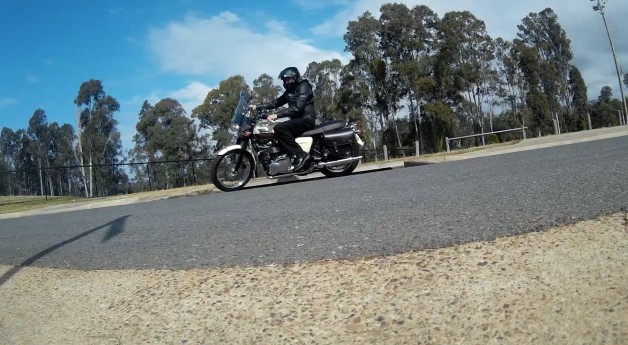 The sealed camcorder is claimed to be dust, water and shock-proof. I certainly didn't have any problems in the rain.
The BulletHD comes with a stick-on attachment similar to GoPro but with a ratchet that allows you to quickly swivel it through 360 degrees. You can also buy other attachments for various applications such as mounting to your handlebars.
The camera can quickly be detached from its holder to prevent theft and because it is so small, it will fit in any pocket.
You can win a BulletHD Pro Biker camcorder just by going to our Facebook page and "SHARING" our post about this story with your friends. The winner will be announced next Tuesday (August 11, 2015) in our weekly free newsletter. if you would like to subscribe to the newsletter.