The Harley-Davidson Breakout has claimed the top-selling spot for the first time as the Australian motorcycle industry continues its first prolonged slump since the GFC.
Usually the top-selling bike in Australia is a postie bike, peewee, trail bike or cheap learner, not a large motorcycle costing more than $30,000.
However, the Breakout, which has been Harley-Davidson Australia's top seller for the past year or more, has done it!
Breakout sales were up 84 or 8.3% to 1092. And with a new model arriving with a 107- or 114-cube Milwaukee Eight engine, sales should continue to remain high.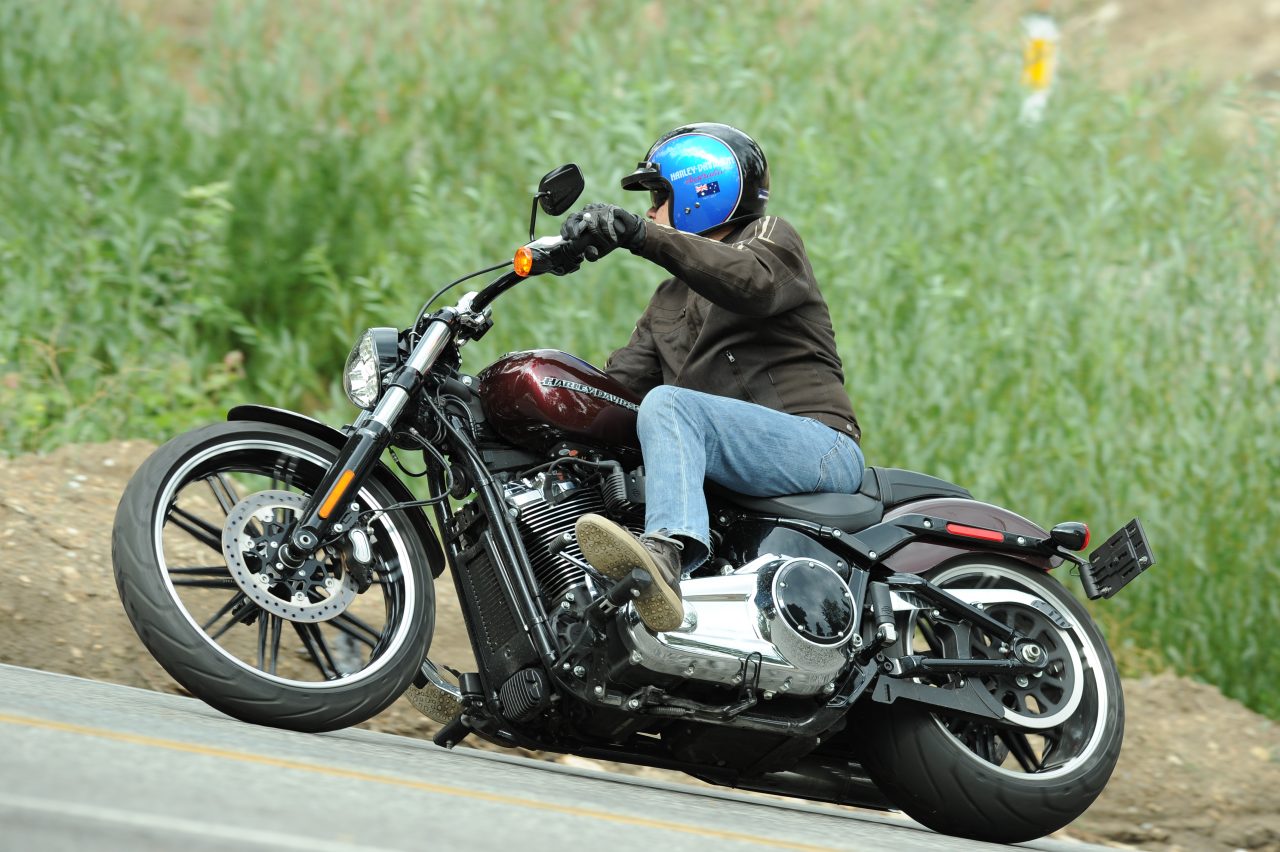 Harley-Davidson Australia marketing manager Adam Wright says it is "amazing" that such a bike could lead the market.
"But there is a brand equity in Harley and people see the value," he says.
"It gives people confidence and security in their purchase."
"That particular motorcycle has an aesthetic value and a broad appeal."
Breakout against the trend
That runs against the market trend where most brands and sectors were down and total sales slumped 7.8% to 73,141 so far this year.
The worst news is that the road bike market is, for the first time, the worst performing. It is down 14.9% which is even more dramatic than the continuing drop in scooter sales at 14%.
Road bikes are usually the most stable category as they are less affected by farming demand as ATVs and off-road bikes which suffer from produce prices and weather conditions.
It seems the long honeymoon of learner-approved motorcycles has also gone off with the top 10 learner bikes all experiencing major drops, except for the Honda Grom and CRF250L.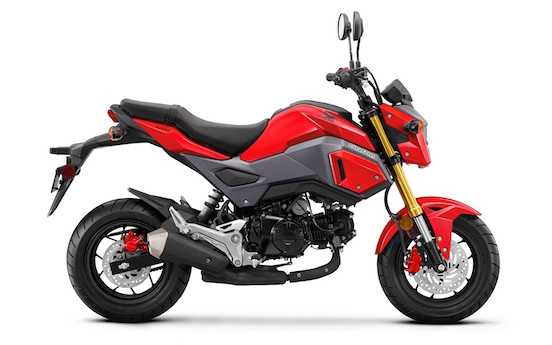 Best performers
Sales data published by the Federal Chamber of Automotive Industries shows sales of motorcycles, scooters and ATVs totalled 73,141 for the first nine months. That compares with 79,352 for the same period in 2016.
Honda remains the market leader with 22.8% of total sales ahead of Yamaha (19.9%), Kawasaki (9.5%) and Harley-Davidson (8.9%).
Harley also remains the top-selling road bike company for the sixth quarter in a row, followed by Honda and Yamaha.
Road bikes were again the highest volume segment, with 29,625 sales or 40.5% of the total motorcycle market.
Although coming off a low volume base, both Indian and the now-defunct Victory motorcycles posted strong increases during the period of 16.4% and 47.1% respectively.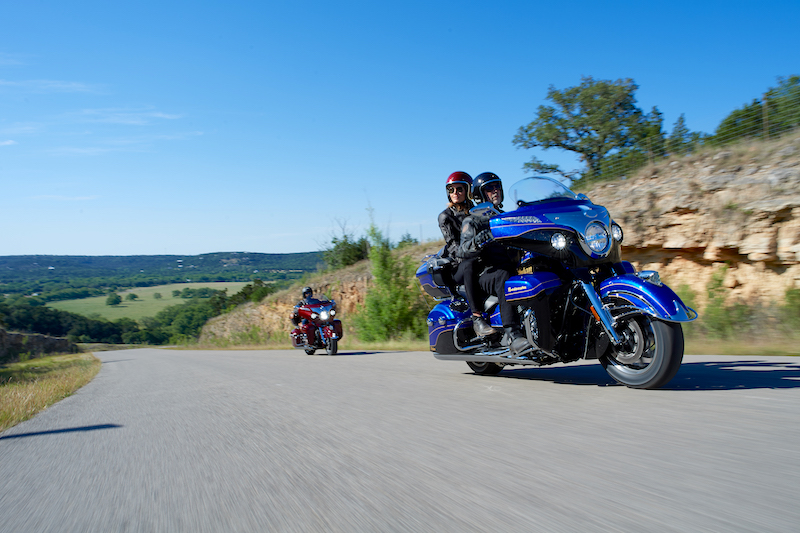 Worst performers
The worst performing road bike companies were Hyosung (-84.7%), Moto Guzzi -45.9%) and Aprilia (44.7%).
Off-road bikes represented 32.9% of the market, down 5%. Yamaha led this segment ahead of Honda and KTM. A standout performer in the off-road segment was Husqvarna, which posted a 31.6% increase.
The ATV and SSV segment grew by 4.5% to 22.8% of the market, led by Polaris, then Honda and Yamaha.
The scooter segment again experienced a decline in sales, down 14% to just 3.8% of industry sales with Italian maker Piaggio the best seller, followed by Honda and Vespa.
(Note that several manufacturers do not supply figures to the FCAI, including mainly small-volume brands such as Benelli, Bimota, Bollini, CFMoto, Confederate, Daelim, EBR, Kymco, Laro, Megelli, Mercury, MV Agusta, PGO, Royal Enfield, SWM, SYM, TGB, Ural and Viper.)
Top 10 manufacturers
(2016 figures in brackets)
Honda 16,646 (17,093) -2.6%
Yamaha 14,546 (16,973) -14.3%
Kawasaki 6936 (7455) -7%
Harley-Davidson 6525 (7201) -9.4%
Suzuki 5765 (6965) -17.2%
KTM 5605 (6277) -10.7%
Polaris 4758 (4000) 19%
BMW 2098 (2466) -14.9%
BRP 1970 (1959) 0.6%
Husqvarna 1986 (1492) 33.1%
Top 10 road bike manufacturers
(Excludes scooters)
Harley-Davidson 6525 (7201) -9.4%
Honda 5720 (6670) -14.2%
Yamaha 4211 (5822) -27.7%
Kawasaki 3253 (3689) -11.8%
BMW 2029 (2373) -14.5%
Suzuki 1964 (2319) -15.3%
Triumph 1745 (2310) -24.5%
Ducati 1349 (1506) -10.4%
KTM 1310 (1310) 0%
Indian 525 (451) 16.4%
Top 10 bikes
| | | | | |
| --- | --- | --- | --- | --- |
| Harley Davidson | FXSB | 1,092 | 1,008 | 8.3% |
| Honda | NBC110 | 1,086 | 1,824 | -40.5% |
| Yamaha | WR450F | 1,069 | 1,390 | -23.1% |
| Honda | CRF50F | 1,065 | 1,014 | 5.0% |
| Yamaha | PW50 | 920 | 898 | 2.4% |
| Harley Davidson | XG500 | 889 | 1,175 | -24.3% |
| Yamaha | TTR50E | 851 | 826 | 3.0% |
| Honda | GROM | 848 | 821 | 3.3% |
| Honda | CRF230F | 809 | 761 | 6.3% |
| Honda | CRF110F | 791 | 762 | 3.8% |
Top 10 road bikes
| | | | | |
| --- | --- | --- | --- | --- |
| Harley Davidson | FXSB | 1,092 | 1,008 | 8.3% |
| Honda | NBC110 | 1,086 | 1,824 | -40.5% |
| Harley Davidson | XG500 | 889 | 1,175 | -24.3% |
| Honda | GROM | 848 | 821 | 3.3% |
| Yamaha | YZF-R3A | 775 | 1,196 | -35.2% |
| Yamaha | MT07L | 726 | 1,034 | -29.8% |
| Honda | CBR500R | 723 | 934 | -22.6% |
| Kawasaki | Ninja 300 | 694 | 1,075 | -35.4% |
| Yamaha | MT-09 | 621 | 481 | 29.1% |
| Harley Davidson | FXDLS | 594 | 332 | 78.9% |
Top 10 cruisers
| | | | | |
| --- | --- | --- | --- | --- |
| Harley Davidson | FXSB | 1,092 | 1,008 | 8.3% |
| Harley Davidson | XG500 | 889 | 1,175 | -24.3% |
| Harley Davidson | FXDLS | 594 | 332 | 78.9% |
| Harley Davidson | FXDB | 454 | 518 | -12.4% |
| Kawasaki | Vulcan S | 440 | 427 | 3.0% |
| Honda | CMX500 | 373 | – | 0.0% |
| Yamaha | XVS650/A | 361 | 554 | -34.8% |
| Harley Davidson | VRSCDX | 308 | 544 | -43.4% |
| Harley Davidson | FLSTFBS | 247 | 345 | -28.4% |
| Indian | Scout | 246 | 243 | 1.2% |
Top 10 LAMS bikes
| | | | | |
| --- | --- | --- | --- | --- |
| Honda | NBC110 | 1,086 | 1,824 | -40.5% |
| Yamaha | WR450F | 1,069 | 1,390 | -23.1% |
| Harley Davidson | XG500 | 889 | 1,175 | -24.3% |
| Honda | GROM | 848 | 821 | 3.3% |
| Yamaha | YZF-R3A | 775 | 1,196 | -35.2% |
| Yamaha | MT07L | 726 | 1,034 | -29.8% |
| Honda | CBR500R | 723 | 934 | -22.6% |
| Kawasaki | Ninja 300 | 694 | 1,075 | -35.4% |
| Suzuki | DR-Z400E | 617 | 655 | -5.8% |
| Honda | CRF250L | 571 | 540 | 5.7% |
Top 10 sports touring
| | | | | |
| --- | --- | --- | --- | --- |
| Yamaha | YZF-R3A | 775 | 1,196 | -35.2% |
| Kawasaki | Ninja 300 | 694 | 1,075 | -35.4% |
| Kawasaki | Ninja 650L | 331 | 288 | 14.9% |
| Honda | CBR650FL | 238 | 257 | -7.4% |
| KTM | RC390 | 209 | 406 | -48.5% |
| Kawasaki | Ninja 1000 | 155 | 120 | 29.2% |
| Yamaha | MT09TRA | 91 | 152 | -40.1% |
| Kawasaki | VERSYS-X 300 | 89 | – | 0.0% |
| BMW | S 1000 XR | 87 | 133 | -34.6% |
| BMW | R 1200 RS | 87 | 102 | -14.7% |
Top 10 adventure bikes
| | | | | |
| --- | --- | --- | --- | --- |
| Honda | CRF1000 | 580 | 446 | 30.0% |
| Suzuki | DR650SE | 360 | 377 | -4.5% |
| BMW | R 1200 GS | 288 | 271 | 6.3% |
| Kawasaki | KLR650 | 242 | 297 | -18.5% |
| BMW | R 1200 GS Adventure | 223 | 256 | -12.9% |
| Honda | CB500XA | 212 | 205 | 3.4% |
| Suzuki | DL650XA | 148 | 125 | 18.4% |
| BMW | F 700 GS | 142 | 155 | -8.4% |
| KTM | 1090ADVR | 132 | – | 0.0% |
| Ducati | Multistrada 1200 | 131 | 177 | -26.0% |
Top 10 naked bikes
| | | | | |
| --- | --- | --- | --- | --- |
| Honda | GROM | 848 | 821 | 3.3% |
| Yamaha | MT07L | 726 | 1,034 | -29.8% |
| Yamaha | MT-09 | 621 | 481 | 29.1% |
| Honda | CB125E | 502 | 541 | -7.2% |
| Yamaha | MT03LA | 339 | 467 | -27.4% |
| KTM | 390DUKE | 273 | 299 | -8.7% |
| Yamaha | MT10 | 228 | 183 | 24.6% |
| Triumph | Bonneville T120 | 214 | 221 | -3.2% |
| Ducati | Scrambler 800 | 196 | 188 | 4.3% |
| Kawasaki | Z300 | 186 | 225 | -17.3% |
Top 10 super sport
| | | | | |
| --- | --- | --- | --- | --- |
| Honda | CBR500R | 723 | 934 | -22.6% |
| Honda | CBR300R | 223 | 342 | -34.8% |
| Suzuki | GSX-R1000 | 211 | 134 | 57.5% |
| BMW | S 1000 RR | 209 | 232 | -9.9% |
| Ducati | 959 Panigale | 199 | 260 | -23.5% |
| Honda | CBR1000RR | 172 | 188 | -8.5% |
| Ducati | SUPERSPORT | 129 | – | 0.0% |
| Yamaha | YZF-R1 | 120 | 197 | -39.1% |
| Yamaha | YZF-R6 | 112 | 65 | 72.3% |
| Ducati | 1299 Panigale | 107 | 142 | -24.6% |
Top 10 touring
| | | | | |
| --- | --- | --- | --- | --- |
| Harley Davidson | FLHXS | 277 | 299 | -7.4% |
| Harley Davidson | FLHTK | 165 | 181 | -8.8% |
| Harley Davidson | FLHR | 109 | 132 | -17.4% |
| Harley Davidson | FLHXSE2 | 108 | 98 | 10.2% |
| BMW | R 1200 RT | 92 | 131 | -29.8% |
| Harley Davidson | FLTRXS | 86 | 99 | -13.1% |
| Harley Davidson | FLHRXS | 85 | – | 0.0% |
| Indian | Roadmaster | 69 | 37 | 86.5% |
| Yamaha | FJR1300 | 50 | 111 | -55.0% |
| Indian | Chieftain | 45 | – | 0.0% |