Hub centre steering is set for a comeback after a Brisbane company received a $500,000 funding boost to develop their lightweight Motoinno T23 concept bike.
Motoinno stands for their branding company (Motorcycle Innovation) and TS3 for their innovative Triangulated Steering and Suspension System.
It was invented by film animator and self-taught engineer Ray Van Steenwyk who animated the toxic storm scene in the "Mad Max 4: Fury Road" movie.
Hub centre steering has been around since 1910 and is characterised by the steering pivot points being inside the wheel hub.
Ray claims his hub centre steering, together with his unique suspension system, makes riding safer as it separates steering, braking and suspension functions.
He says conventional fork steering creates more problems than benefits, predominantly oscillation harmonics which can cause weaving when you back off the throttle; a major cause of low-speed crashes.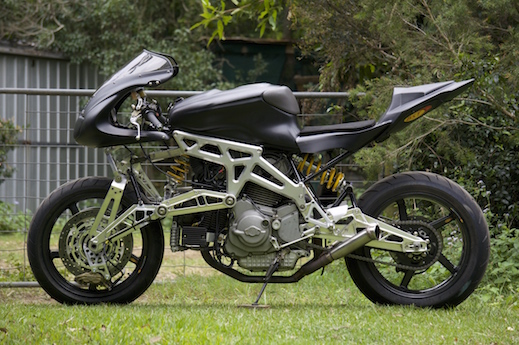 Hub steering benefits
The benefits of Ray's TS3 are claimed to be:
it is stronger, lighter and costs about the same as upside down or conventional forks;

it is more stable as it cancels oscillation harmonics by eliminating the high stress load on the hub-centre king-pin;

it has a tight turning circle of 54 degrees compared with sports bikes of about 38 degrees;

it doesn't have horizontal or lateral flex like standard forks;

the steering geometry doesn't change when the front dives under heavy braking; and

the rider can totally dial out brake dive, or even dial in front lift under braking.
Ray says that in track testing at Norwell and Mt Cotton facilities by numerous riders, the bike was considered more stable, turned in quicker and could not be upset by braking, sudden acceleration or change of direction, even in the middle of a corner.
Revolution in safety
Motorcycle Innovation CEO Colin Oddy says these promising results signal the beginning of a "genuine revolution in motorcycle safety and performance".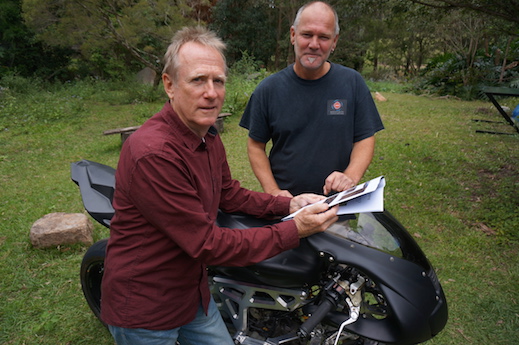 "We're now in the process of designing, building and testing an all-new MotoinnoTS3 Shockwave model, employing a more powerful and more sophisticated power plant," he says.  
"This bespoke, high-end luxury road bike is based on the Ducati 1198cc Testastretta 11º engine – but that's where the similarity to any other motorcycle starts and ends."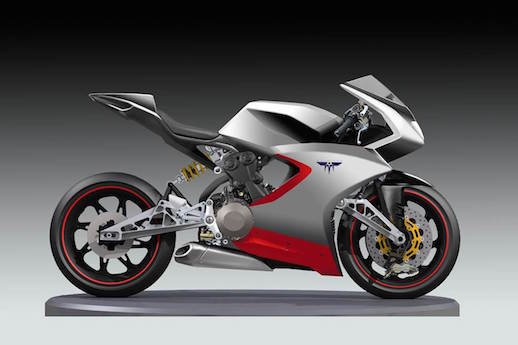 The project has been given an injection of $250,000 in funds from private Queensland investor ACAC Innovation, plus a matching $250,000 grant from the Queensland Government through its Ignite Ideas Fund.
 The Shockwave concept bike will feature front and rear swingarms made of carbon composites, plus high-end metals designed to strengthen and lighten the motorcycle's weight to around 110kg.
"That's getting on for half the weight of the model from which the engine is derived," Ray says.   
"With unique styling and patented componentry, the Motoinno Shockwave will set new standards in handling and braking, as well as in power-to-weight ratios for motorcycles."
Moto2 racing
Motorcycle Innovation plans to test its design in Moto2 racing.
The Moto2 test prototype will be track-tested in Australia late in 2017, before being transported to Spain for testing in the European CEV competition of 2018.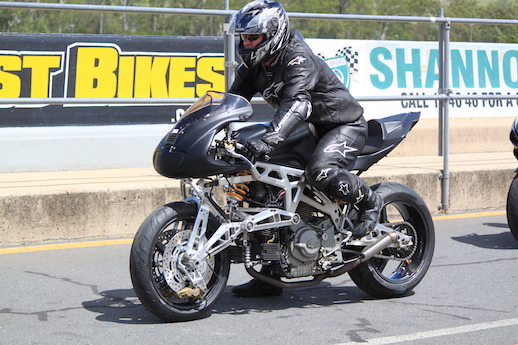 When we first viewed the concept bike in June 2015, Ray and Colin said they wanted to produce their bikes in Australia using local engineers, technicians and component manufacturers, without resorting to having parts made cheaply overseas.
Ray says that if his design is taken up by motorcyclists and manufacturers, it would mean riders would have to un-learn old skill sets needed to ride around the inherent flaws of telescopics.
"We would rewrite the rider training manual," he says.