If you ever wanted to buy a classic motorcycle or bike-related memorabilia at auction, the Bonhams three-day bike bonanza could be your best opportunity.
Their Summer Sale bonanza will be held at Bicester Heritage from 14 to 16 August, 2020, rather than at the International Classic MotorCycle Show at Stafford, due to government guidelines on COVID-19.
So, for the first time the sale will be held over three days, showcasing more than 100 years of design and manufacture.
Lots range from exotic racing grand prix machinery of the twice-delayed Morbidelli Motorcycle Museum Collection to motorcycle spares and memorabilia.
With estimates varying from £80 ($A145) to £400,000 ($A730,000), the sale will offer something for everyone. Seventy-five per cent of the lots are to be offered without reserve.
Email motorcycles@bonhams.com to book a pre-sale viewing appointment or bids@bonhams.com to register to bid online, telephone or to leave an absentee bid.
Bike bonanza schedule
Day 1, Spares and Memorabilia, Friday 14 August 10am GMT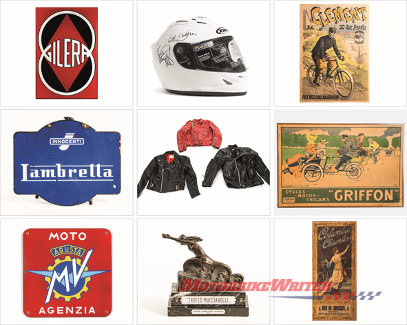 More than 200 lots of spares and memorabilia, to be offered entirely without reserve.
A treasure trove of early 20thCentury posters, beautifully designed enamel signs, vintage rider apparel and rare motorcycle spares (including frames and engines)will set the pace for one of the largest motorcycle sales to date.
Day 2, Motorcycles Saturday 15 August 10.00 BST (Lots 301 – 462)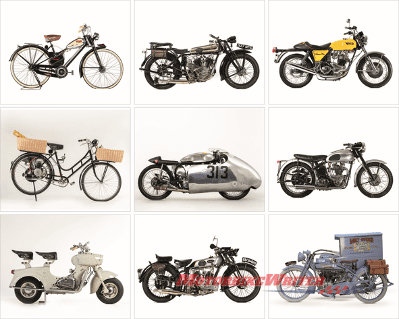 Lots offered will include several important machines from the early 'Pioneer Period' of motorcycling.
The 1909 Minerva 3½hp with Wicker Sidecar (£25,000 – 35,000) is well known within the motorcycle fraternity, having regularly taken part in the prestigious London to Brighton Pioneer Run and benefited from restoration work by J W Tennant-Eyles in the 1980s.
Bonhams are synonymous with the sale of golden-era V-Twins and the 1927 Matchless 982cc M3/S Sports Solo (£28,000 – 35,000) together with the 1928 Montgomery 680cc 'Twin Five' (£25,000 – 35,000) are both exceedingly rare Vintage examples, both eligible for the infamous VMCC Banbury Run, where the latter was a concours award-winner in 2004.
The 1935 Brough Superior 982cc SS80 (£65,000 – 80,000),'The Rolls-Royce of Motorcycles' needs no introduction and this matching-numbers example has been in enthusiast-ownership since 2000, having been restored by Dave Clark in the late 1990s
Following the demise of the British motorcycle industry in the late 1960's a plethora of Italian and Japanese manufactures began producing incredibly well engineered multi-cylinder motorcycles, and Bonhams are proud to be offering several important landmark variants:
1974 MV Agusta 750S (£60,000 – 70,000), a shaft driven four-cylinder mechanical-marvel, developed alongside a long line of highly successful grand prix racers.
Honda's outrageous six-cylinder 1979 Honda CBX1000 Super Sport  (£6000 – 10,000 NO RESERVE) which few bikes can match for charisma, visual appeal and, above all, sound.
One owner, 124 miles from new 1999 MV Agusta 750cc F4 'Serie Oro' (£28,000 – 35,000) arguably one of the most beautifully designed motorcycles of modern times.
Day 3, The Morbidelli Collection, Sunday 16 August, 10.00 BST (Lots 501 – 704)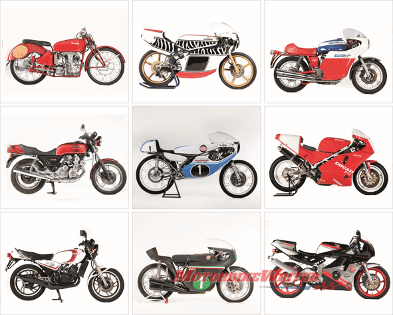 The highlight of The Summer Sale, with more than 200 motorcycles offered from the stable of the late Giancarlo Morbidelli, lifelong motorcycle enthusiast and the man behind the fabled Morbidelli MotoGP manufacturer.
The Morbidelli collection charts the development of over 65 different manufactures including scooters, some of the most exotic racing grand prix machinery extant and several important Moto Giro d'Italia entrants.
Highlights include:
1964 Ducati 125cc4-cylinderGrand Prix racing motorcycle (£400,000 – 600,000), a 'mythical' Grand Prix machine created by the firm's chief engineer, Fabio Taglioni.This motorcycle disappeared for some years before its engine was found in Russia while its chassis reappeared in Yugoslavia, now Croatia. With the two essential components reunited, Giancarlo rebuilt the fabled motorcycle.
1950 Benelli 250cc Grand Prix racing motorcycle (£120,000 – 180,000), the world championship motorcycle ridden to victory by Dario Ambrosini.
1974 Morbidelli125cc Grand Prix motorcycle (£80,000 – 120,000) raced by the great Angel Nieto to second place in that year's Spanish and German Grand Prix.
In accordance with current government guidelines, The Summer Sale will be conducted 'behind closed doors, with online, telephone and absentee bidding offered.
However, all lots will be on view in advance of the sale in person, strictly by appointment, in Hanger 113 at Bicester Heritage, with full social distancing measures in place.
Viewing Times: 
Wednesday 12 August 13.00 to 17.00
Thursday 13 August 09.00 to 17.00
Friday 14 August 09.00 to 17.00
Saturday 15 August 09.00 to 17.00 (Lots 501-704 only)
Click HERE to view the full online lot listing
Click HERE to view the printed catalogue