A British BMW Motorrad executive has hinted that the company is planning to make a GS adventure version of its G 310 R as soon as 2017.
Even before the G 310 R hits the market, it seems they are already planning at least one other version. And why wouldn't it be a GS when the R 1200 GS continues to lead their range in sales?
GS stands for Gelände/Straße or Gelände Sport which is German for off-road/road.
A Motorcycle Sport and Leisure article has now quoted BMW Motorrad UK director Phil Horton as saying, "there are plenty more bikes to come, including, hopefully in 2017, a G 310R GS-style derivative."
Small-bore all-road versions of the 1200cc juggernauts on the market seem to be the next new niche in the motorcycle market.
KTM has already announced it is working on an adventure version of the 390 and Suzuki, Kawasaki and Yamaha are also considering it, while Honda already has its CBR500X.
All it would really take is longer-travel suspension, knobby tyres, MX-style bars, high exhaust and a bit of crash protection.
The adventure category is taking off around the world as riders are becoming despondent with the limits of the real world on using high-powered sports bikes.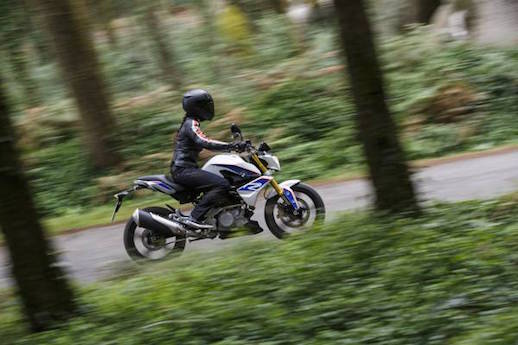 But not everyone can control a 1200cc juggernaut on loose surfaces or wants to trailer a dirt bike 100km to somewhere they can ride it.
So a lightweight small-bore adventure bike that has some highway comfort to ride to the dirt, yet also has around-town abilities for commuting, makes a lot of sense.
It would also make a lot of sense in rapidly growing markets such as India, China, Africa and South America where scooters struggle with the tough road conditions.
The 2016 BMW G310R is a joint venture with Indian company TVS and is powered by a 313cc liquid-cooled single-cylinder engine with 25kW and 28Nm of torque at 7500rpm.
It is due to be launched later this year.