BMW Motorrad will have a new boss when Markus Schramm takes over as director in May and the company has a new look in riding gear for 2018.
Schramm, who will succeed Stephan Schaller, is 55 and a "passionate motorcyclist". He has been with the BMW Group since 1991.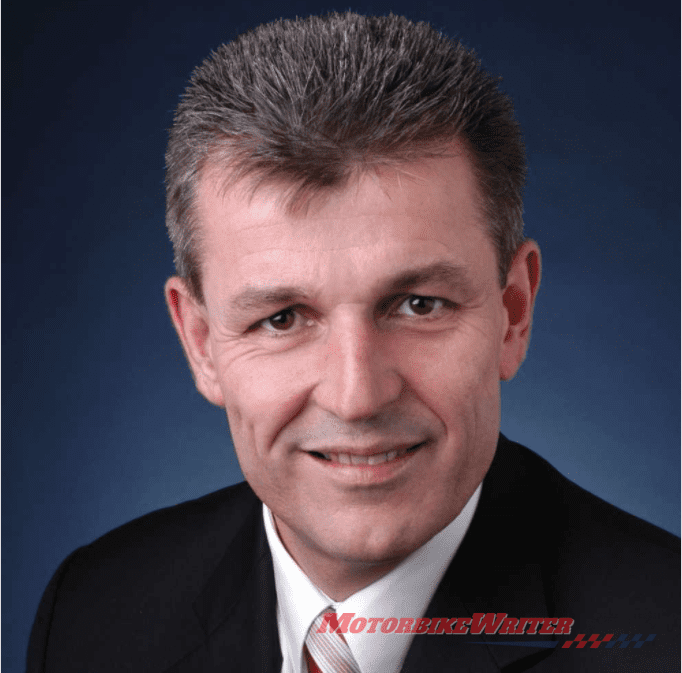 There is no word on which direction he will take BMW, but his predecessor recently said electric motorcycles were not in their immediate future.
New look
However, BMW will have a new look for 2018 with the release of their new riding gear range. (Prices and availability are not yet available.)
There is no mention yet of the head-up display helmet they have been developing for the past couple of years.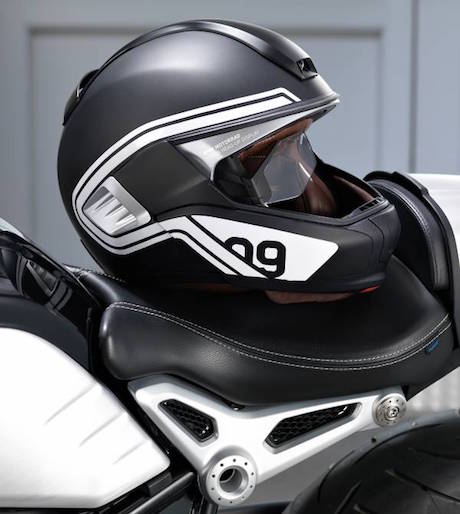 The HUD helmet will allow riders to see vital information such as GPS directions, speed and various motorcycle functions on a screen in their periphery vision so they don't have to take their eyes off the road.
BMW says it may also display real-time information for future vehicle-to-vehicle communication to prevent crashes.
Meanwhile, their latest System 7 Carbon helmet weighs only 1590g and can convert into an open-face helmet via the quick removal of the chin section without tools.
Its double-glazed visor is anti-fog on the inside and scratch-resistant on the outside and there is an integrated sun shield with continuously variable adjustment.
The helmet can also be fitted with BMW's communication system.
Rallye suit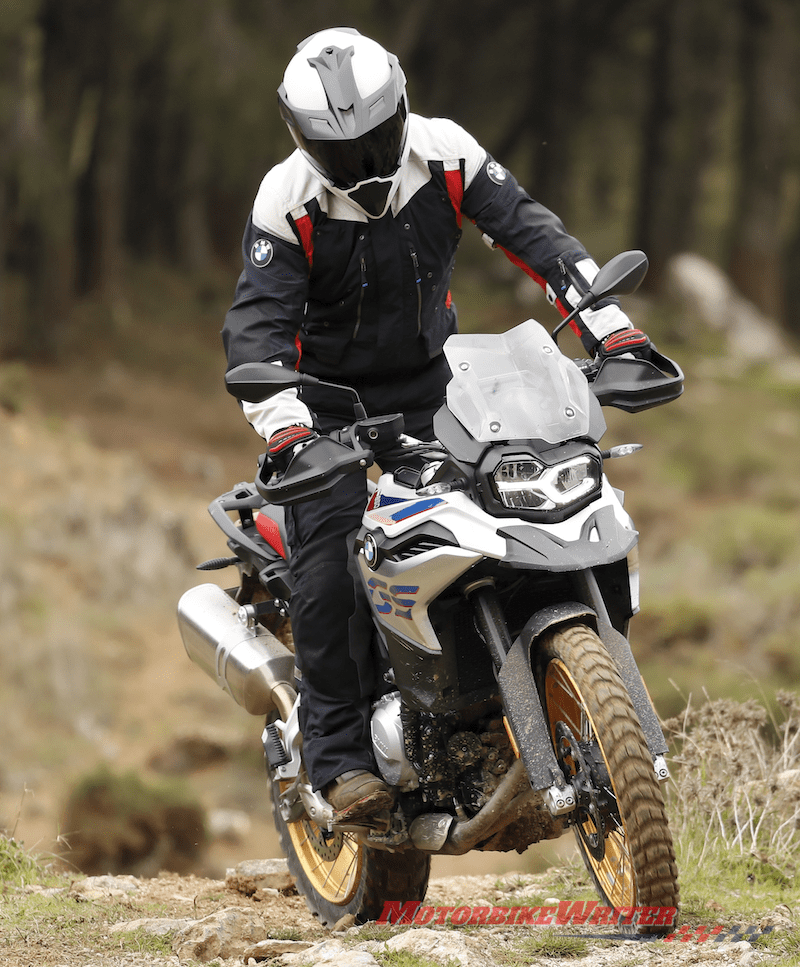 The latest generation of their ubiquitous Rallye suit has a new look and new material. It is made of ProTechWool, a mix of polyamide and wool with a carbon finish.
It is compressed under pressure and heat to make it abrasion resistant. There is no European specification available yet.
The elbows and knees have additional protection with ceramic dot prints. The Rallye suit is fitted with removable NP2 protectors and a bigger NP Pro back protector.
The button-in waterproof jacket insert can now also be worn over the top of the suit.
GS Dry suit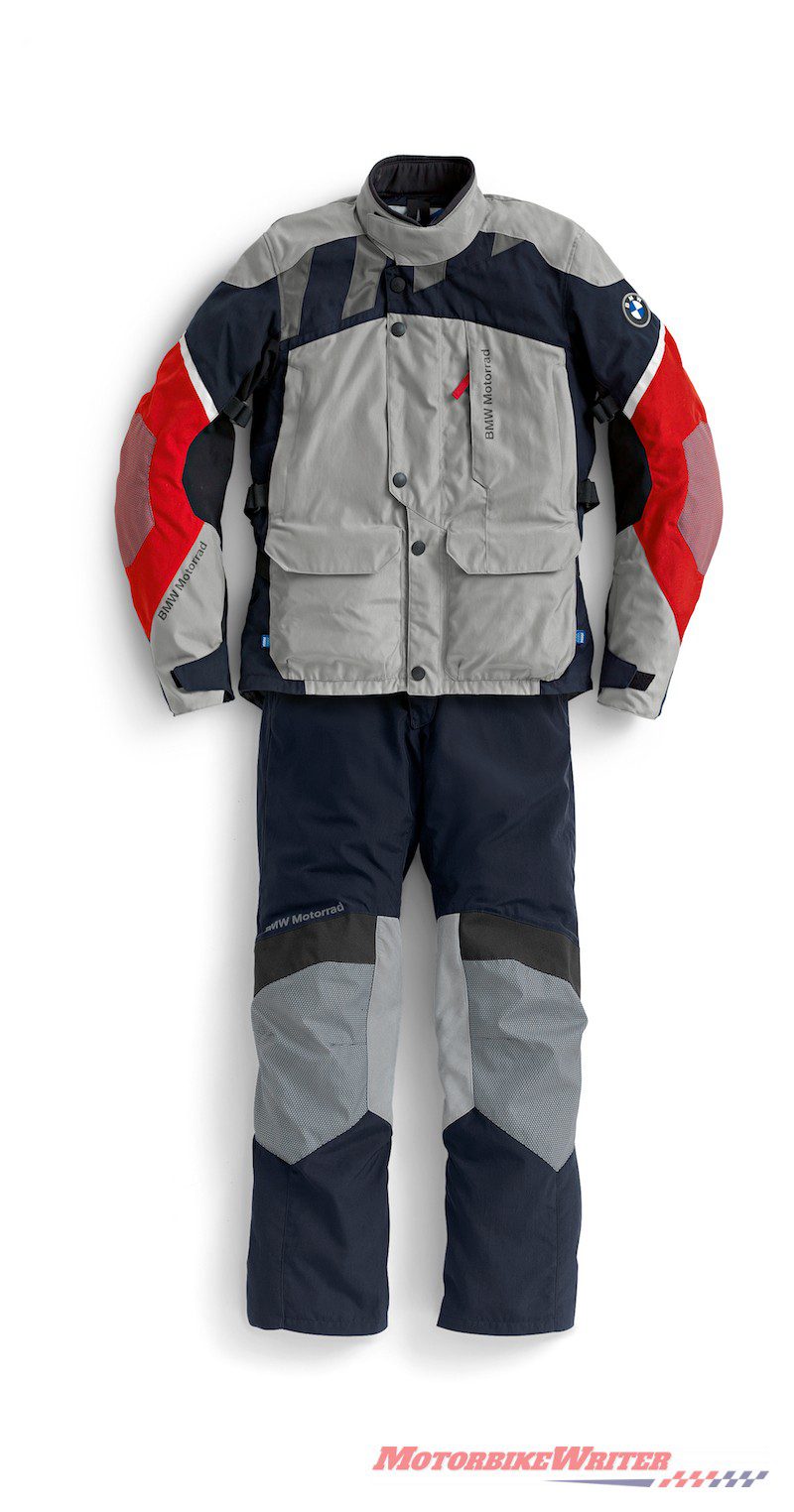 The GS Dry suit is now made of a new high-strength mixture of Cordura 500 and polyamide developed specially by BMW Motorrad.
They claim the fabric is breathable, extremely dense and has "significantly increased abrasion resistance" thanks to a PU layer with ceramic particles to reinforce certain areas.
It has waterproof-bonded zips at the chest and back, opening not just the upper material but also the membrane to allow air to circulate.
It features the long version of the new NP Pro back protector.
Atlantis suit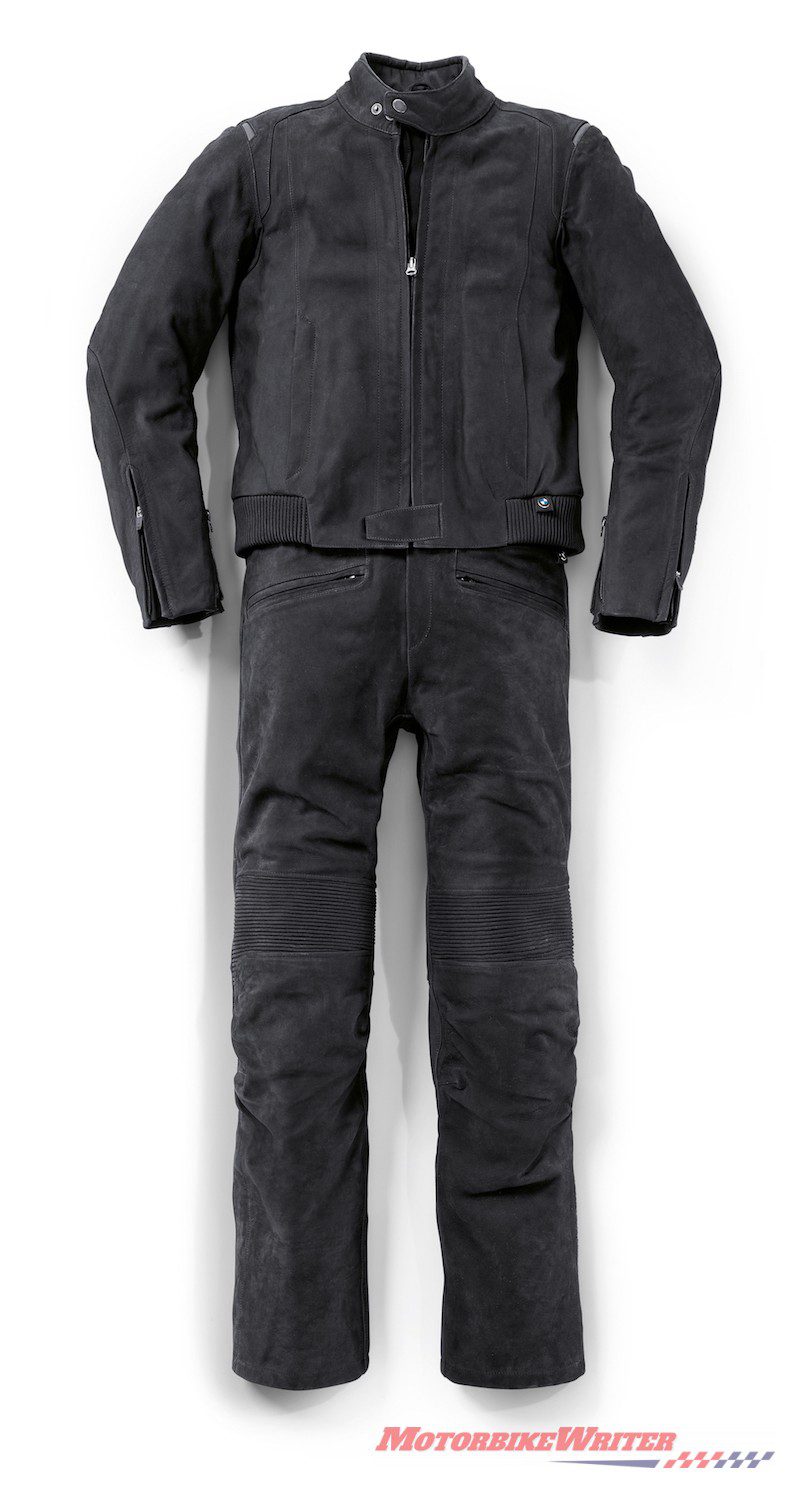 This all-weather leather touring suit Atlantis also has a new look.
It is made of "breathable" nubuck leather which looks and feels like suede.
The 1.2-1.4mm thick leather comes from young pasture-raised bulls in the Alpine region.
BMW claims it offers a high degree of elasticity and abrasion resistance.
During manufacturer, a special hydrophobing is applied to make it water-repellent while retaining the leather's natural breathable properties.
The rate also includes gloves, lifestyle gear (shorts, wallets, belts, etc) and a Dainese airbag jacket and vest.
However, we are unlikely to get the airbag gear as Dainese does not service them in Australia.