BMW Motorrad riders may soon be able to use their smartphone with their instruments and helmet, automatically call for help in a crash, while plotting and sharing their routes.
The Bavarian company has used the EICMA motorcycle show in Milan to launch their Concept ConnectedRide as "the next advancement in motorcycle connectivity for increased safety and comfort".
They also unveiled their new G 310 GS and R nineT Urban G/S, and updated R 1200 GS, F 800 models and K 1600 GTL with optional reverse.
BMW cars already include a lot of this technology with their BMW Connected App that acts as personalised digital mobility assistant to plan appointments and travel.
BMW Motorrad began its path to BMW ConnectedRide in 2009 by demonstrating its vehicle-to-vehicle communication and using intelligent connectivity.
The latest development includes four technologies, but BMW Motorrad Australia cannot yet confirm local availability for all models and technology.
1 TFT instrument/smartphone connection
The first is a TFT instrument cluster with smartphone connection in collaboration with Bosch.
BMW Motorrad president Stephan Schaller says riders are demanding digital connectivity.
"In the future we will be offering services that enrich the motorcycling experience," he says.
"New apps and functions via connection with smartphones and back-end services will open up a whole range of possibilities in terms of intelligent networking, making motorcycling more exciting, more comfortable and also safer."
BMW will adapt car technologies such as TFT displays, ECALL and WiFi as well as V2x communication into their motorcycles.
Already available in BMW cars, BMW motorcycles will offer similar connectivity and allow continuous updating via smartphones and navigation units.
2 TFT instruments link bike, helmet and smartphone
BMW Motorrad ConnectedRide will not only show road speed, revs, etc, but also navigation directiosn, telephone calls and entertainment info.
All features will be operated via a multi-controller like on the K 1600 and voice activation in the new BMW System 7 helmet.
BMW is also working on a head-up display helmet which will display information on a small translucent screen.
3 Emergency calls
BMW Motorrad earlier this year previewed its eCall system which automatically or manually calls the emergency services in a crash.
The Intelligent Emergency Call system will be available as an ex-works option in motorcycles from 2017. 
It is currently only available as an ex-works option on the K 1600 series in European markets with ConnectedDrive capability.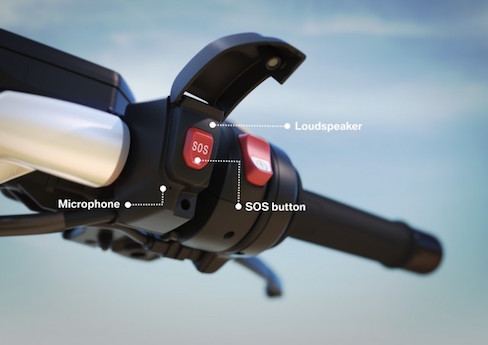 4 BMW Motorrad interconnected community
A partnership with technology start-up Rever has been established to create a connected community of BMW riders.
Since 2015, Rever users in 199 countries have already covered millions of kilometres by motorcycle and tracked their routes. Using the app and the Rever website, bikers can discover the best routes in the world, compile their own individualised routes, log their trips and share their motorcycling experiences on social media platforms.
The partnership with BMW Motorrad is expected to "extend and optimise its range in direct contact with the target group".
"BMW Motorrad regards the simple and seamless integration of the customer's existing digital world into the motorcycle as crucial to the acceptance of this type of new service," the BMW.
"This might happen in the future through the consistent interlinking of existing systems such as DriveNow and ChargeNow, providing services beyond actual motorcycle travel itself and even linking into smart home applications."