By: Uli Cloesen
Hardcover
ISBN: 978-1-845843-25-0
Publisher: Veloce Publishing
Publication Date: April 2011
128 Pages. 270 Photos. 250 mm x 250 mm
List Price: $39.95; £19.99
BMW isn't the first brand that comes to mind when I think about custom motorcycles.
Nor the second…
Sure, there are plenty of BMW owners who tart up their rides — "farkle", in the vernacular — with auxiliary lights, heated grips and more powerful horns, along with seats, panniers and the rest.
And more than one old Airhead (the bike, that is) has been tweaked into a bit of a café racer — in style at least, if not performance.
Now that I think of it, I may have even seen a photo of a BMW chopper. An abomination, as I recall.
Something I can imagine is a BMW bobber, although I haven't seen any…until now.
A taste of what might be possible with a BMW Airhead and some imagination is illustrated by a local club member who did some work to an old Airhead shown in the photo below that was taken some years ago during a local Airhead meeting.
But it is — or was, rather — very difficult for me to imagine a good-looking BMW chopper, much less a trike. Difficult, that is, until now.
The book BMW Custom Motorcycles is subtitled "Choppers, Cruisers, Bobbers, Trikes & Quads" and I'll tell you this: it proves that there are some very imaginative BMW owners out there. You'd have to be to come up with their results.
The book is filled with color and black-and-white photos — 270 of them in 128 pages — of customized BMWs of all shapes and sizes, ancient and modern, air-cooled, oil-cooled and even the "flying brick" K models.
Some of the customs are fairly basic; let's face it — anyone can extend the fork on a motorcycle and call it a chopper. But most of them are heavily customized and some are absolutely stunning, with very serious re-constructional surgery to basically turn a BMW into a completely new machine.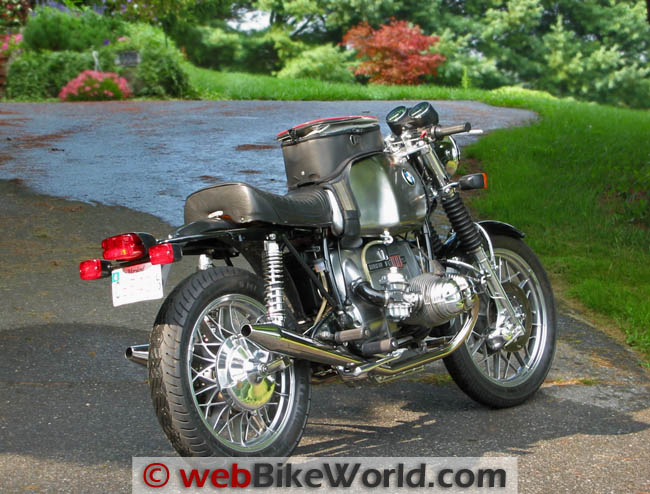 BMW has always been very reticent about exploiting their history, for some reason. There is currently an ongoing debate in the BMW Airheads club about the correlation between BMW's U.S. market share and the proliferation of expensive, complex, multi-cylinder models.
BMW Motorrad seems to be almost phobic about even mentioning a reference to their past, much less bringing out a modern retro Airhead model to celebrate it.
And I bet I know the reason why: if they did, the bike would sell so well that it would embarrass all their modern efforts. And BMW does not like to be embarrassed. They're right, they know it and that's the end of the story.
This is too bad, because they have indeed lost a lot of customers — like me — along the way, with their too complicated, too expensive and too heavy modern machines.
I'm a confirmed Airhead, but I'm not saying BMW should dump everything they've made in the last 25 years and go back to a 1,000 cc air-cooled Boxer engine. But hey — how about a choice? What about the tens or hundreds of thousands of customers who loved the "old" BMW and would stand in line to buy a modern rendition?
OK, so I'm digressing here, but I had to get that off my chest, and this is as good a review as any to do it.
A hint of what might be possible for a BMW modern/retro Airhead can definitely be found on the pages of BMW Custom Motorcycles. One of my favorites is found in the opening pages — a BMW that would put most die-hard 'heads into an apoplectic foam due to the violation of a true antique in this manner: Tobias Ehlers' BMW R25/3 Bobber.
But rest easy; the near-basket-case R25 probably would have been parted out if it hadn't been for Tobias' imagination, where it would have disappeared off the rolls of BMW history. But he resurrected it for a second life as a raw, old-school bobber. Keeping the original plunger shock suspension in the rear makes it work, as do the big balloon tires. Very cool.
Another one is a deliberately rough-looking 1973 barn find conversion by FNA Custom Cycles in Lakeland, Florida. The old Airhead engine was pulled and a completely new drop-seat frame built around it, complete with a custom girder front end with — get this — a 23″ front tire!
Throw in a chain conversion, a couple of monster downdraft carbs, a kool kustom fuel tank and an outrageous disk brake where the shaft drive used to be and you have a winner. Definitely one of the coolest BMWs I've ever laid pupils on.
Probably the most professional bob job is Mark van der Kwaak's "Cadbike 33" BMW. The "Duckman", as he's called, is pretty famous in the traditional chopper/custom bike world and his BMW is stunning, the equal of any old-school Harley bobber conversion I've seen. It's complete with the low-rider look and big, wide, flat '50's front tire. If BMW contracted with him to make a limited run of these babies, there'd be a down payment stampede.
If you think it's tough to corral a horizontal twin engine into a good-looking custom BMW frame, try one of the flying brick water-cooled jobs. These customs are less successful in my eyes, but interesting regardless.
Also, trikes of any brand don't do it for me, much less BMW, although an Oilhead BMW is probably the best foundation for this type of conversion. Somewhat more interesting are the Quad conversions; they're very modern looking in every sense and the newer BMWs do make a pretty good basis for one of these. I wonder if they're classified as motorcycles, or cars?
Conclusion
BMW Custom Motorcycles is heavy on photos and it has just enough text to whet your whistle. It's a perfect coffee table book in every sense of the word — it even has a square format. I'm not sure how many will sell but it would make a perfect gift for your BMW-loving friend.
My only wish is that it inspires more fledgling BMW custom bike builders…and perhaps BMW Motorrad itself.
Review Date: June 2011
More wBW Motorcycle Book Reviews  |  All wBW Book Reviews by Rating
wBW Book Review "Flaming Helmet" Rating:



More wBW Motorcycle Book Reviews  |  All wBW Book Reviews by Rating
Note:
 For informational use only. All material and photographs are Copyright © webWorld International, LLC since 2000. All rights reserved. See the webBikeWorld® 
Site Info page
. Product specifications, features and details may change or differ from our descriptions. Always check before purchasing. Read the
Terms and Conditions
!
Owner Comments and Feedback