The Satechi Bluetooth remote media button adds functionality to your smartphone that will suit many motorcycle riders if mounted conveniently on your handlebars.
Some Bluetooth intercoms don't have easy access to some of the functions on your phone, especially with thick winter gloves, and it may be considered a bit dangerous taking your hand off the handlebars to hit a button.
This 3.5cm (1.375" – about the same size as a 50c coin) button is basically a remote control that allows you to access your phone's voice commands (which means making/answering calls, hearing/sending texts, getting GPS directions, etc), manually change tracks forward and backwards, adjust the volume, stop or pause play and even take a photo or start/pause video.
The latter would be handy if you have your smartphone mounted on your handlebars as it can be difficult trying to use your phone's touchscreen while moving.
You can also use your bike as a tripod and take selfies as the button will operate the phone up to 13m away.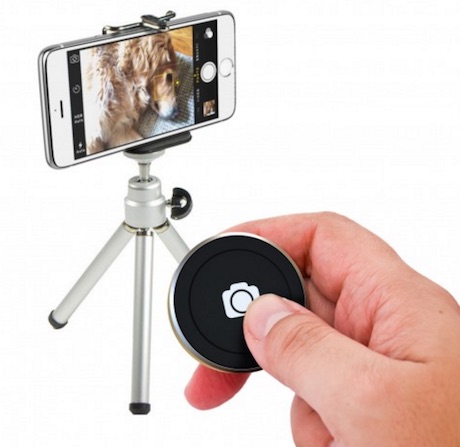 The button will pair with any iOS or Android phone or tablet without the need for a special app.
However, if you want to use the shutter button with Android you have to set the volume button to capture photos. Open the phone's camera app, go to Camera Settings > Volume Key Function and select Capture.
It comes with a small keychain so you can attack it to your keychain, or a 3M sticker to mount on a flat surface or a mount like a ring to place it on your finger, selfie stick, mirror strut or your bike's handlebars or car steering wheel.
However, if mounting on your handlebars, I'd add some gaffe tape for extra security, especially if you are riding rough roads.
The included CR2016 battery is claimed to last up to two years.