Blonde female rider Heather Ward has written an inspirational book – "Fat Bob and the Blonde – Girl Torque" – about her lap of Australia on a Fat Bob towing a trailer.
But even more inspiring is the fact that she is back on the bike after a major crash and is now planning a national promotional book tour.
"I suffered a limb-threatening injury on 23 September 2016 when the headlight on a borrowed motorcycle I was riding at the time failed as I crossed a bridge at night just outside Yungaburra, Queensland," she says.
"Oh the irony! I rode around Australia in 2014/2015 on nomadic adventures, towing a camper trailer and nothing happened. Then I had an accident less than a kilometre from where I was living."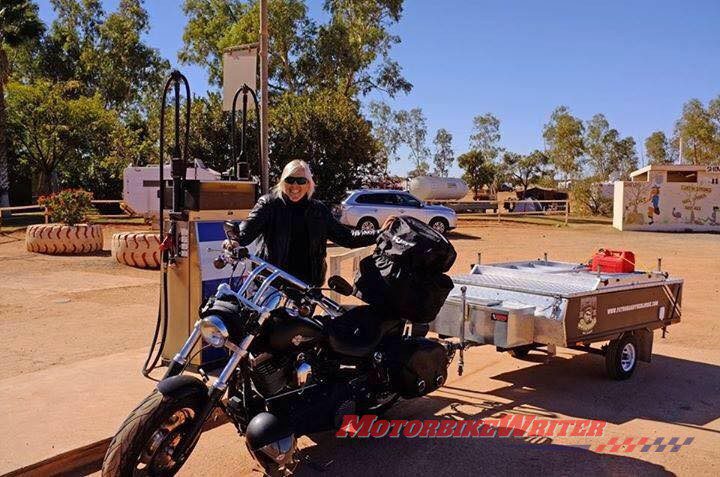 Heather spent a frustrating year and a half recovering from her injuries.
She used her recovery time to self-publish her book which is available for sale on her website for $29.99 plus $8.99 for postage (Australia only).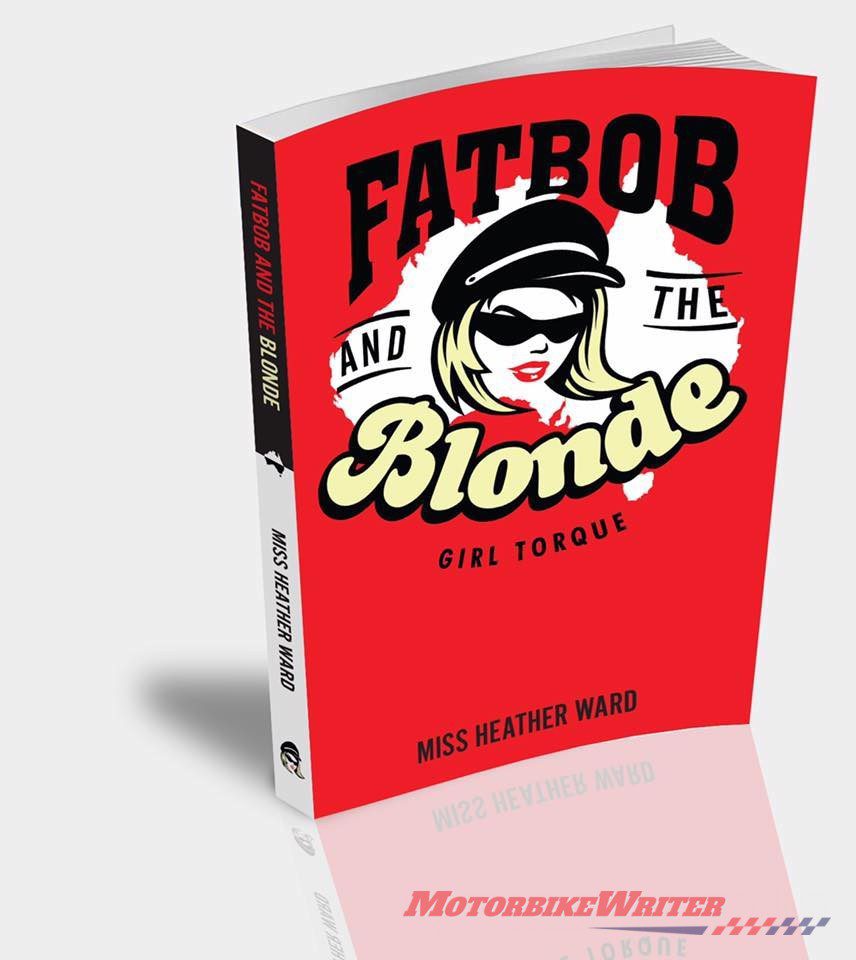 Heather says she was proud to be able to finally ride her beloved Fat Bob to her official book launch at the Wagga Wagga City Library last month.
"I hope to be back out on the road touring with my book and discovering new places and people – everyone has a story," she says.
Riding career
Heather developed a love for motorcycles at an early age, got her licence as soon as she turned 17 and bought a Yamaha DT 175.
"My parents wanted to kill me," she says. "Dad threatened to cut it up with a chain saw if I ever brought it home.
"Over the next four years, I changed my bikes as often as I changed my jobs and towns I lived in."
She even spent some time as a Jillaroo "chasing sheep over limestone rocks and through four-wheel drive territory at Wee Jasper, NSW," on a postie bike.
"I didn't own a car; I was a biker. Sunshine, rain, or hail I rode. I developed a love for solo riding and touring very early. Something I still enjoy today."
In 1988, Heather sold her Honda CB900 to travel overseas and spent the next 23 years travelling and raising three children.
She returned to riding in 2010 when she bought a Suzuki GS500.
"My eldest son told me I was being very irresponsible. I said, 'good'!
"Towards the end of 2012, I bought my first and only Harley Davidson, a '08 Fat Bob."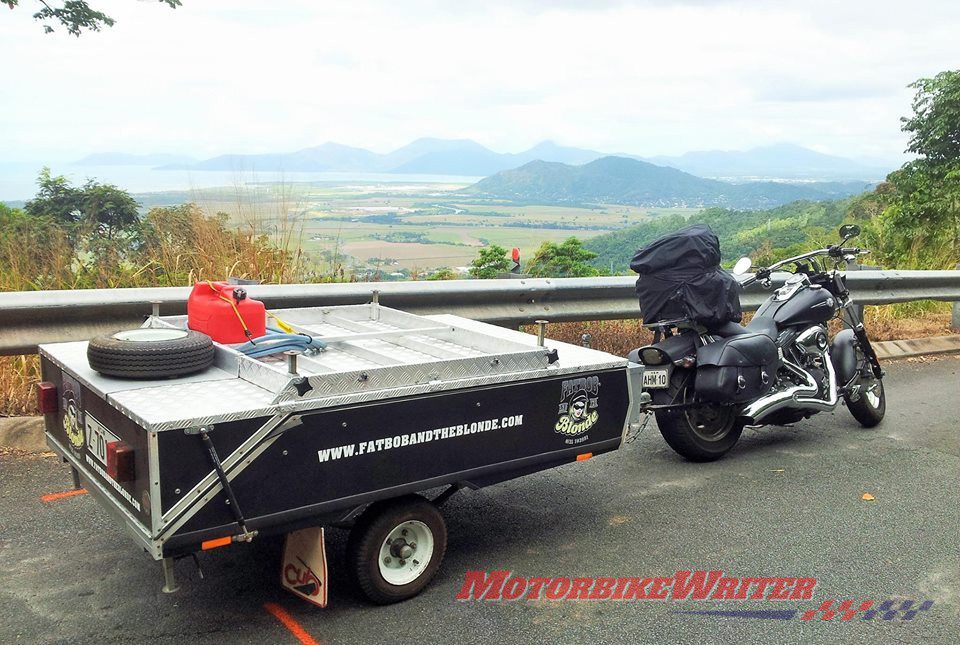 In 2014, she hitched it to a camper-trailer she called Mr T and set off around Australia.
Her book chronicles her travels, not just as a travelogue, but also a journey through her emotions and experiences.
It is an interesting and inspiring tale of a woman's battle against a harsh country, vast distances and a big rig.
A woman's perspective
"I guess motorcycling has been and still is male dominated," she says.
"There were not many women riding when I first started. There certainly is now.
"I don't believe anyone owns motorcycling. I don't mind what sex you are and what you ride. If you're on two wheels and it has an engine you're a motorcyclist."
Heather says she has almost as many male followers on her Fat Bob and the Blonde Facebook page as women.
"All of them are supportive, encouraging and openly acknowledge my achievements," she says.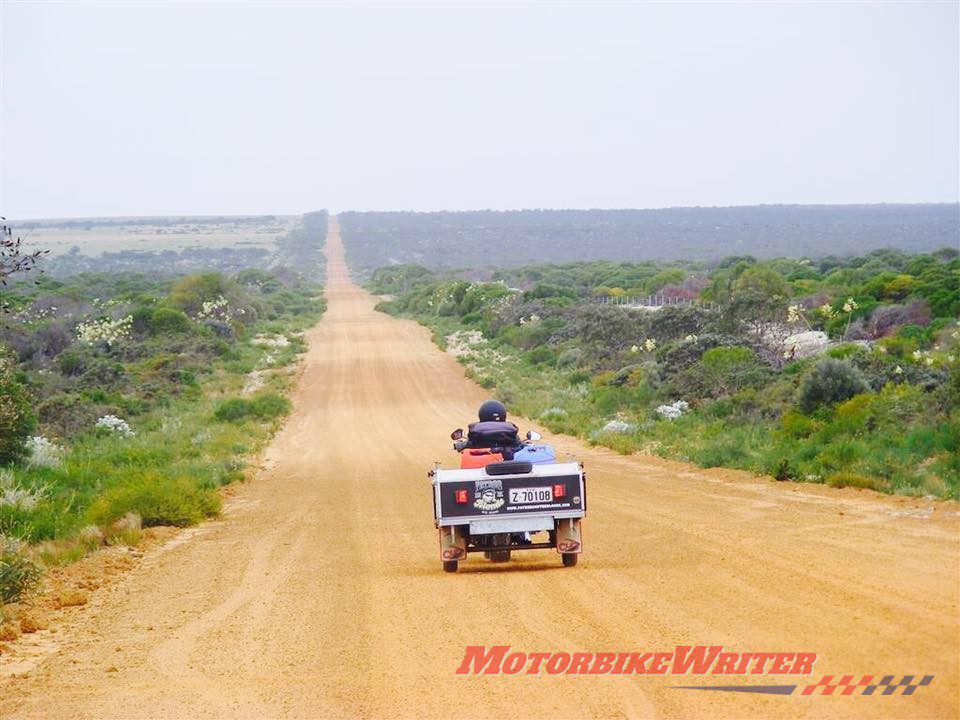 However, she says the motorcycle industry doesn't address women's needs with their "Shrink and Pink it" attitude.
"My plea to the motorcycle industry is please don't dismiss middle age women," she says.
"We may not be your ideal target audience but we are here – loud and proud."
Heather certainly is loud and proud as you will find in the pages of her entertaining book.