You can watch Australian rider Ben Felten become the fastest blind man on two wheels when his record-setting run is broadcast on Channel Seven at 8pm on the Sunday Night program (5 August, 2018).
Ben broke the previous Guinness World Record of 265.33km/h (164.87mph) for a blind rider by just 1.355km/h at the 2018 World Speed Trials Australia at Lake Gairdner in South Australia in March.
Ben set his record of  266.685km/h average speed for a two way run (pending ratification) on a stock standard Kawasaki ZX-10R.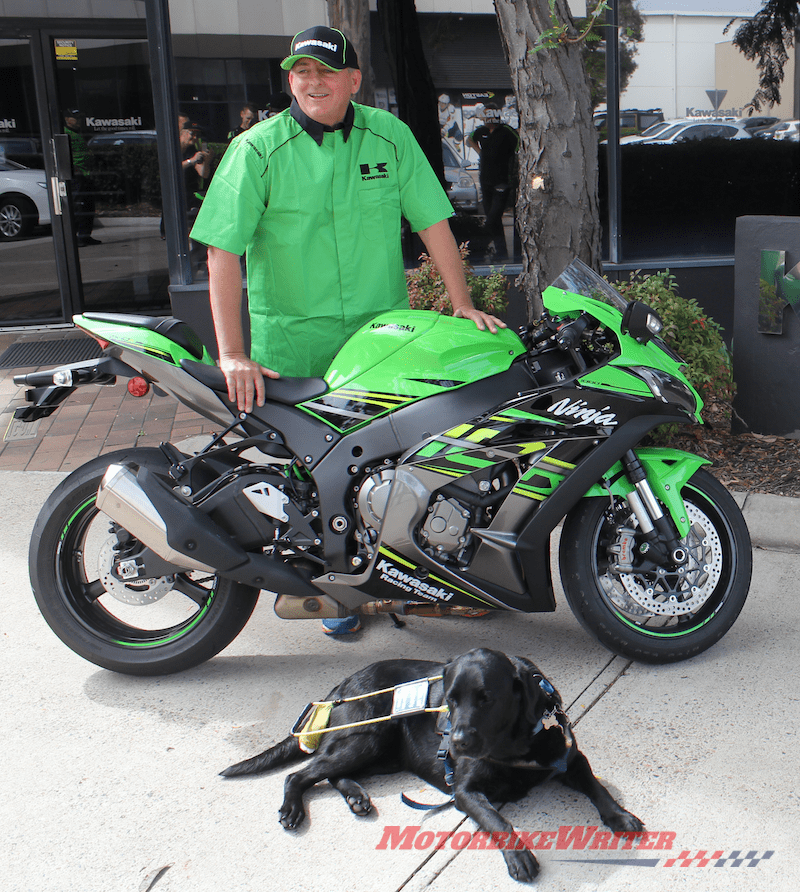 In stock form, it has a top speed of 290km/h, so Ben wasn't far off top speed.
The official records broken were the Guinness World Record for fastest speed for a motorcycle ridden blindfolded and fastest in the FIM 1000cc Class Naturally Aspirated / Gasoline / Partial Streamline (fairings) Designated Blindfolded (both pending ratification).
"I was absolutely stoked when we received the results," Ben says.
"This has been a mission for four years and we nailed it on our first attempt at this year's campaign with the Ninja ZX-10R "
Ben says he plans to go even faster at the Speed Week 2019 event and World Speed Trials Australia.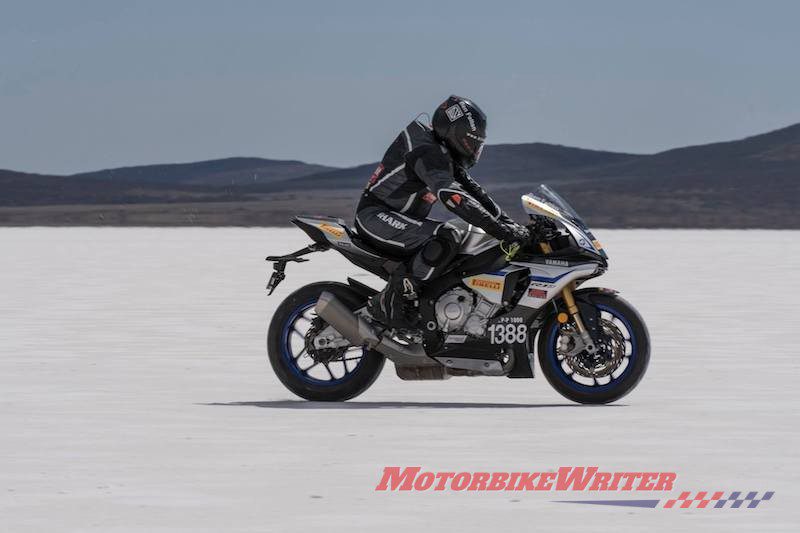 Degenerative condition
At 16, Ben crashed his bike into a tree and was diagnosed with Retinitis Pigmentosa, a degenerative eye condition.
He continued to race motorcycles until he was 23 and went totally blind at 37.
But that didn't stop him riding and dreaming of being the fastest blind rider in the world.
He set an Australian record for a blind rider in 2014 with 219.96km/h (136.67mph) on his modified Suzuki GSX1300R Hayabusa at Temora Airport.
Last year, he went within 14km/h of the world record when he rode a Yamaha R1 to 251.46km/h (156.25mph) at Lake Gairdner.
Magoo leads the blind!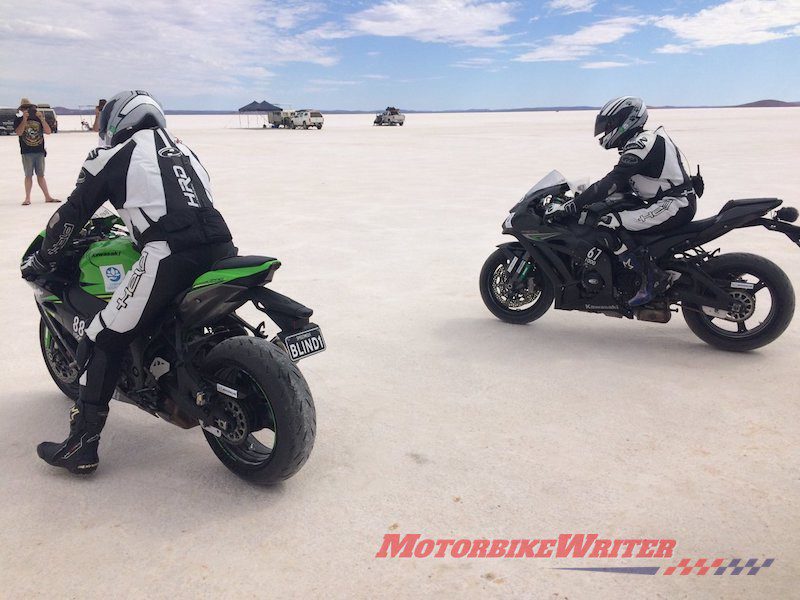 Ben was guided on his record run by former GP racer Kevin "Magoo" Magee.
Magoo has been Ben's guide for his previous record attempts, using an analogue radio contact to help him steer.
He uses three main voice commands.
"The words we use are 'go', when in a straight line, Ben explains.
"He will say 'left' or 'leeeeeeft' for a wider turn and 'right' for turning in that direction. The way I turn incrementally at high speeds is by putting pressure on the foot pegs. At the finish line and in the pits I navigate with Magoo's guidance and people are amazed at our level of control."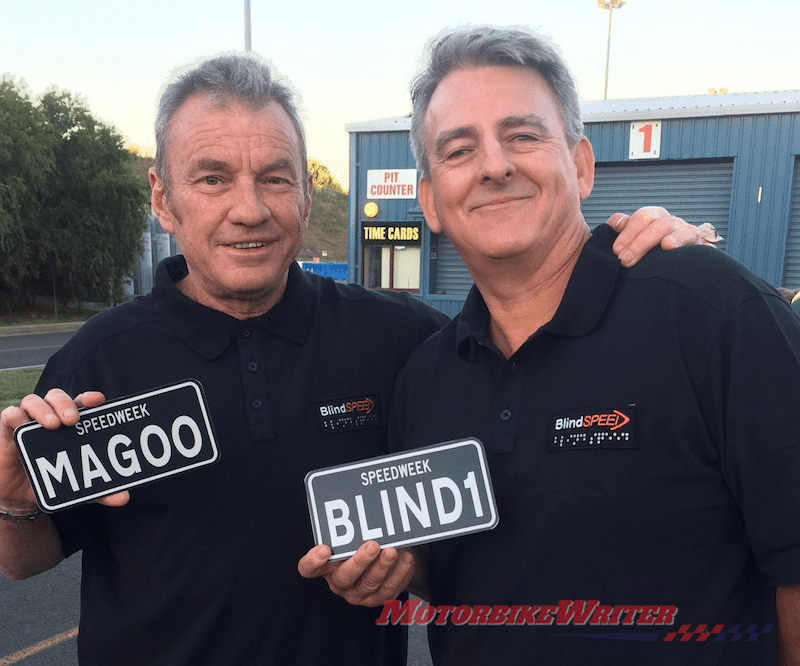 How Ben became fastest
During the World Speed Trials Australia I had one attempt at the record and actually broke the Guinness World Record, plus set a new FIM motorcycle land speed record of 266.685km/h. Under the FIM rules, competitors are given two hours to complete a two way run which is 6 miles in each direction. The speed trap is a one mile distance along the run and I needed to hold my speed for that entire mile both ways. My record breaking top speed of 266.685 km/h was the average speed recorded through the speed trap in both directions, but on the return run my top speed was 269.092km/h into a 14km/h cross headwind.

When I was on the start line of the return run, I was advised on the cross headwind and I was thinking that in my only practice run in that direction when I ran off the track, this is going to be really difficult. But I reminded myself that I'd worked really hard for this. I told myself 'Ben, you really want this… you're a champion!' and that's when I took off like a scalded cat.

At pass, we ran through a puddle and I sprayed my support rider with salty water! Regardless, we beat the world record by a total of 1.355 km/h which was one of four records set at the speed trials this year.

It was a massive task which comprised of administration, medical fitness assessments, applying for competition licenses, submission of entry forms, managing the team, preparing the Kawasaki Ninja ZX-10R motorcycles and the list goes on. So it was a massive undertaking and riding the motorbikes was actually the easiest part of all.

Weather conditions are one of the biggest concerns for an attempt like this. FIM event rules dictate that the wind must be under 11.7 mph (18.8 km/h), to allow competition.

It was windy every day except for the record breaking day so we did practice and set up before our attempt, which was during the Speed Week component of the campaign. Mother Nature has the final say. Then humidity, barometric temperature etc. effects the salt. The drier the salt, the better as it is harder and reduces wheel spin. So there are a lot of factors and science that goes into it to get it right. Cross breeze as well, pushes you off the track which we had to battle with. So it was the 8th day when the wind dropped off and that was the window of opportunity for every competitor. I knew we had to crack the record on our first go because wind was due to build up.
Kawasaki missile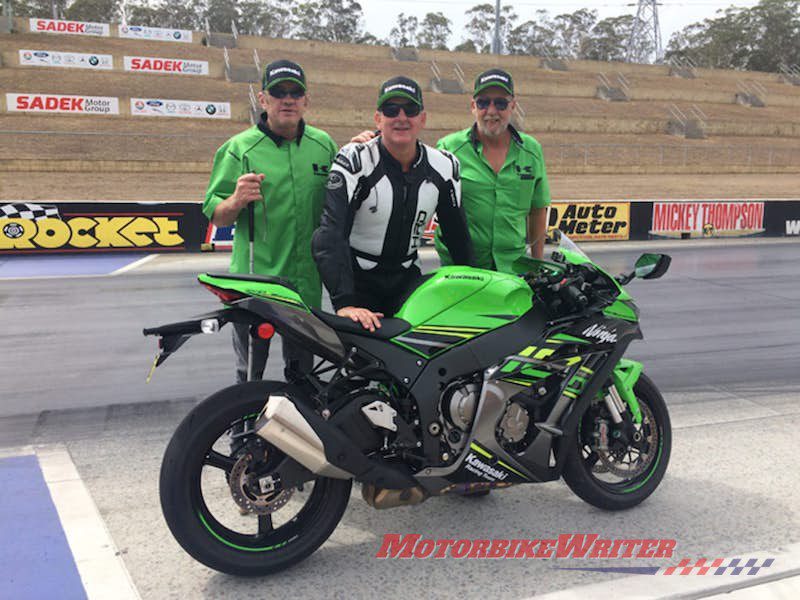 "The Ninja ZX-10R motorcycles were perfect," Ben says.
"We had them flat-out and due to the salt lake surface we lost about 10% to 15% of the speed on wheel spin, so they had plenty more in them in the standard trim. They didn't need any maintenance throughout the weekend and after the event we just packed up and went home which is a tribute to the quality of the product.
"Performance wise, the electronics package is the best in business and was working perfectly on the slippery surface to reduce the loss of speed. It really was the perfect motorcycle for the attempt and they are a brilliant machine. They are so easy to ride with the geometry, etc. and for a production bike the value for money is outstanding. The bikes were stock standard except safety requirements and tyres. Reliable, easy to ride and perfect." 
You can congratulate and support Ben on his Facebook page.