The annual Black Dog Ride will head to Tassie instead of the Red Centre for the first time in eight years with bookings now open for the October/November event.
It is being held in late spring rather than the usual winter timing to avoid dangerous snow and ice conditions.
Riders will head to Tassie from various states on October 28, meeting in Hobart on November 5.
Black Dog Ride founder Steve Andrews rode to the centre of Australia in 2009 to raise funds and awareness for suicide prevention and mental health.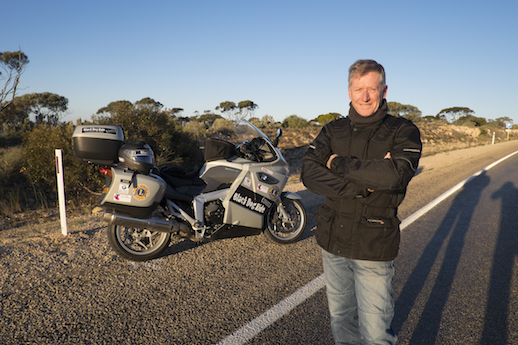 The following year he started the annual ride to the centre of Australia, then one-day rides, a lap of Australia, a trip across America and has raised more than $2.2m for mental health charities across the nation.
Just last year more than $360,000 was distributed to 30 mental health organisations.
Steve is no longer with BDR, stepping down for personal reasons, but last year he told us that he regretted Tasmania not being included. So he organised this special ride to Tassie.
You can find more information about the Black Dog Ride to Tasmania 2017, including how to register, on the Black Dog Ride website.
This year, the BDR will focus on raising awareness of mental illness and suicide among ex-service, veterans and emergency workers.
"We aim to break down barriers to conversations around mental health amongst the very people who are helping us in our times of need but whose own mental wellbeing is often overlooked," the website says.
To take part, check out the ride details from your state or territory:
NSW & ACT | NT | QLD | SA | TAS | VIC | WA
Suicide statistics
Suicide is the leading cause of death in Australians under the age of 45;
Eight Australians take their lives every single day, that's one life lost every 3 hours;
It is estimated that there is a suicide attempt every ten minutes in Australia;
Men in regional locations experience higher rates of suicide than the national average;
One in five Australians will experience mental illness every year;
Mental illness is the leading cause of disability in Australia; and
Depressive disorders are the most common identifiable risk factor for suicide.