After a break from tradition in 2014 when riders lapped the continent (watch the tragic and emotional video documentary), the 2015 Black Dog Ride return to the Red Centre with more than 500 riders leaving this weekend on the state ride legs.
However, instead of finishing at Alice Springs as it did for the first four rides, the sixth annual ride finishes at Yulara near Uluru.
Founder Steve Andrews says the 2015 ride will cost participants about $160-$200 more for accommodation at Yulara, but will have a special spiritual significance by finishing at Uluru.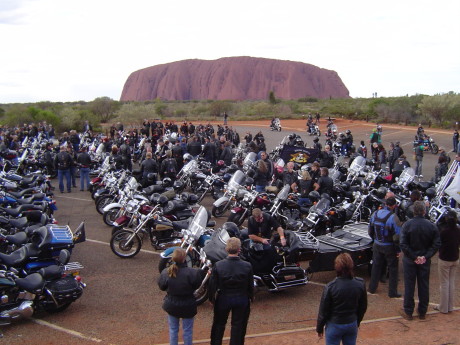 "This is going to be a very special ride to a very special part of Australia," he says.
Steve founded the Black Dog Ride in 2009 as an independent, not-for-profit organisation, whose mission is to raise awareness of depression and suicide prevention.
Last year's ride around Australia raised more than $400,000 for the Everyday Hero Campaign, Lifeline and Mental Health First Aid and so far the five Black Dog Rides have raised more than $1.7 million.
This fundraising has enabled Lifeline to double the hours of its Online Crisis Support chat service, helping an additional 2000 Australians in crisis each month. Black Dog Ride fundraising has also funded the training of Mental Health First Aid facilitators, and is funding the national roll-out of the Mental Health First Aid (MHFA) teen program to Australian high schools.
The sixth annual ride from August 15-21 again starts in every state and territory, riding throughout regional Australia, raising awareness of depression and suicide prevention.
The 2015 Black Dog Ride to the Red Centre includes a support vehicle with bike trailer, raffle tickets, BDR patch and stickers, entry to Uluru National Park, a poolside dinner party on August 21 and a private "Sounds of Silence" dinner on August 22.
The Black Dog Ride BMW Motorcycle Raffle is on again with the price being a BMW 2015 R 1200 GS valued at $28,850 (rrp).  Only a few tickets are left at $50 each and can be bought here.
If you are not attending but want to make a tax-deductible donation, click here.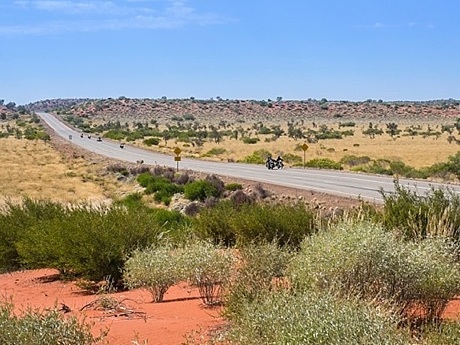 Suicide is the leading cause of death in Australians under the age of 45 with one suicide attempt every 10 minutes in Australia. Some 80% of all suicides are by men, with men in regional locations experiencing much higher rates of suicide than the national average.
One in six Australians will experience mental illness in their lifetime and more than half won't seek treatment. Mental illness is the leading cause of disability in Australia and depressive disorders are the most common identifiable risk factor for suicide.
Other statistics:
• This year alone over 1.3 million people in Australia will experience a depressive illness;
• Depression is the third largest individual heath problem in Australia; and
• In the work place depression accounts for six million working days lost each year.
Contact Lifeline on 13 11 14.