No, you haven't developed numeric dyslexia, the Triumph 675cc Street Triple is now a 765cc Street Triple although there is still a 660cc learner-approved model available.
They will arrive in Australia in March/April with pricing announced in February. We should expect a hike in price, at least for the new-fandangled 765cc models.
The new Street Triple comes in S (LAMS), R and flagship RS models with various levels of power, performance, technology and suspension.
Street Triple RS
The flagship Street Triple RS has 90kW of power at 11,700rpm, up 16%, and 13% more torque at 77Nm @ 10,800rpm.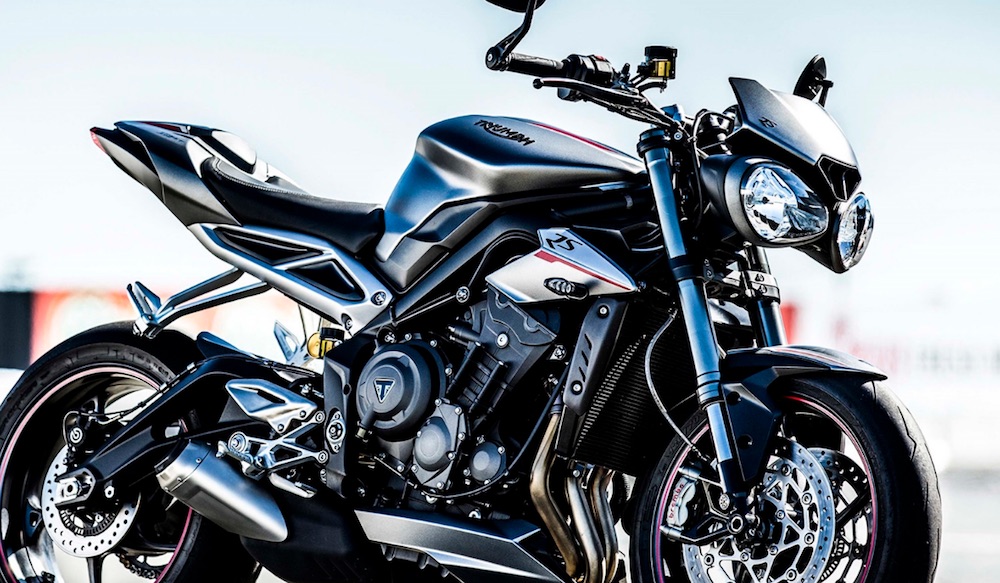 It also comes with Brembo M50 monobloc front brake calipers, fully adjustable Showa 'big-piston' forks, Öhlins STX40 fully adjustable rear monoshock, five riding modes including Track, switchable ABS, a lap timer, quickshifter and Pirelli Diablo Supercorsa SP tyres.
Street Triple R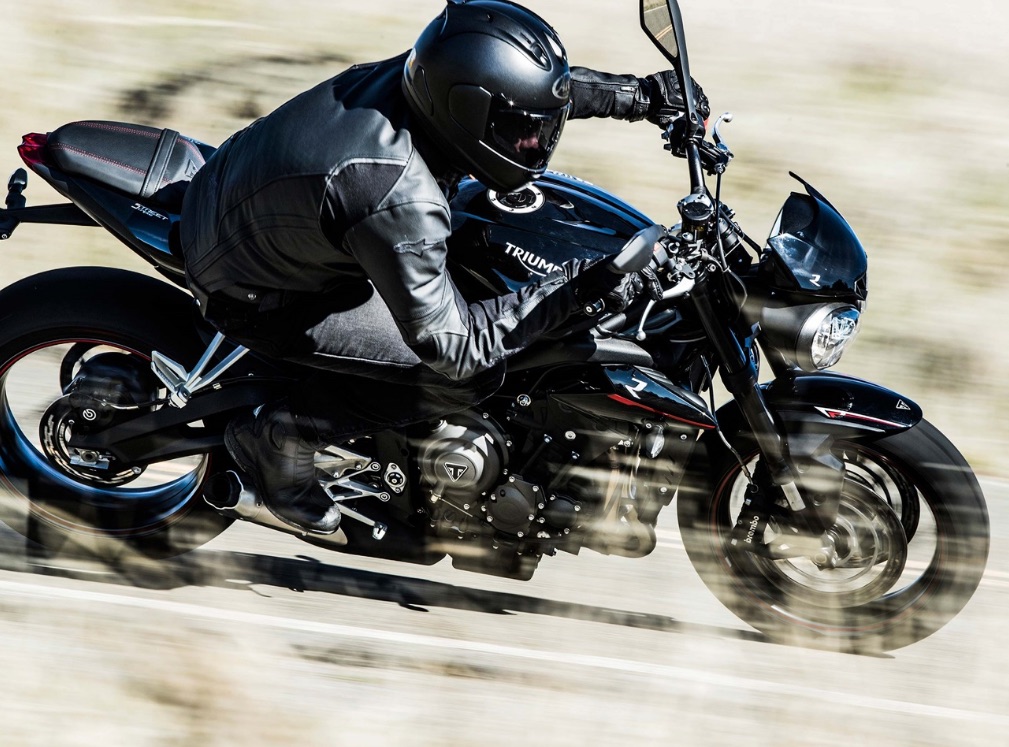 The R has 87kW of power at 12,000 revs, four riding modes, new angle-adjustable, full-colour TFT instruments with 5'' screen, fully adjustable Showa suspension, switchable ABS and Brembo M4.32 radial monobloc front brake calipers.
There is also a more accessible version of the R with a lower seat and lowered suspension.
Street Triple S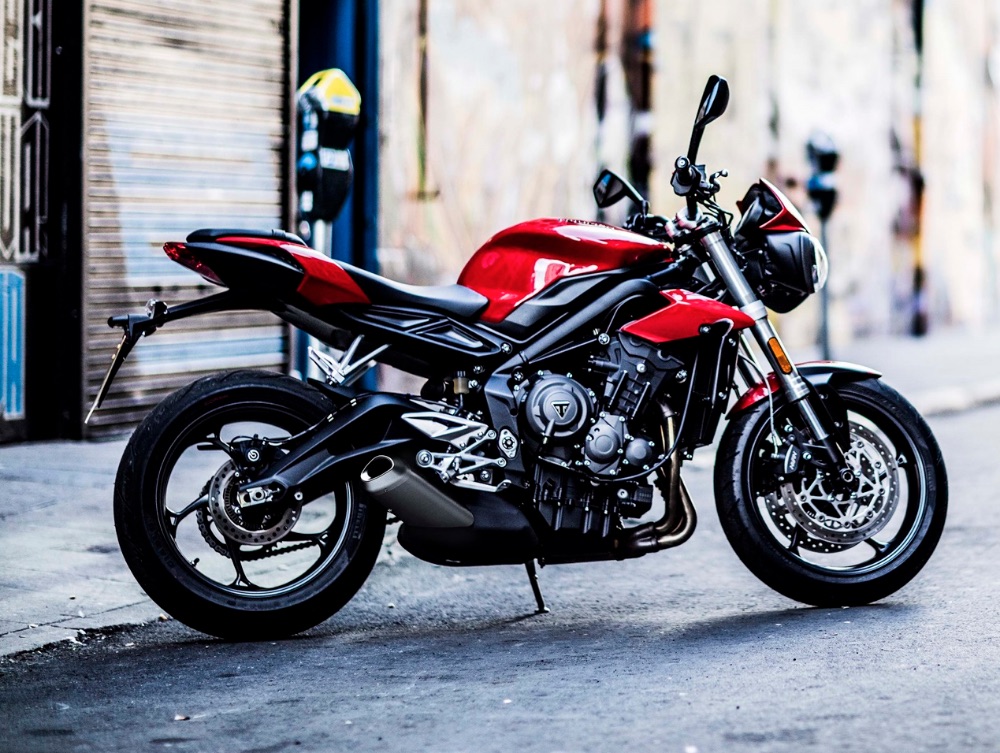 The S learner-approved model is powered by a new 660cc engine – not a carryover engine – and the bike is lighter than its predecessor with higher spec tyres, Showa suspension and two riding modes, Road and Rain.
There is no information yet on the power output for the 660cc S model, but it has 73Nm of torque at 9100rpm.
ENGINE
The Daytona-derived 765cc Street Triple engine has more than 80 new parts including an increased bore and stroke, new crank, pistons and Nikasil-plated aluminium barrels.
Triumph claims better low-down and mid-range power.
TRANSMISSION
The gear box has shorter first and second gear ratios for improved acceleration and revised geometry for slicker gear changes.
The Street Triple R and RS are fitted with a new slip-and-assist clutch system to prevent rear-wheel lock-ups and has a lighter clutch lever.
RS also gets a quick shifter, allowing clutchless upshifts up to 2.5 times quicker than manual shifting.
EXHAUST
All Street Triples have a revised airbox for better acceleration, but also a louder induction roar, while the exhaust is lighter and smaller.
The S muffler is different to that used on the other models. It's probably more restrictive on power.
INSTRUMENTS
Street Triple R and RS feature new, angle adjustable, full-colour 5" TFT instruments with a gear shift indicator and a choice of three different screen displays pre-set to the riding modes.
The Sport and Track modes focus more on the rev counter and gear position display, while the Road and Rain modes focus on the speedometer.
Displays can be changed on the fly, through the "info tray" at the bottom of the screen.
Screens can also be adjusted to 'High' or 'Auto' contrast. It uses an integrated ambient light sensor to select the most appropriate setting automatically.
RS adds three more screen display styles including a lap timer.
Instruments on the R and RS models feature two trip displays, average and instantaneous fuel consumption, range to empty, riding mode and more.
To navigate the instruments there are new switch cubes with a five-way joystick control.
The learner model has revised LCD instruments allowing the rider to select modes on the move or at a standstill. Info displayed includes odometer, fuel gauge, trip meter and journey distance.

HEADLIGHTS
All 2017 Street Triples feature new headlights. R and RS have brighter LED Daytime Running Lights while the S has new LED position light headlights which are 4.6 times brighter than the previous generation bulb sidelight.
RIDE-BY-WIRE
The new ride-by-wire throttle on all models is claimed to deliver crisper, more precise and more accurate throttle response, with improved on/off throttle transition. It also enables different throttle maps which, combined with the ABS and traction control settings, provides up to five selectable riding modes.
TRACTION CONTROL
All models have traction control that is set for the various riding modes and can be switched off on the R and RS models.
SUSPENSION
Triumph has introduced a gullwing swingarm that they claim increases longitudinal torsional stiffness with less lateral stiffness for more agile handling and greater stability at highway speeds.
They say it offers a more natural resistance to rear spring compression under hard acceleration for faster corner exits.
The Street Triple S comes with Showa separate-function, upside-down 41mm forks with 110mm travel and a stepped preload-adjustable piggyback reservoir monoshock.
R has 41mm upside-down fully adjustable Showa separate-function, big-piston forks with 115mm travel and a Showa piggyback reservoir monoshock.
RS features the highest-specification Showa big-piston 41mm forks, adjustable for preload, rebound and compression damping and a premium Öhlins STX40 piggyback reservoir monoshock.
BRAKES
All new Street Triples come with a higher specification brake set-up than the previous generation.
S has Nissin 2-piston sliding calipers on the front and a Brembo single piston sliding caliper on the rear.
R features Brembo M4.32 4-piston radial monobloc calipers and a Brembo single piston sliding caliper on the back.
The flagship RS has Brembo M50 4-piston radial monobloc calipers on the front, with ratio and span adjustable lever and a Brembo single piston sliding caliper on the back.
TYRES
High specification performance tyres have been fitted to all Street Triples.
S and R are fitted with Pirelli Diablo Rosso Corsa tyres and RS with Pirelli Diablo Supercorsa SP tyres.
DETAILS AND FEATURES
Triumph claims all new Street Triple are "packed with high quality details", including new rider heel guards and forged pillion footrest hangers.
Street Triple S has a black powder coated main frame, sub-frame and swingarm, the R  features Triumph's signature red rear sub-frame and wheel pinstripes, while the RS has a new matt aluminium silver painted rear sub-frame.
S is available in black or red, R in aluminium, black or white and the RS in black or silver.
They have new radiator cowls, front and rear mudguards and rear body panels and a body colour matched fly screen.
RS has a colour-coded belly pan, colour-coded pillion seat cowl with interchangeable seat and lower chain guard.
R and RS have detailed seat stitching.
There is a range of more than 60 accessories selectable via their usual online configurator.
They include protection, styling equipment, quickshifter, Arrow exhausts and adjustable brake and clutch levers.