Most riders are aware they should replace their helmet after five years, but how long has the helmet been sitting on the shelf before it was bought?
GUIDE TO REPLACING YOUR HELMET
Some helmets can sit on dealers' shelves for a few years before they are bought.
Often dealers discount helmets that have been sitting on the shelves for some time.
It's not about fashion, it's about how much life they have left on the rider's helmet before the lining starts to disintegrate, reducing impact resistance.
So don't think you've got yourself a bargain with a discounted helmet.
If a helmet has been sitting on the shelf for two or three years, it doesn't necessarily reduce the life of the helmet by that much.
The "life" of a helmet has more to do with how often you wear it, how you treat it and how much you sweat in it, or wear hair product.
But sitting on the shelf still robs you of some helmet life. So it's important to know the date of manufacturer.
Australian-approved (AS/NZS 1698) helmets are supposed to have the date of manufacture sewn into the helmet liner.
However, not all Australian-approved helmets include the production date, including some major brands, according to NSW Motorcycle Council helmet expert Guy Sanford.
He says the labels usually wear out quickly with use and sweat, so he advises riders take a note of the production date when they buy their helmet.
With the introduction of European-approved (UNECE22.05) helmets around the country, the issue becomes a little more complex, says helmet campaigner Wayne Carruthers.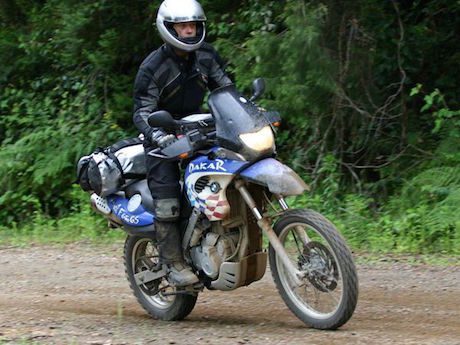 "One of the good things about buying an ECE helmet is that, because it has only just been allowed for sale, you know it hasn't been sitting on the shelf too long," says Wayne.
On the other hand, Euro helmets only mandate the production serial number, not date of manufacture.
Some do include manufacturer date and some don't, leaving riders in the dark about how old a "new" helmet really is.
"Perhaps this could be considered a flaw in that system," Wayne says.
Euro helmets a 'safer bet'
"UNECE 22.05 helmets would certainly be a safer bet in purchase due to the fact they have not been in our market for long.
"But it would be best for a purchaser to ensure the helmet was a current model from that manufacturer, not a previous year model.
He also warns that AS/NZ helmets could be left longer on the shelf now that Euro helmets are starting to hit the market at more reasonable prices.
These helmets could soon end up in the bargain bin at discount prices.
"There is a reason last-year's models sell cheaply. It's not as much to do with fashion as it is with helmet life," says Wayne.