Off-road riding gear has to adhere to some pretty high standards. More so than road gear, which focuses on impact and abrasion resistance, gear for the dirt has to be versatile; it has to be comfortable while also suitable for various riding conditions.
Riding through a trail on your ATV can have you in the saddle for hours, so it's fundamental that you wear gear that doesn't weigh you down. There's also the element of uncertainty (that we've grown to love) to be prepared for. A simple sudden downpour could mean the difference between a memorable ride and one you'll want to forget, depending on how prepared you are for it.
The gear you'll find for ATVs overlaps considerably with that used for dirt riding. So we've compiled a list of some of the best waterproof jackets out there, over quite a varied price range. The more expensive ones provide excellent protection from the elements and also come with armor. However, if you already own a roost deflector and are just looking for waterproofing, one of the more affordable ones on this list is probably all you'll need.
What You Should Know Before Buying a Waterproof Jacket
A common misconception with waterproof riding gear is that it can keep you completely dry at all times. That would be ideal when the skies open up, but it would also make for a rather uncomfortable piece of equipment—for no water to seep through, the gear has to have absolutely no ventilation.
Simply put, the more water that gear will have to keep out, the less ventilation it will offer. And the longer you're going to stay out in the rain, the greater the chances that water is going to make its way through.
All of which is to say, the jackets on this list might let the occasional drop or drip in through their vents or perforations, but don't worry. They'll still prevent you from getting soaked to the skin, unlike jackets that aren't waterproof. Now, without any further ado, let's get to our list!
Thor Terrain Jacket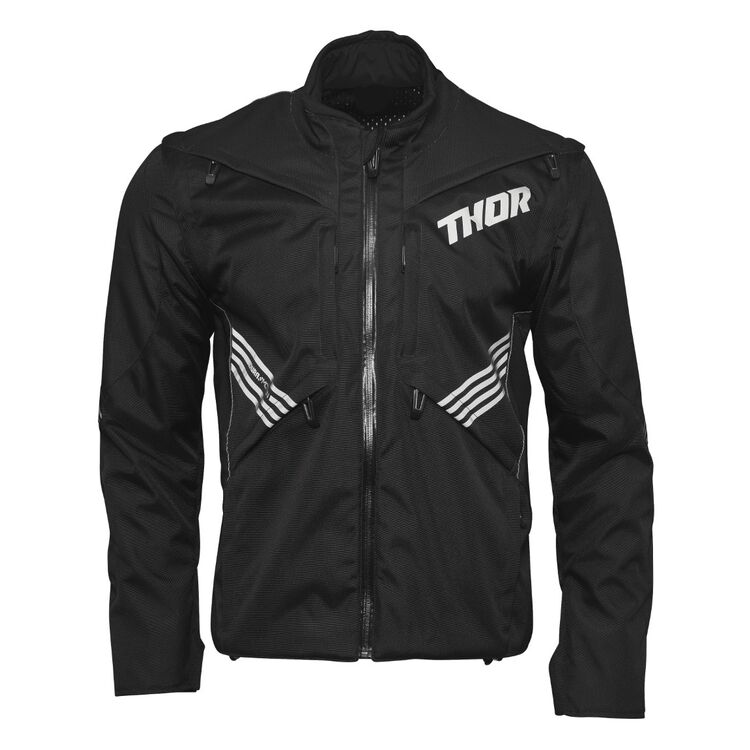 Why?
Thor is one of those manufacturers that makes gear solely for off-road use. The Thor Terrain jacket features a Hipora membrane (Hipora is a 3-layer microporous membrane that prevents water from coming in while allowing moisture out). For added reinforcement, it also features abrasion-resistant panels on the sleeves and shoulders.
What we really like about the Thor Terrain jacket is that its sleeves can be easily detached by undoing a zipper on each one. And since the inner liner on this jacket is a breathable mesh membrane, doing so turns the jacket into a pretty neat-looking vest. The jacket is available in black and camo colorways, both of which come with matching pants and gloves.
Specs:
YKK zippers, taped seams, and Hipora coating for increased water resistance
Lite-prene lined collar for comfort
2-way front zipper adapts to riding position
Full mesh liner for breathability
Front intake chest vents and rear exhaust vents
Hook and loop gaiter cuff, collar, and zipper flap
Rear storage pocket
Jacket packs easily into a pouch with a belt for storage while riding
Zip-off sleeves
Reflective trim for increased visibility
FXR Cold Cross RR Jacket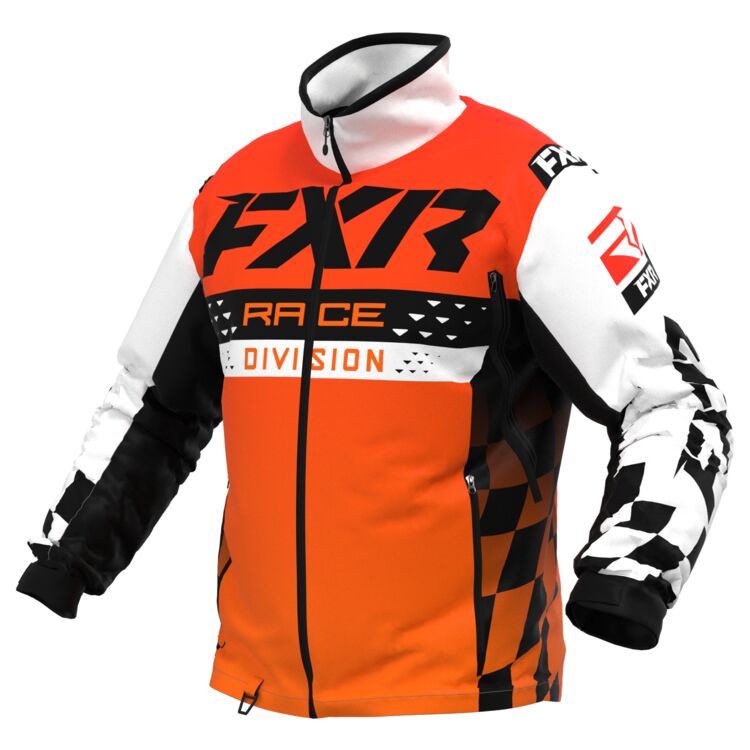 Price: $169.99–$189.99
Where to Buy: RevZilla
Why?
The Cold Cross Race Ready jacket has been a staple of FXR's product lineup for the last few years. Every year, the company ensures that it sports some updates (or new colors at the very least). This year, the jacket is available in six bold color schemes—all of which are certain to get you some attention.
The jacket features an Omni-Stretch shell that allows for maximum mobility—if you manage to get your hands on it, you'll be amazed by the elasticity that it offers. The fabric, despite being lightweight, offers excellent protection from the cold, as well as rain and even roost. Interestingly, the Cold Cross RR is a jacket that's used predominantly by snocross athletes, and all of them attest to the fact that this is one of the best pieces of gear for staying comfy and dry.
This is a jacket that's best-suited for colder and wetter conditions, but you can get by using it as an all-season jacket as well. It has large pit vents that can be opened with zippers, and the company's 'Dry Vent' system does a good job of dissipating moisture from within.
Specs:
Heavy wind and water-resistant polyester tri-laminate Omni-Stretch™ construction
Waterproof/breathable shell
FXR Dry Vent™ system creates a snowproof and moisture resistant side body vent system
YKK Vislon front zipper with inner placket
YKK hand pocket zippers and body vent zippers
Fleece-lined pockets
Hook and loop adjustable cuffs
Shock cord adjustable bottom hem
Fade-free sublimation prints
FXR Cold Cross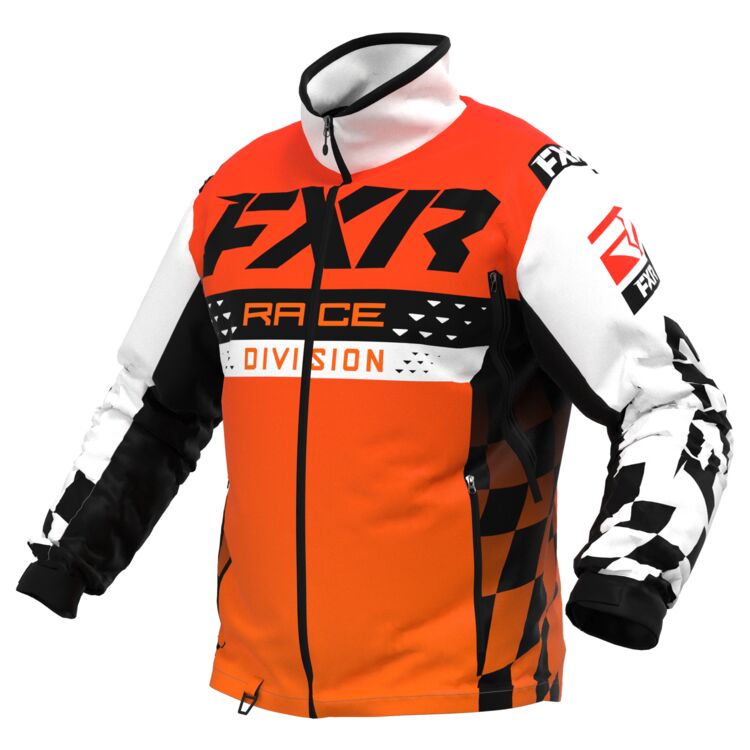 Let's face it, when you go out on your ATV, either for trail treks or for mudding, it can get pretty cold. That's why FXR made the Cold Cross jacket, which is brand new in 2022 and uses the latest and greatest in terms of materials to provide a lightweight but very warm and waterproof jacket. Using their own "Dry Vent" material, the Cold Cross can have airflow through it, if needed, without allowing rain, sleet, or even snow through as it flows cool air along your sides and under your arm. 
All the zippers are YKK, and all have waterproof gussets behind them. The pockets are fleece lined in case you need to keep something warm and dry, and are easily big enough to store a spare set of gloves inside if needed. The cuffs are adjustable to form a tight seal around your wrists, and while the entirety of the jacket is waterproof, don't worry about building up sweat as it is also breathable. 
The only negative about the jacket is that it does not come with armor or armor pockets, so picking up an armored under layer, especially if you're going trail trekking, is advised.
Features:
Heavy wind and water resistant polyester tri-laminate Omni-Stretch™ construction 

Waterproof/breathable shell

FXR Dry Vent™ system creates a snowproof and moisture resistant side body vent system

YKK Vislon front zipper with inner placket

YKK hand pocket zippers and body vent zippers

Fleece lined pockets

Hook and loop adjustable cuffs

Shock cord adjustable bottom hem

Fade-free sublimation prints
REV'IT! Barrier Rain Smock Jacket
Why?
At first glance, the Barrier Rain Jacket is a rather simple-looking piece of gear. However, there's more to it than meets the eye as it packs quite a few nifty tricks up its proverbial sleeve.
For starters, it has CE-certified fabrics for abrasion resistance. Then, there's the inner surface that features the company's hydratex | Lite system, which is a waterproof coating with micropores—it keeps water and air out. So while this jacket doesn't have much ventilation, it will also keep you as dry as possible.
REV'IT! has also equipped this garment with an extra-long zipper and wide neck opening, so you can slip it on without having to take your helmet off. It's also been tailored to fit above your armor and jersey with ease. The best part is that the jacket compresses into a pocket-size pouch. Pack it into your saddlebag easily whenever you don't need it!
Specs:
Fixed hood
Adjustment drawcord at hem
Easy entrance zipper at side seam
All-weather protection with just one layer
Laminated reflection panel on the back, collar, and elbows
Leatt Moto 4.5 Lite Jacket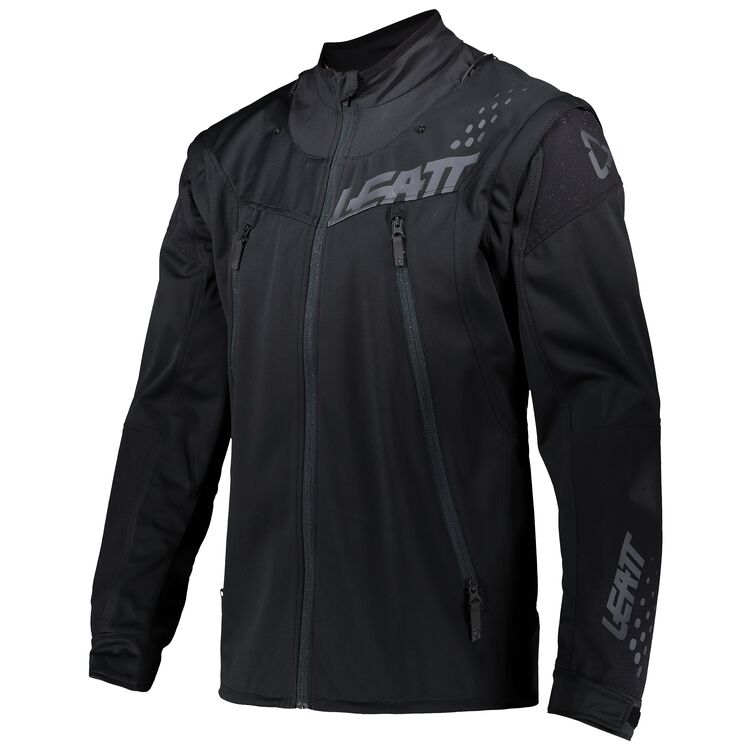 Why?
The Leatt Moto 4.5 Lite jacket is another one of our top recommendations for a lightweight, everyday jacket. While it doesn't come with any protection, Leatt has equipped it with 1000D Nylon panels on the shoulder and elbow. That gives you a good amount of abrasion resistance; you'll just have to wear some armor underneath the jacket for impact protection.
We've found that the Moto 4.5 Lite is a snug-fitting jacket, and you may find that a size larger than what you usually wear will suit you better—if you're going to be wearing bulky armor underneath, you might even have to move up two sizes.
Some noteworthy features include large ventilation panels and a neck-brace ready collar (something that Leatt is famous for). While Leatt does not claim that this is a waterproof jacket, it does mention that it's water-resistant—and we've heard from multiple riders that the jacket has done its job in keeping them dry, even under steady, prolonged showers.
Specs:
Lightweight, water-resistant, and soft-shell stretch materials for great comfort
Waterproof/breathable material
Large ventilation option using two-way zips and pockets
Neck collar that works with a neck brace
Neck brace uncovered sitting outside the collar
Tailored cut for Moto riding with or without body armor
Top Quality YKK Japan Zippers
Multi-row reinforced stitching for durability
Brush Guard fabric for material protection over elbows
Rear reflective safety print
Klim Stow Away Pro Jacket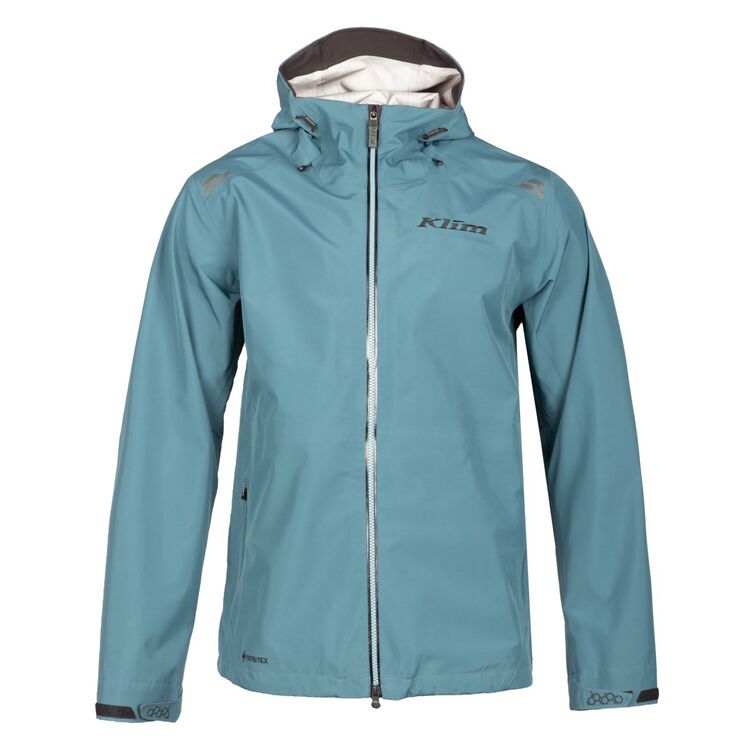 Price: $379.99–$409.99
Where to Buy: RevZilla
Why?
The Klim Stow Away Pro jacket costs a fair bit more than the other jackets on this list—but for good reason. It's one of the most versatile and functional pieces of waterproof gear you can get.
This jacket features a three-layer Gore-Tex Performance Shell that has been optimized for low bulk and weight. For the uninitiated, Gore-Tex is considered the gold standard when it comes to waterproof fabric that's also breathable. It also has a high neck that ensures complete protection from cold wind and rain.
Adjustability is minimal, with velcro straps for the collar and bottom hem, but we've found that Klim products fit well for most body types. The jacket also comes with a waterproof stuff sack so you can store it safely (or tether it to your ATV when you don't need it).
Specs:
Packable high-performance waterproof jacket
3-layer gore-tex performance shell
Full pit vents with a mesh backer
3M Scotchlite C790 carbon black reflective
2 zip water resistant hand pockets
1 internal chest pocket
Velcro cuffs
Low profile in-pocket bottom hem adjustment
Zipper garage for next-to-skin comfort
Comfort collar lining
Adjustable roll-away hood
Shaped hood visor
Minimalist jacket packs into waterproof stuff sack (included)
Double-headed YKK Aquaguard front zipper