Barz Optics make a range of quality sunglasses that are windproof, comfortable enough to wear all day and night and feature an optional bifocal lens.
That means you only need one pair of sunglasses for all occasions – on and off the bike!
I've been testing a pair of photochromic glasses that change tint with available sunlight and a pair of polarised sunglasses with 1.5-strength bifocals.
Cutting to the chase, I like them so much, we have decided to add them to our growing inventory in our online shop.
Click here to see the full range of sunglass types and colours from Barz Optics.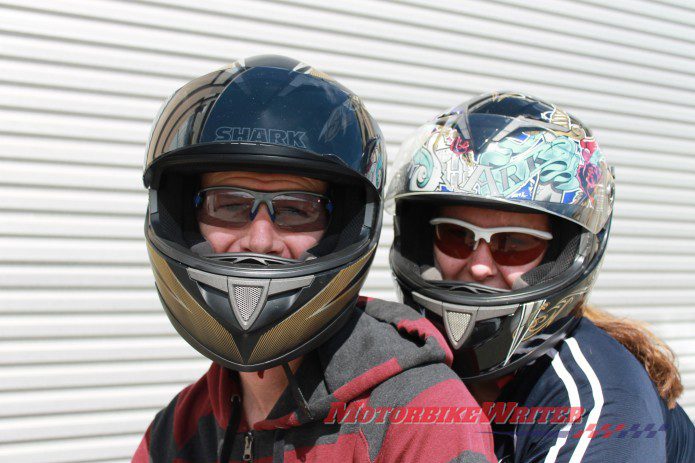 Barz Optics glasses
Barz Optics is a Gold Coast company that has won multiple awards, says founder Kevin Barr.
Their motorcycle/cycling glasses are shaped to closely fit your face and keep out the wind.
Barz Optics glasses are also super-light at 26g, yet sturdy with robust hinges and thin and flexible straight arms that have soft rubber ends.
That means they are easy to slip on and off with your helmet on and they won't hurt your head or ears after hours under a helmet.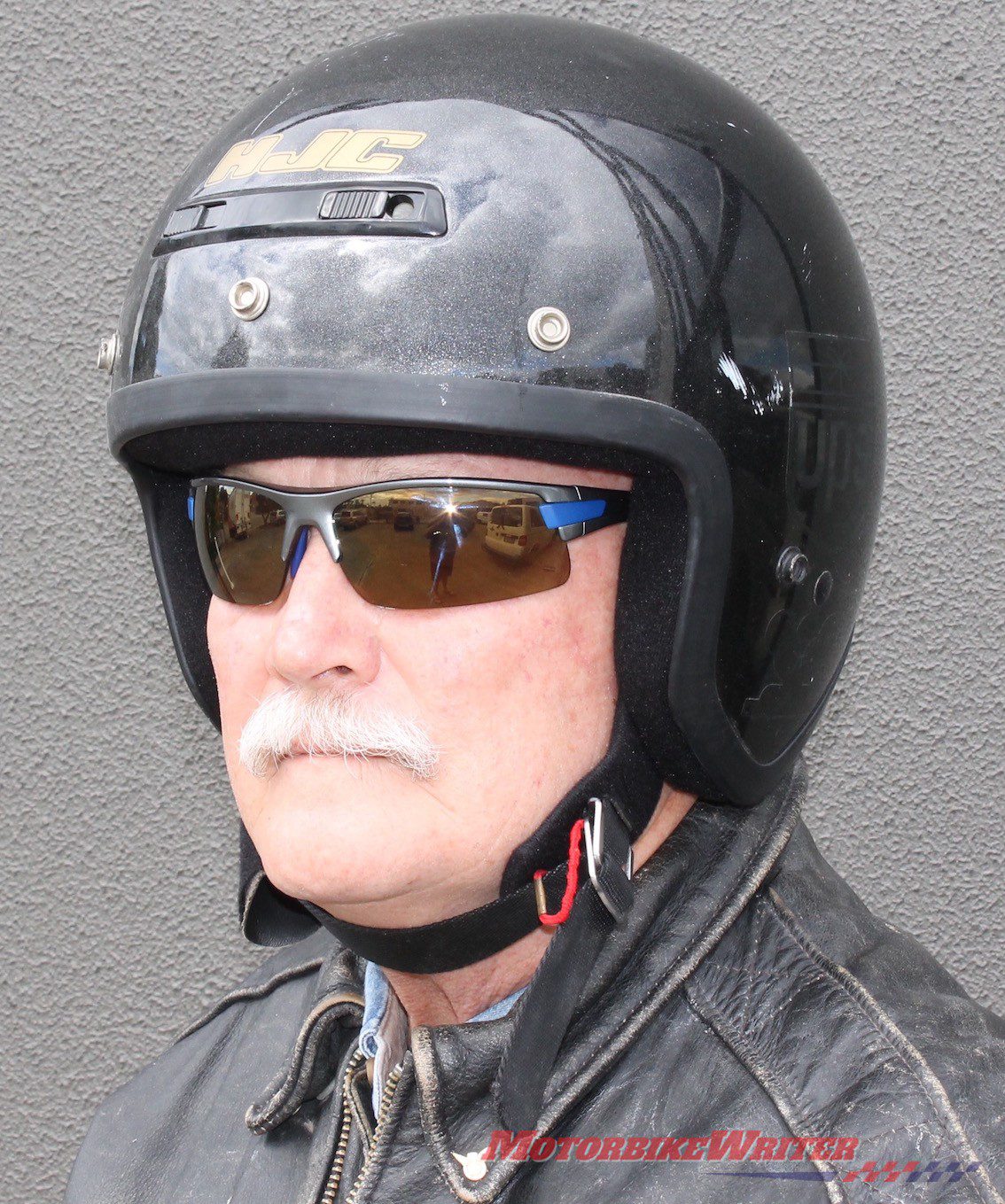 They also have an adjustable nose bridge to fit all face shapes, even if you have a broken nose like 60% of Aussie males.
All Barz Optics sunglasses have high-definition lenses that are distortion-free and pass the US Z87 standard for impact resistance.
I've copped either a big insect or piece of gravel in the glasses and they haven't scratched. I've also dropped them a few times and they are intact.
Polarised bifocals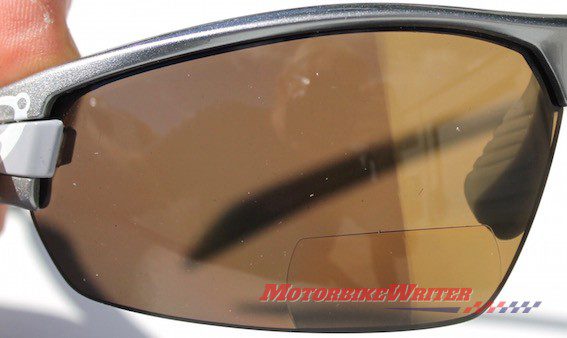 Like 40% of the population, I'm long-sighted which means I can see distances, but I have trouble reading things close up.
Sometimes I can't see the fine details of my motorcycle instruments, nor read a GPS. And when I stop and check my phone, I have to take off my glasses to see.
However, these Barz Optics polarised sunglasses with bifocal lenses in the bottom of the main lens mean I can leave my gasses on and see distances and close up.
The bifocal section never intrudes on my long vision nor distracts from the road ahead.
Yet when I look down through the magnified section I can see clearly.
The bifocal are are available in +1.50, +2.00 or +2.50 magnification.
These glasses are also polarised so they sunglasses cut glare.
They may not work well with polarised visors and they can make some LCD screens difficult to read.
Photochromic glasses
If you ride all day and into the night or ride through a lot of tunnels or dark forests, you need photochromic glasses.
They change tint with available sunlight so you can ride in all light conditions with the one pair of glasses.
Barz Optics photochromic glasses have a slight 15% tint in low light. As the sun and UV intensifies they tint to category 3 which is about a 75% tint of normal sunglasses.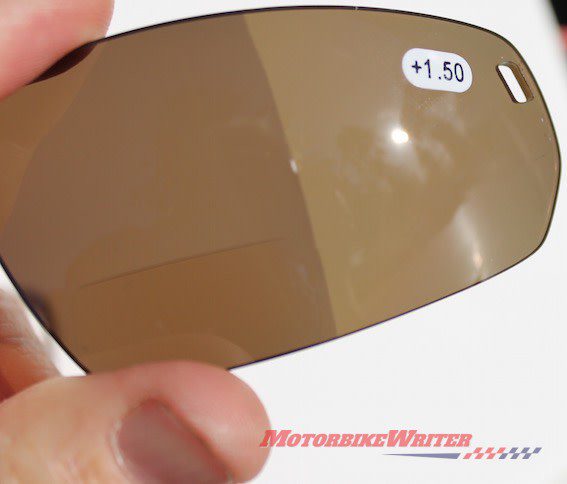 Kevin says the photochromic effect works with an open-face helmet, but may not work in full-face helmets if the visor is UV treated. However, the tint will darken if you raise the visor.
I find they change to a suitable tint in about 4-5 seconds and full tint in about 10 seconds. Similarly, if you ride into a tunnel they change fast enough to adjust to the changed light conditions.
All in one
Kevin says they are also working on combining all these features – photochromic, polarised and bifocal – into one set of sunglasses.
"As nobody has produced such a lens previously the cost of the initial set up is extremely high and to offset this we have decided to crowd fund 30% of the initial costs on crowdfunding web site indiegogo.com," Kavein says.
"We also figure that by going the crowdfunding route it will give the glasses great exposure.
"We have decided to offer around 40% off the retail price to anyone who supports us on Indiegogo."
The polarised high-definition photochromic bifocals will cost $A225, but they are on offer on the crowdfunding site for early supporters at $140.