I visit the Barber Motorsports Museum
THE BARBER MOTORSPORTS MUSEUM
I was recently in Birmingham, Alabama on business and managed to steal a few hours to visit two incredible museums in the area. One is the International Motorsports Hall of Fame (mostly NASCAR) at the Talladega Raceway. The other is the Barber Vintage Motorsports Museum in Birmingham, which is billed as the world's largest motorcycle museum with over 1400 bikes in their collection. Unfortunately, I was traveling light on this trip so I didn't have my big Canon SLR camera. These photos were all taken with my iPhone. Not ideal certainly, but they aren't bad. If you've never been there before, these pictures will blow your mind anyway. And I plan to go back to the Barber Motorsports Museum soon, and this time I'll have my big camera. Enjoy.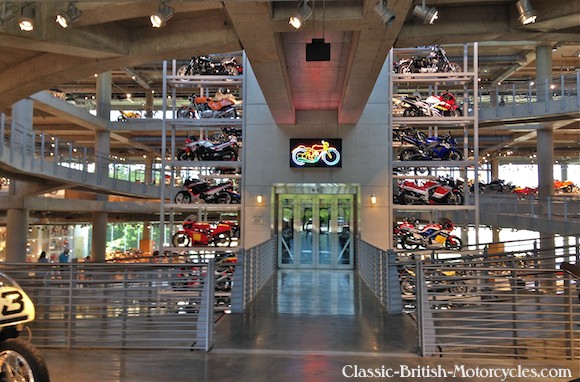 THE BARBER MOTORSPORTS MUSEUM IS AWESOME
The building that houses the museum is almost reason enough to visit. It's four stories and its round. The entire center of the building is open floor-to-ceiling, with the 4 levels arrayed around it's outer walls. In the center of all this is an elevator which is flanked by vertical racks filled with shiny motorcycles, dozens and dozens of motorcycles. You enter on the second level and are immediately greeted by numerous attractive displays of classic motorcycles. As you approach the railing you can look up or down and see pretty much the whole place, with hundreds and hundreds of motorcycles, race cars, engines and more.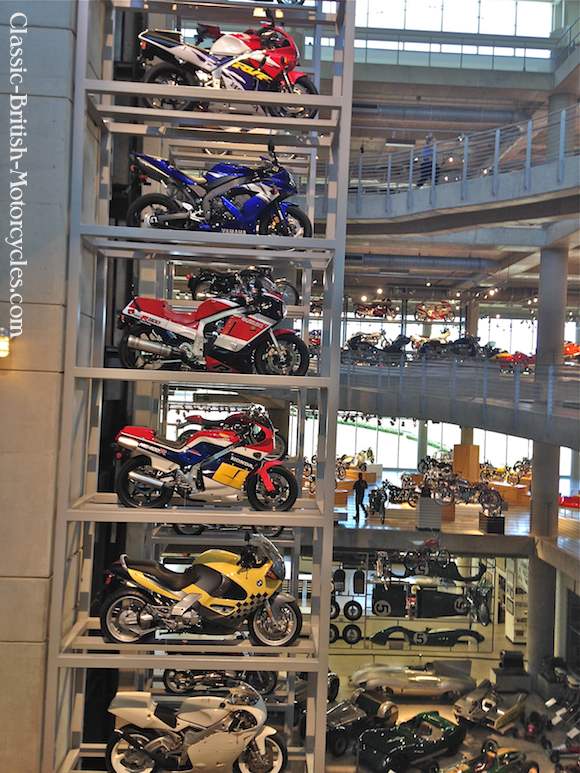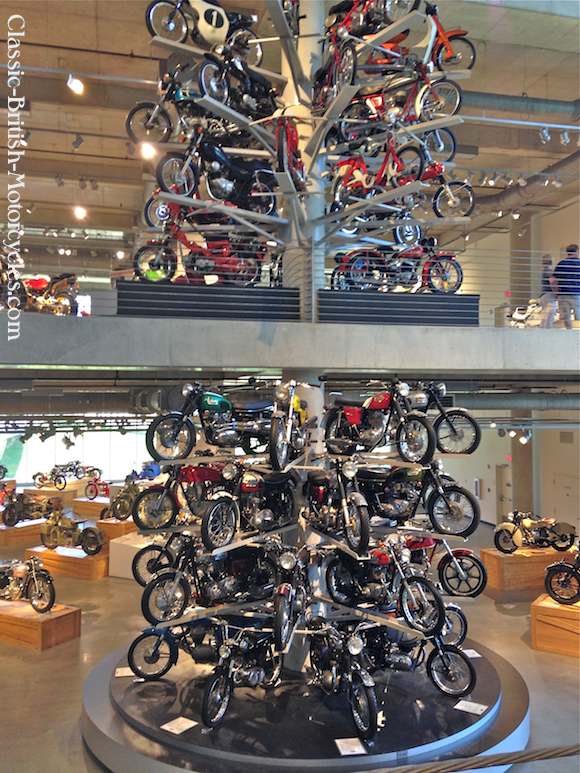 ABOVE: Check out this 2-story tall "Christmas Tree of Motorcycles" (my words). Just one example of the outlandishly cool displays they have at the Barber Motorsports Museum.
BELOW: There is more than enough floorspace to spread the displays out in an artful fashion, so that they're not all just lined up. And there's still plenty of walking-around room. And you never run out of things to look at.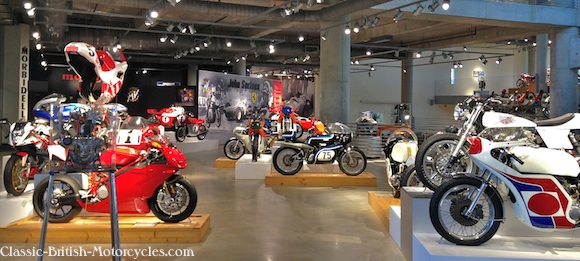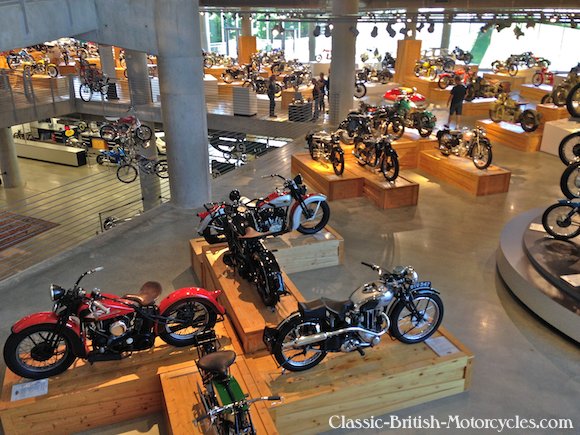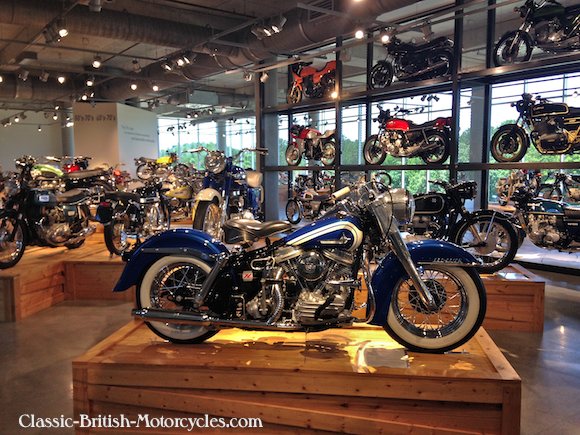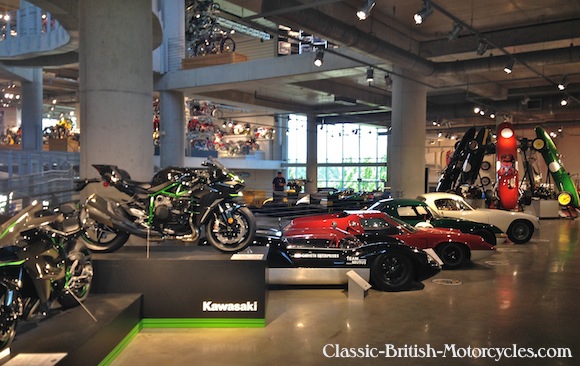 ABOVE: The Barber Motorsports Museum is more than just a classic motorcycle museum; there are also cool old race cars, classic race car engines, and more.
BELOW: Virtually every wall is covered with bikes. These are so neatly packaged, they almost look like diecast models in a box.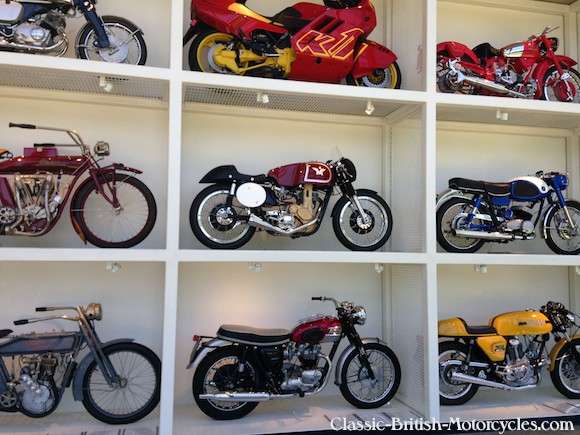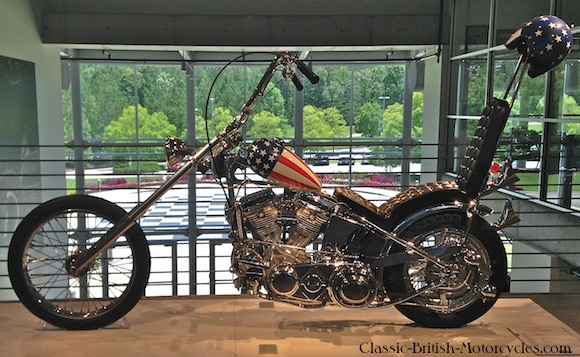 ABOVE: The "Captain America Bike" that Peter Fonda rode in the 1969 movie "Easy Rider".
BELOW: There were lots of early motorcycles also.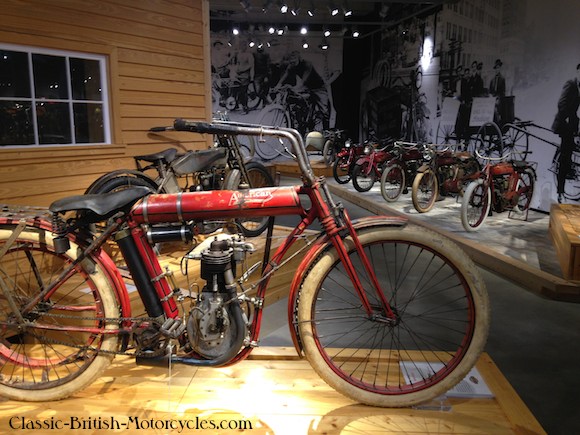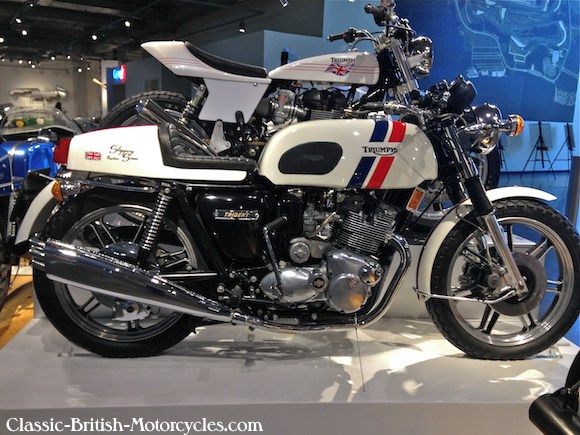 ABOVE: There was a whole section devoted to Triumph Trident cafe racers and race bikes.
BELOW: Like the sign says, the Motus MST is built right in Birmingham and is billed as "the only American sport-touring motorcycle." It's powered by a 100 cubic inch (1650cc) V-4 engine that was designed after the Chevy small block V8. In fact, they call it the "Baby Block". It's got tons of torque and is very smooth. Oo-rah America!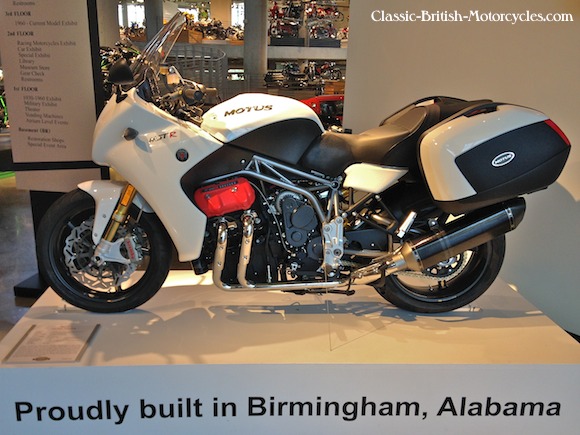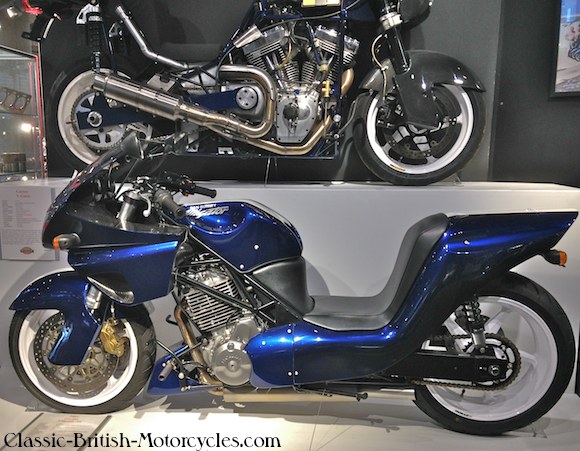 ABOVE: This crazy-looking bike is a Gurney Alligator. It was built from the 70s through the 2000s in various forms, by racing legend and team owner Dan Gurney. It was supposed to be more comfortable than a conventional bike, and also lower the center of gravity. They were produced in low numbers and were never a financial success. This 2002 model was powered by a 70-horsepower Honda 700 single. It was fast (zero to 60 MPH in 3.1 seconds), but it's $35,000 pricetag held it back, along with the looks, more than likely.
BELOW: I just love the looks of this John Player Special race car. John Player is a high-end cigarette company in England.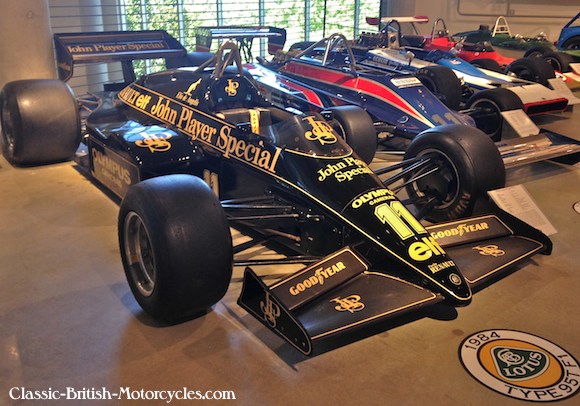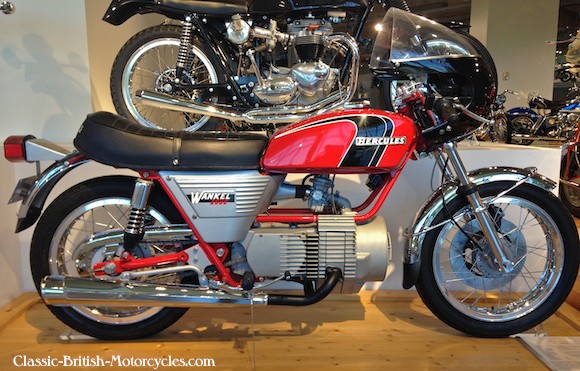 ABOVE: This 1974 Hercules W2000 was the first Wankel-powered production motorcycle, built by DKW. It was fast, but still didn't sell well enough to survive.
---
So, let's see some British bikes, already…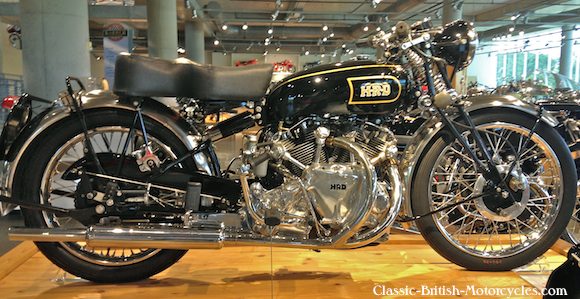 ABOVE: 1948 Vincent Rapide.
BELOW: 1950 Indian Warrior. I know, Indians are American bikes, right? But look at this thing, it was clearly influenced by the British vertical twins of the day. Indian was trying to get out of the V-twin business and wanted to copy the Brits, but it didn't work out so well for them. Before long, they just let Royal Enfield build Indians. Crazy story.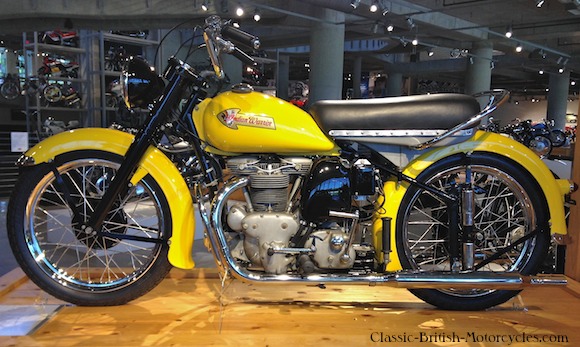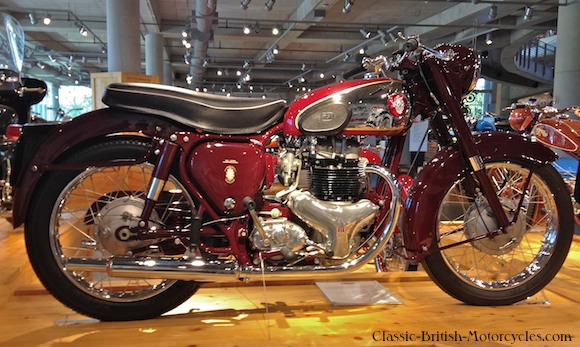 ABOVE: 1957 BSA A7 500cc twin.
BELOW: 1960 Norton Dominator 99 600cc twin.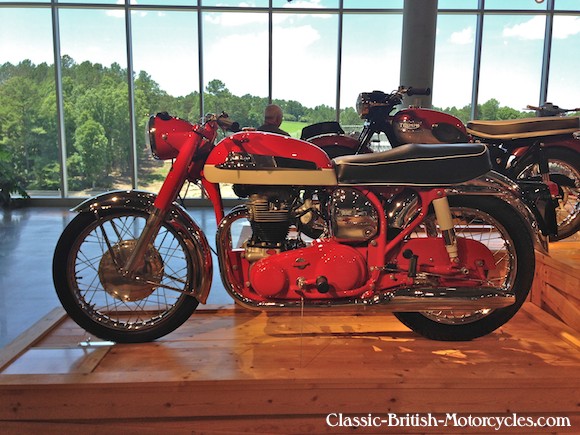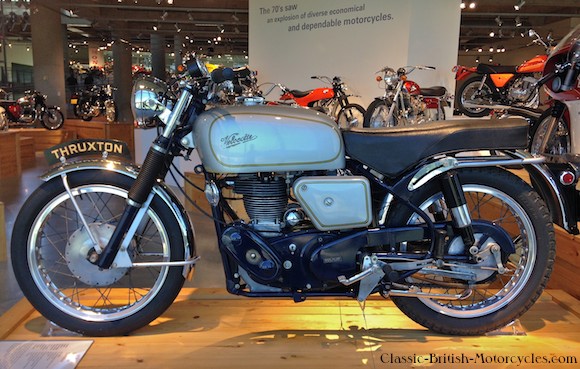 ABOVE: This 1970 Velocette Thruxton (500cc single) must have been one of the last built, as Velocette, part of the ailing Associated Motor Cycle (AMC) empire collapsed in 1970.
BELOW: Remember "The British Connection" to Indian Motorcycles? Well, here's another example. This is a 1970 Indian Velo 500, built in Italy using Velocette engines, by American Floyd Clymer. Velo went bust, Clymer died and the whole thing ended in 1970.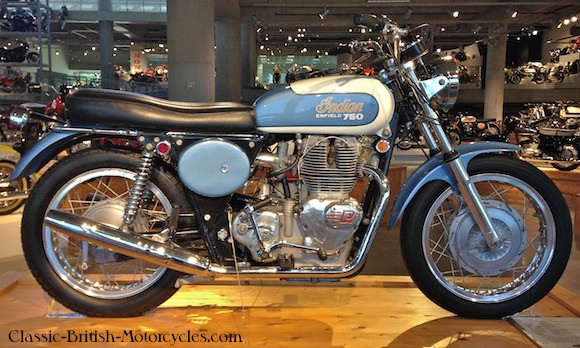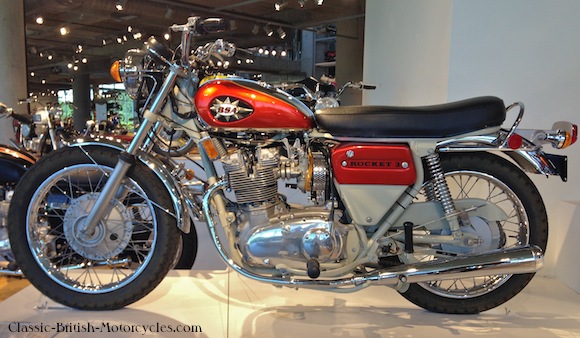 ABOVE: 1971 BSA A75 Rocket 3 (750cc triple).
BELOW: 1975 Norton Commando Interstate. The last year of Commando production, the Interstate was intended to be the touring bike with large capacity fuel tank.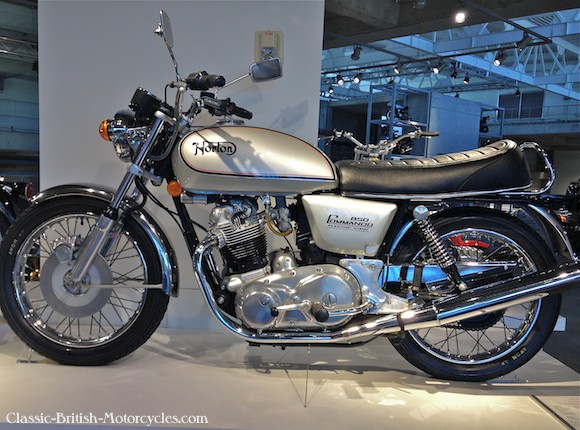 ---