Ever wondered why people drive right out in front of you and cause a collision?
 They call it "SMIDSY" or "sorry, mate, I didn't see you" syndrome and they are the biggest cause of motorcycle crashes.
There are a lot of theories about what causes SMIDSY crashes, including saccadic masking (basically gaps in our vision when scanning).
Texas Tech University psychologist Pat DeLucia reckons it is because people think smaller objects are further away than they appear and conversely bigger objects are closer.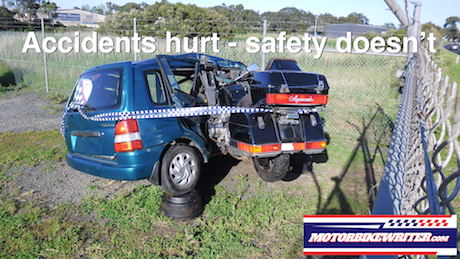 Most motorcycles may be small objects on the road, but hardly the Goldwing in the photo above.
I've also had a car drive right out in front of me when I was riding a big, bright-orange Harley-Davidson Street Glide.
However, there is a lot that makes sense in Pat's research.
The Texas Tech psychologist used computer simulation to study participants who viewed two approaching objects simultaneously – one large and one small. The viewer had to nominate which would reach them first.
Her study, "Current Directions in Psychological Science", indicates that an object's size affects distance perception, causing drivers to miscalculate riders' distance and speed.
"People generally picked that simpler heuristic: Larger is closer," says DeLucia.
Unfortunately, motorcycles are the smallest vehicles on the roads. Even big Goldwings and Harley tourers.
Motorcycles are also the fastest accelerating vehicles on the road.
So drivers think we are going to arrive much later than we actually do.
It's a lethal combination that could be the cause of up to three out of every four motorcycle accidents.
Ok, so what do we do about it?
Having headlights on may make you more visible in some circumstances, but it doesn't make a difference to the size of your bike.
Position on the road is important. You need to ride in the wheel track closer to the centre line as this means you are visible sooner to oncoming traffic or vehicles turning across your path. It also gives you a buffer from vehicles suddenly emerging from a roadside parking bay.
Weaving from one wheel track to the other also draws attention. It may look erratic and as though you have lost control, but it attracts much-needed attention.
Never assume a driver has seen you.
Slow down and get ready to take evasive action if you see a vehicle at an intersection.
Wait until you see the whites of their eyes before accelerating. And even then, prepare for them to make a sudden move.
If so, it is best to think about changing course behind the car, rather than in front of it. The normal reaction is to weave away from the direction that the threat is coming. However, that leads you into the direction the threat is heading, so you may still collide.
If you don't see the whites of their eyes, then it might be time to give a polite toot on the horn to alert them.
So what happened when the Corolla drove out in front of me?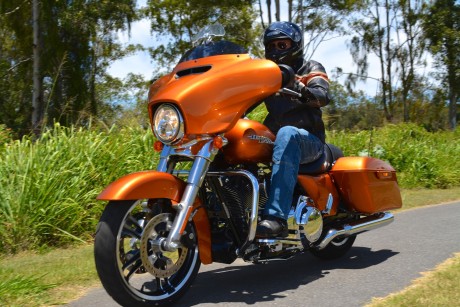 I hadn't followed any of my own advice and was surprised when I saw the car start to move off.
In panic, I hit the brakes and activated the Harley's excellent ABS front and rear. Yet I was still able to steer the bike and turn the corner from where the woman was coming. At least I got that part right.
That's how good ABS can be in an emergency. In a panic stop on a non-ABS bike, the front wheel would have locked and tucked under. The bike would slid straight into the car.
The fact that I could panic-stop and steer at the same time saved my bacon.
I didn't have the time or awareness to blow the horn and I'm not even sure the driver was even aware of the drama they had just caused as she merrily continued on her way.